July 25, 2023
Climate action 1, 2, 3!
Igneo Infrastructure Partners strategy to achieve net zero by 2050

As a large direct infrastructure investor with almost 30 years' experience and a bulging portfolio of over $25bn in global assets, Igneo Infrastructure Partners is no stranger to managing climate risk and broader environmental, social and governance (ESG) challenges.
Managing Partner Niall Mills is fond of saying that Igneo was "doing ESG before it became fashionable".
The reason is the nature of the assets in the portfolio – mainly mid-market, high-quality companies in the utilities, transport and power sectors in Australia, the UK, Europe, the US and New Zealand.
Generally, they are long-term investments, provide essential services to the economy or local communities, have large physical and environmental footprints, and are often heavily regulated.
Overwhelmingly, however, the number-one ESG issue raised in conversations with Igneo's 120-plus institutional investors is climate change, spread across a broad spectrum of risks and opportunities, according to ESG head Sophie Durham.
"My job is to set the fund-level strategy on all aspects of ESG, but climate change is certainly one of the most material issues facing many of our assets."
Igneo is the infrastructure business of First Sentier Investors, previously Colonial First State Global Asset Management.
Since its inception in 1994, the business has made more than 60 acquisitions, with the portfolio now centred on 28 companies.
In Australia, they include Brisbane and Adelaide airports, the nation's third and fifth largest airports by passenger volume, respectively, and the renewables operator Atmos Renewables, with interests in eight utility-scale wind and solar farms in Victoria, Queensland, SA and Tasmania and a gross capacity of 754 megawatts.
Among other companies, there's also Waste Management New Zealand, that country's biggest waste management services provider, and the integrated water utility coNEXA, previously Water Utilities Australia.
Ms Durham said Igneo set a net zero by 2050 target three months after she joined the group in 2021 from her position as a senior advisor in climate change and global public policy at an upstream oil and gas company.
The ambition wasn't particularly noteworthy – many other companies were pledging to do the same thing.
"But what was more interesting was the criticism of those targets because people were saying: '2050 is a long way off; what are you going to do in the short and medium term, or are you just going to do nothing until 2049 and then rely on tonnes of carbon offsets?' " she said.
"Obviously, that would be very risky and prohibitively expensive, so we set up an initiative called Climate Action 1, 2, 3! and the whole point was to demonstrate short and medium-term progress towards the 2050 goal."
The program demands action on three fronts.
First, all portfolio companies are asked to set their own net zero goals and prepare a credible emissions reduction plan by the end of this year – or within three years of acquisition – to achieve net zero by 2050.
Second, they assess other climate-related risks and opportunities, such as physical risks and the transition to low-carbon energy.
And finally, there is the introduction of strong governance and oversight measures; for example, inclusion of climate in the enterprise risk management system.
Ms Durham said she was "pleasantly surprised" by the progress.
Nineteen portfolio companies have now set their net zero targets and interim emissions-reduction targets.
The data indicates that Igneo's emissions would fall by 55 per cent by 2030 and 65 per cent by 2050, with the gap to net zero forecast to be closed by recently acquired companies and those which are yet to set their targets.
Igneo has a strict position that offsets will only be used as a last resort.
In the meantime, the group is prepared to invest heavily to achieve its medium and long-term emissions reduction targets.
One example is the 2022 sale of the European ferry business ForSea at one of the highest multiples ever achieved in the European ferry sector.
This partly reflected the company's status as an industry first-mover in electric engine ferries, with the investments made in decarbonisation a strong selling point in the tender process.
"Climate change is often seen as a big risk but it can be a huge opportunity to generate value," Ms Durham said.
In search of value, Igneo has demonstrated a willingness to go where others fear to tread, such as leading the transition of a business partly reliant on coal.
In 2020, it bought the German integrated utility MVV, which has significant greenhouse gas emissions from coal and natural gas-fired power generation.
Due diligence identified the potential to decarbonise faster by substituting renewables, so coal will be phased out five years earlier in the city of Mannheim by 2030 and net zero will be attained a decade earlier by 2040.
Ms Durham said MVV had been a "fantastic" investment for Igneo.
"If you had a strict exclusionary approach, you could not have invested in MVV," she said.
"But that said, there are businesses where we would not invest, perhaps in a country where we thought there wasn't the government support or the scope for decarbonisation.
"So there are red lines. And the red line for us is: can we make this better or not?"
In a similar vein, Igneo will also make calculated bets on technology, including carbon capture and storage (CCS) which is yet to be commercially proven.
Earlier this week, two of Igneo's UK portfolio companies – Energy-from-Waste business enfinium and bulk storage provider Navigator Terminals –  signed an agreement to explore the possibility of capturing carbon and transporting it by train to the UK coast, where it can be stored temporarily before being exported to permanent underground storage in the North Sea.
"It will be the first CCS project to use rail as an export route, which is really important" Ms Durham said.
NAB is Igneo's biggest lender across the portfolio, providing long-term finance for a company with a similar investment horizon.
Ms Durham said the banking industry was as concerned about climate change as asset owners.
"We're increasing significantly the number of green loans or green financing frameworks in the portfolio, and now every time we go for refinancing we explore opportunities to have a green tranche," she said.
"That's definitely going down well with the lenders so the banks are very supportive, especially when you're working with the big international banks like NAB.
"There's usually a discount for green loans if you can prove they're green, and a few of our companies have also put in place sustainability-linked frameworks so the rate you pay is linked to certain sustainability targets."
Originally published on NAB News.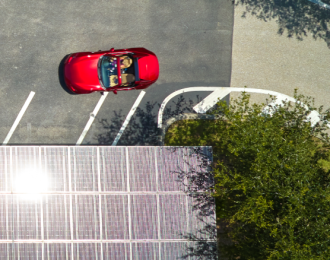 Stay informed with our latest climate transition insights
Read now