July 25, 2023
Critical minerals to play a key role in clean energy supply
We're optimistic about playing a key funding role in future projects.

NAB has welcomed an agreement between Australia and the US to help secure clean energy supply chains, with a senior executive saying the bank was optimistic about playing a key funding role in future projects.
NAB executive, corporate finance, Connie Sokaris, said more established critical minerals such as lithium were increasingly attracting commercial bank funding.
"We are still learning in relation to rare earths, and with greater transparency and clarity around the mining methods, and some stability in pricing, we're optimistic about playing a key funding role in the future," Ms Sokaris told a conference in Perth.
"At this point, it's not a sector that we're lending into directly because the projects are still very small."
Critical minerals such as lithium, copper, cobalt and rare earth elements – a collection of 17 elements on the periodic table – are essential components in many rapidly growing clean energy technologies, from wind turbines and electricity networks to electric vehicles.
Australia has some of the world's richest deposits of critical minerals, and is widely seen as having the potential to become a critical minerals and renewable energy superpower.
Elsewhere, supply is limited to a number of locations and highly vulnerable to disruption.
The CSIRO has said that, with the uptake in electric vehicles and battery, solar and wind technologies expected to soar over the coming decade, demand for some critical minerals would outstrip current sources of supply, creating bottlenecks and straining increasingly fragile supply chains.
Industry and governments around the world have recognised the problem, and are taking action to strengthen and diversify supply chains.
Earlier this month, Prime Minister Anthony Albanese and US President Joe Biden signed the Climate, Critical Minerals and Clean Energy Transformation Compact on the sidelines of the Group of Seven summit in Japan.
The compact is a statement of intent to establish climate, clean energy and a shared energy industrial base as a third pillar of the alliance, along with defence and economic cooperation.
The US, through the Inflation Reduction Act and other measures, has the capital and strategic heft to create the global supply chains.
With the IRA earmarking about $520bn for diversifying and de-risking supply chains in the clean energy sector, there were concerns that the magnitude of the investment could suck funds out of Australia.
There is now hope that the compact will enable Australian companies to tap into some of the IRA's rich subsidies and support.
In the meantime, Ms Sokaris said there had been a lot of cooperation between the banks and government agencies, such as Export Finance Australia (EFA) and the Northern Australia Infrastructure Facility (NAIF).
This was to be welcomed and would hopefully continue.
However, the decarbonisation not just of Australia and the rest of the world was a new phenomenon, with expected shortfalls of 20 per cent in some critical minerals by 2025.
"It's really turned on a dime," Ms Sokaris said.
"Some of the risks around the processing and down streaming are not risks that the commercial banks have seen before; nor are they risks we can take because we can't measure them and we don't really understand them, or how they'll play out from a debt perspective.
"Previously, it was equity that took these types of risk.
"But we've been working closely with our customers and NAIF, EFA and others to really work through which of the projects we think we can support and what that support looks like."
Lithium, according to Ms Sokaris, faced similar challenges a few years ago, when transparency was also a challenge.
"But now that we have the transparency in that market and what the pricing looks like, it's easier to lend into that," she said.
"As the rare earths part of critical minerals matures, (that) will allow debt financing to play a bigger role."
Originally published on NAB News.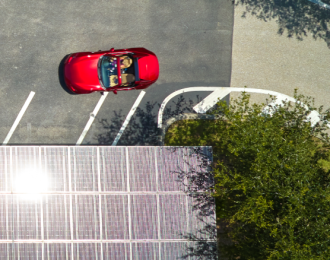 Stay informed with our latest climate transition insights
Read now