From desert sands to Arctic ice: five unforgettable Christmas breaks
From a Bedouin tent to a hotel made from ice – these unusual getaways promise a Christmas to remember.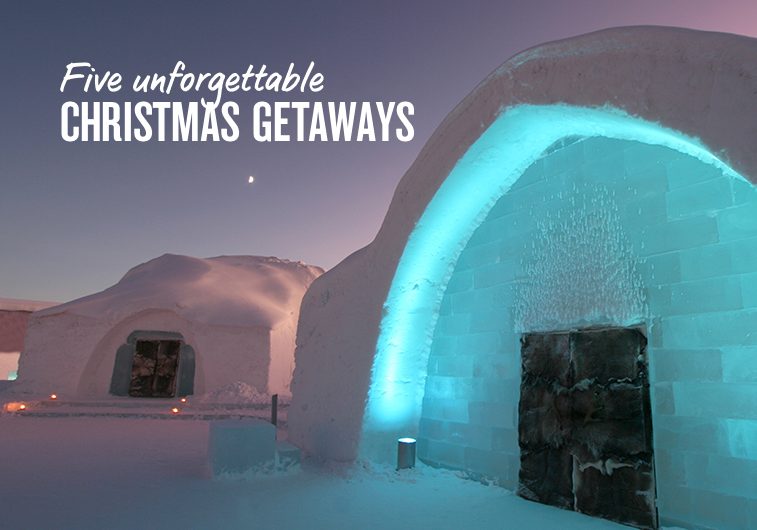 A Christmas holiday with a difference? We look at places you may not have thought of for your festive celebrations: five very different experiences with luxury – and the unusual – in common.
1.    The Wadi Rum desert: an oasis of luxury

The ultimate get-away-from-it-all destination, Wadi Rum is a protected desert wilderness in southern Jordan, close to the border with Saudi Arabia. The towering sandstone cliffs and mountains, narrow gorges and natural rock arches are so other-worldly that Wadi Rum has appeared in films as a Martian landscape (though thousands of rock carvings and inscriptions point to 12,000 years of human occupation). Beyond the bed and breakfast accommodation of Rum village the only option is to camp – but not without comfort and style. The Wadi Rum Night Camp offers Bedouin-type tents furnished with luxury beds, a sofa, mirrors and solar-powered lamps. Each one has a private terrace with views over the Wadi Rum Mountains and, at night, of the star-filled desert sky. You can feast on traditional Jordanian food and activities include camel riding, 4×4 rides, hiking and jeep adventures.
More: wadirumnight.com
 2.    Ice hotels: the coolest Christmas of all
True to the name, ice hotels are built entirely from ice and snow. Most need to be rebuilt every year following the summer thaw, though Sweden's Jukkasjärvi Icehotel now uses a solar-powered refrigeration plant to keep the structure intact all year. Ice hotels range in shape and size from igloo villages to a replica of a Scottish castle and everything from their drinking vessels to their furniture may be carved from ice. This can include the beds – although, whatever their construction, a combination of fur throws, down bedding and sleeping bags should keep you comfortably warm. There are ice hotels in countries from Scandinavia and Finland to Romania, Canada and Japan, so there are plenty of opportunities to build a holiday around a sub-zero adventure.
More: Icehotel.com
3.    Patagonian rainforest: eco tourism in an ultra-lush setting

The Huilo Huilo Biological Reserve supports nature and local culture through conservation and sustainable tourism. It takes in 100,000 hectares of temperate rainforest with mountains, lakes, hot springs, rivers and waterfalls, and boasts direct access to the Mocho-Choshuenco Volcano, part of the Andes mountain range. The accommodation reflects its surroundings – the cone-shaped, shrub-covered Montaña Mágica Lodge for example, has a continuous stream of water flowing from its crown. There is also a canopy village built in the treetops, forest cabins and the luxurious Nawelpi Lodge. Activities include skiing, mountain biking, summer snowboarding, rafting, riding and expeditions with expert guides – 250 kilometres of paths and trails meander through hundreds of species of trees and plants to beaches, springs, lagoons and wildlife sanctuaries.
More: huilohuilo.com
4.    Bedarra: a secluded hideaway on the Great Barrier Reef

BedarraTM is an Instagram-perfect tropical island, dense with rainforest and surrounded by white, sandy beaches, mangroves, coral gardens and seagrass beds. It also offers utter seclusion in total luxury. The Bedarra resort has just 10 private villas nestled among the trees with spectacular ocean views. And, as each one accommodates no more than two adults, there are usually more beaches than guests. You can cut yourself off from the world with candlelit dinners for two or gourmet picnics on nearby uninhabited islands. Or, if you're feeling sociable, there's a restaurant, lounge and self-service bar. Activities include sea kayaks, stand-up paddle boards, snorkelling, fishing, tennis and walking trails or you can go further afield for SCUBA trips and deep-sea fishing. Access is by private launch from Mission Beach or a 45-minute helicopter flight from Cairns.
More: bedarra.com.au
5.    The Rila Mountains, Bulgaria: an unexpected place to ski

The Borovets mountain resort dates back to 1896, when the Bulgarian monarch Kniaz Ferdinand chose the location for his summer residence. Wealthy families from the nearby capital city of Sofia quickly followed suit by building villas in the surrounding area then, when skiing suddenly gained in popularity in the 1930s, Borovets' snowy slopes made it an attractive destination for winter sports. Today, the resort offers luxury hotels, restaurants, bars and shops along with some seriously good skiing – Borovets has hosted two World and 12 European cups, as well as numerous FIS Alpine ski races including the 2016 giant slalom for women. There are 24 slopes – 13 red, three black and eight blue – all covered with snow from mid-December until April. You can also try night-skiing, snowboarding, cross-country skiing, ski-doo, ski jumps and biathlon. The royal family still owns the estate and spends time there each year.
More: borovets-bg.com