July 25, 2023
EnergyAustralia's Mark Collette on solving the energy trilemma
Rebuilding an industry with multiple moving parts.

When EnergyAustralia chief executive Mark Collette breaks down the next "vitally important" stage of the nation's energy transition, the complexity of rebuilding an industry with multiple moving parts becomes clear.
Leaving aside the policy contortions of the last decade or so, the first stage of the transition has been relatively simple because it involved connecting renewables to an existing grid.
Stage two, however, looms as a much greater challenge, with project delays and skills shortages already starting to emerge as the grid scales up and incumbent coal is retired.
"It's certainly been bumpy for a whole range of reasons over the past 12-24 months, but that's because we're in a different phase now," Mr Collette said.
"Connecting solar and wind to the existing grid was the easy part and it's been done."
"Now it's not just renewables; it's renewables plus the grid which is going to cost a lot more – we're talking tens of billions of dollars in the next few years, and the sheer size of it and the required return on investment will put pressure on the bills of customers."
The investment program will be front-ended to maximise carbon abatement through the earlier connection of more renewables.
The renewables component, along with a transitional contribution from gas, will include batteries and other energy storage projects such as pumped hydro.
This will help to firm up the grid, ensuring stability and reliability when the sun isn't shining or the wind isn't blowing.
Construction of transmission poles and wires in sensitive regional areas will requires a broad social license, amid signs of intensifying community opposition.
Connection of new renewables and firming capacity will come next, followed by cost recovery over a decade or two.
"So that points to the main game," Mr Collette said.
"It's really important to make the infrastructure investment as efficient and effective as possible, not just for now but for the 2030s and beyond," Mr Collette said.
EnergyAustralia, which has about 1.6 million retail and business customers, is owned by CLP Group, one of the oldest and largest integrated power businesses in the Asia Pacific.
Its energy portfolio in Australia is a mix of coal, gas, solar and wind energy, with a total capacity of about 5500MW.
There are two large, coal-fired stations at Yallourn in Victoria's Latrobe Valley and Mount Piper near Lithgow in NSW, with the generation fleet comprising gas-fired plants such as Tallawarra, Newport and Jeeralang in Victoria, and Hallett in South Australia.
There are also investments and offtake agreements in wind and solar, including the Cathedral Rocks wind farm in SA and the Gannawarra solar farm in north-west Victoria.
Mr Collette, who became CEO in July 2021, unveiled a climate change statement only months later in September, pledging to accelerate the group's transition to clean energy and reach net zero greenhouse gas emissions by 2050.
Scope 1 or direct emissions will be slashed by more than 60 per cent on 2019-20 levels in 2028-29, overwhelmingly by bringing forward closure of the Yallourn power station to mid-2028.
Coal will be exited altogether by 2040, with the loss of Yallourn partly offset by what was touted at the time as the largest battery in the world – a four-hour, 350MW, utility-scale facility in the Latrobe Valley by 2026.
The climate change statement set out some broad parameters for EnergyAustralia's transition.
It will soon be augmented into a full-scale Climate Transition Action Plan, in a similar vein to the company's listed peers Origin Energy and AGL.
The company, however, has already filled in some of the detail, revealing it will commit $3bn-$5bn over the next few years to secure a clean energy future.
While it's a small share of the $500bn to be spent on all elements of the industry's transition, according to CSIRO numbers, it's a big mouthful for EnergyAustralia and its $5bn asset base.
"If we're going to build a company that meets the needs of our customers, be supported by the communities in which we operate, and be viewed positively by governments, regulators and other stakeholders, we need to deliver products and services which meet the needs of all those stakeholders," Mr Collette said.
"That means we're working hard on the energy trilemma – taking emissions down as low as possible while maintaining reliability and keeping energy as affordable as possible."
Including the Latrobe Valley battery, the company has earmarked $1bn for the 300MW Tallwarra B gas and hydrogen peaker plant to cover for periods of high demand, and is investigating the 330MW Lake Lyell project near Lithgow, which will use excess energy to pump water up a hill and hold it there until it's needed.
EnergyAustralia has also underwritten another pumped hydro project – the 250MW Kidston facility in north Queensland.
The $1bn tab covers the launch of a flagship product called the Solar Home Bundle, which responds to shifting customer preferences by offering installation of solar and a battery in the home at no upfront cost in return for a seven-year contract.
The product amounts to recognition that the group's indirect, Scope 3 emissions from sources outside its control overwhelmingly comprise gas for household cooking and heating.
As part of the bundle, EnergyAustralia manages the wholesale and network interactions to get the most from the solar and the battery, together with any further power supplied from the grid.
"Once we have the ability to put in place and manage the devices in hundreds of thousands of homes, and also replace a gas heater which has broken down with an electric heater, we can accelerate the action of our customers to move from gas to renewable electricity," Mr Collette said.
"The question is what's the best model for customers to know they're getting the best out of the small-scale technology and the broader grid.
"That's the space we'd like to make simple and we don't think there's one product that will work for everyone, but this is huge in the sense that it would provide 30-40 per cent of all the energy used in Australia.
"Also, it's not linked to transmission so it doesn't have the social license issues."
In a recent speech, Mr Collette said Australia was facing an energy crunch where the shortage of available energy in reserve was playing out as a price spike for all customers.
This was a result of floods restricting coal mining, seasonally low production of wind and solar, and energy embargoes on Russia creating scarcity in oil, coal and gas markets.
The best response was a zero-carbon energy system that would inevitably face shocks.
"Low wind, cloudy weeks, transmission outages – we know anything and everything happens in energy," the EnergyAustralia boss said.
"The missing building block we need for this zero-carbon energy system is long duration, zero-carbon storage, and considering today that we have months of energy storage, my gut feel is that we will need at least a few weeks of zero-carbon energy storage.
"A few weeks is beyond the economic range of batteries today, and any other technology we have, so this is the immediate phase three challenge we have to solve today."
Add that to a long list of transition challenges that Australia and the rest of the world must resolve.
Originally published on NAB News.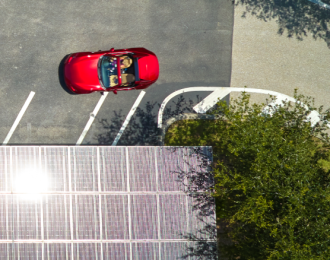 Stay informed with our latest climate transition insights
Read now