How to help your family – and its wealth – stick together
Family governance isn't about deeds and charters so much as good communication, a shared vision and clear decision-making. It takes practice.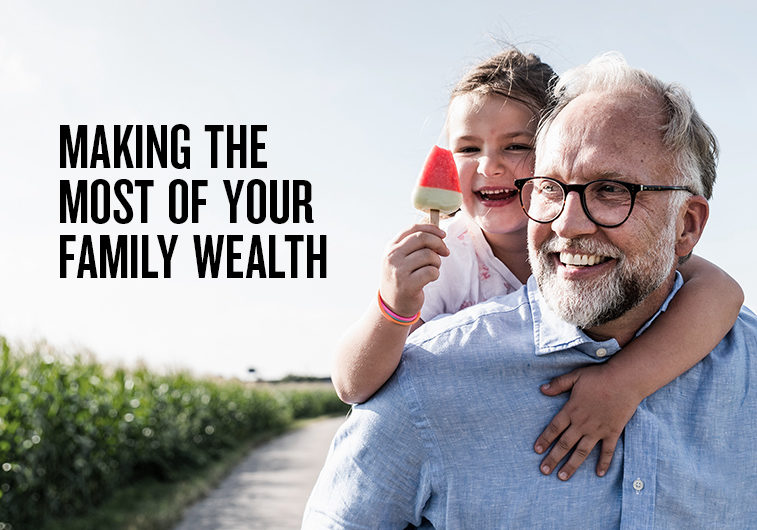 Family governance can help enormously when passing wealth down through the generations. But it's not so much about deeds and charters as it is good communication, a shared vision and clear decision-making – and it takes know-how and practice.
Most of us know what good governance looks like when it refers to a company. But what about when it comes to your own family? How could such a corporate term ever apply to the workings of your nearest and dearest?
Quite simply, says JBWere Head  of Family Advisory and Philanthropic Services Shamal Dass. "Governance is about accountability, transparency and oversight – whether it's a family, a listed bank, a non-profit or the government. But when we talk about the nature of family governance, it's really about putting in place processes and structures so families can communicate and make decisions."
This ensures that your entire family is on the same page and that any consensus is genuinely collective, based on open communication and informed discussions.
Ensuring clarity of purpose
That may seem a little unnecessary if your affairs are relatively straightforward. But for families with any level of complexity – due to multiple assets or multiple generations (often with competing family dynamics) – it could provide the all-important clarity and accountability required to protect their wealth for future generations.
Unlike organisations, however, it doesn't have to take a host of deeds and charters to run your family well. In fact, a large part of family governance is about understanding your underlying vision. That's the critical starting point, Dass says. "It's about sh
aring the vision; everyone understanding the vision, and having people sign on to it."
This becomes particularly important once you move beyond the ori
ginal founder, or patriarch or matriarch. Indeed, if they pass
away suddenly, without first sharing their vision with the family, it can be difficult to move forward, Dass says. At the end of the day, people need to know the direction they are heading and that comes down to knowing "what their wealth is actually for; what their business is for".

Remember, business isn't everything
Some people make the mistake of putting their business at the centre of their decision-making processes. That's not helpful to the family in the long run, according to Dass. "You don't serve the business, the business serves you."
He points out that a business is effectively just a complex asset, one element among all the rest, and it needs to fit within the family strategy.
According to Dass, the biggest risk is building governance around the business to the detriment of the family and how they make decisions as a whole. "The business may actually suffer then because bad decisions might be made."
Your starting point
But where does family governance start from a practical perspective?
First, you need family members to come together at an annual or semi-annual gathering to discuss their thoughts and ideas, their shared values and goals, what they hope to achieve, and how they can – or can't – be a part of that.
As Dass says, it's a matter of getting everyone's views on the table rather than making assumptions around what they might want. "You need to get a feel for everyone's input, because the parents of the youngest child will most likely be thinking about entirely different things to the patriarch or matriarch."

Putting plans into action
The next two steps require far fewer people. Only a small number will come together for the more strategic meetings – what Dass describes as 'the family council' – to articulate and realise the family's shared vision. It is these people who will also be responsible for drafting the resulting 'family constitution', which sets out the vision and the rules for everyone to be guided by.
With as little as 10 people, this group may include two or three generations as well as a number of third parties.
Independent directors are an important part of the mix, Dass says. They tend to "take the heat out of discussions", separating the logic from the emotion while also providing much-needed insights and advice.
As Dass notes, families have to be shown the ropes first. "No-one [instinctively] knows how to do this stuff. I mean, you've got to join the board of [a company] before you know how to be a good board director. It's not something you can magically learn."
Sometimes these directors may be very close to the family with a particular understanding of the founder. Over time, however, Dass says they may include those who "better understand the demands and the interests of the next generation".
 What role can JBWere play?
JBWere has a long, distinguished history of providing guidance around governance, whether to corporates, not-for-profits or families.
According to Dass, JBWere's job isn't to make decisions for its clients but rather to give them the tools they need to guide themselves. "It's not our job to be make decisions on behalf of families into eternity. Our job is to help them understand how the structures need to work and guide them [through] that. At core, our purpose is to enable and educate the family so they build the confidence to take control of things themselves and make good decisions."
Sometimes that's about avoiding the pitfalls as much as anything else. As he notes: "A lot of family cohesion and wealth is maintained through avoiding mistakes rather than making genius decisions."