Luxury Property Update – A year of transition ahead
Opportunities increase for those looking to upgrade and enter the market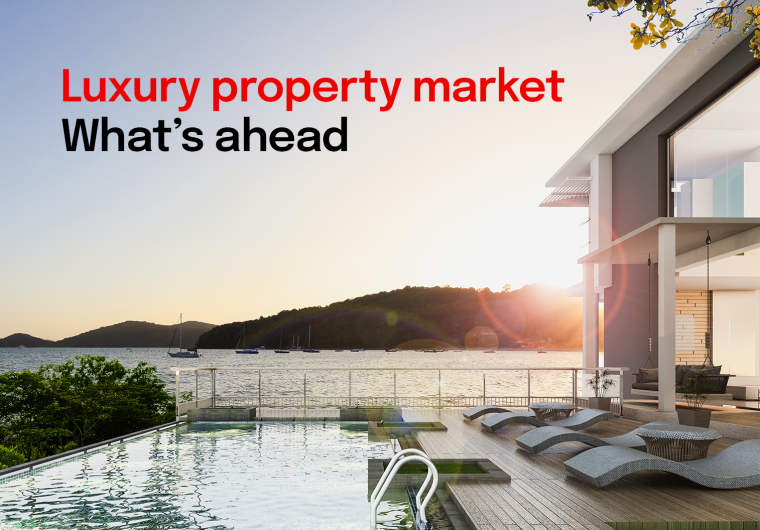 The start of the interest rate tightening cycle, with the recent reopening of international borders, sees the luxury property market enter a transition phase ahead.
Unlike the premium and broader markets which are historically more sensitive to interest rate increases, the luxury market is renowned for a different set of drivers including share market performance and outlook, business executive bonuses and international interest/diversification.
Was a golden year for luxury property with 2022 seeing continued healthy demand, despite a softening in activity and value gains compared to 2021.
Despite the easing of dwelling values in both the premium and luxury segments of the market in 2022 (top 25% and top 2% respectively), the luxury market continues to provide the stronger annual value gains over the past 12 months. Across the 5 major combined capital city markets, dwelling values now sit +19.8% up over the last year in the luxury/prestige segment of the market, while the premium price bracket has realised a lower, yet still strong +14.8% value rise since the end of April 2021.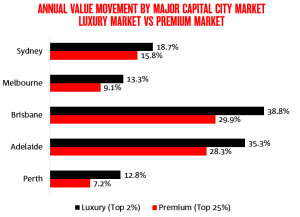 Source: CoreLogic / NAB
Whist the softening in value gains has been a result in overall buyer confidence easing, more broadly in Sydney & Melbourne, the return of international migration, particularly from Asia, has seen early signs of increased activity to date in 2022. This factor is expected to continue to shield the smaller luxury end of the market, with this market segment likely to see a hibernation, with vendors choosing to hold properties rather than sell.
Here, we take a closer look at what's happening in the eastern states…
Melbourne
In excess of 50 sales have transacted over the past 15 months in excess of $10,000,000 in Toorak, Melbourne's most affluent and expensive suburb. Almost 20 of these have achieved a sale price above the $20,000,000 mark. Along with the remainder of the market, the luxury end of the market has seen buyer demand moderate, however sales across the more affluent suburbs have still been recorded in the opening months of 2022.
The highest sale of 2022 has been confirmed, with the property at 802 Orrong Road, Toorak, a contemporary mansion, changing hands for $38.5M in late February, in an off-market transaction. Close by, at 28 Grange Road, Toorak, an opulent home was sold for $22.25M in late January 2022, taking second place on the list of highest sale prices this calendar year.
In other prestigious suburbs of Melbourne, strong sales results at the upper end of the market have also been reported. Kew has seen the suburb record broken, with reports of 'La Verna' at 39 Sackville Road being sold for more than $20M in April, with a range of other sales being made in the $15M-20M price bracket within this tightly held suburb.
Spreading further, the Mornington Peninsula benefits from an extended summer selling period, with many sales reported above $5M already in 2022. Headlines however have surrounded lifestyle properties within the affluent hinterland suburbs of Red Hill, Flinders and Main Ridge. Two sales of note so far in 2022, include the yet to be confirmed sale of a luxury, 6.5-hectare estate in Red Hill South, believed to have been sold for a new record of in excess of $25M and the latest being a $23.5M sale of an 8.7-hectare estate in Flinders in May, sold to an overseas buyer.
Sydney
The Sydney luxury market, despite slightly more subdued market conditions in 2022, has recorded several sale results in excess of the $20M mark in 2022. After some 260 sales above the $10M mark in 2021, activity has slowed slightly, despite the return of foreign buyers to one of the most expensive markets in the world.
2022 has seen a number of luxury sales reported across the more affluent suburbs, with nine sales reported above the $20M mark in the first quarter of 2022, up on the six for the same quarter in 2021. As expected, Point Piper, Vaucluse and Darling Point again proving dominant, with both April and May also reporting strong results. Key sales include the sale of 3 Lindsay Avenue, Darling Point, with the reported $65M sale price, among the top 10 in the country on record. Similarly, the sale of a non-waterfront mansion for $62M along Wentworth Road in Vaucluse also made the top 10 of all-time list. The most recent trophy home sale was "Akuna", in Point Piper, for a reported $45M in early May 2022, which comprises a multi-level mansion with private beach access and a boatshed.
Additionally, Rose Bay saw a $29M waterfront home sale in February 2022 and highly regarded suburbs such as Centennial Park ($20.5M), Bronte ($17.7M), Dover Heights ($14.5M) and Paddington ($12M) have all seen new record heights being reached in 2022.
Queensland
The removal of Queensland's tight border restrictions has only drawn more luxury buyers to the South East parts of Queensland, namely the capital Brisbane, Gold Coast and the Sunshine Coast. Demand has remained at heightened levels, with the added layer of international migration further confirming that these parts of the country remain the most in-demand for both interstate and international buyers. In Brisbane, strong buyer activity and demand from affluent purchasers has again centred around suburbs such as Ascot, Hamilton, Paddington and Kangaroo Point.
The highest residential sale so far in 2022 was seen south of the city, in Robertson, where a 1-hectare property, with a 6-bedroom mansion, swimming pool and tennis court achieved a $17.25M sale price.
The Gold Coast and Sunshine Coast markets continue to remain high on the priority list for wealthy Australian and International buyers. Several sales have been confirmed in 2022 in excess of $7.5M, in the tightly held beachfront locations, including a number of sales along Millionaires Row in Mermaid Beach. Additionally, other suburbs that continue to provide strong results in the upper end of the market include Miami, Currumbin and Palm Beach. Similarly, canal front locations, such as Broadbeach, Mermaid Waters and Sovereign Islands, all continue to provide headlines for the luxury real estate market.
Similarly, despite many Sydneysiders and Melbournians returning to CBD offices, the Sunshine Coast continues to attract wealthy buyers, with continued attention on the Noosa region. Suburbs such as Noosa Heads and Sunshine Beach dominate the more expensive sales that have occurred. The most prominent sale of 2022, and the highest so far this year, was seen along the prestigious Arakoon Crescent in Sunshine Beach, with a sale price of $28.5M being achieved. This is the highest sale recorded in Queensland so far this year, with the vendors having paid $13M for the home in December 2021 according to records.
Superior quality properties in the luxury segment historically continue to perform better than the broader segment and we anticipate this trend will also become more apparent during transition phase.
By Mark Browning, Head of Property Services Group at NAB
The information contained in this email is gathered from multiple sources believed to be reliable as of the end of May 2022 and is intended to be of a general nature only. It has been prepared without taking into account any person's objectives, financial situation or needs. Before acting on this information, National Australia Bank Limited ABN 12 004 044 937 AFSL and Australian Credit Licence 230686 (NAB) recommends that you consider whether it is appropriate for your circumstances. NAB recommends that you seek independent legal, financial and taxation advice before acting on any information in this email.