Pushing your limits: Four extreme sports to make you feel alive
Winter is over and you're no longer interested in hibernating. Time to try an extreme sport.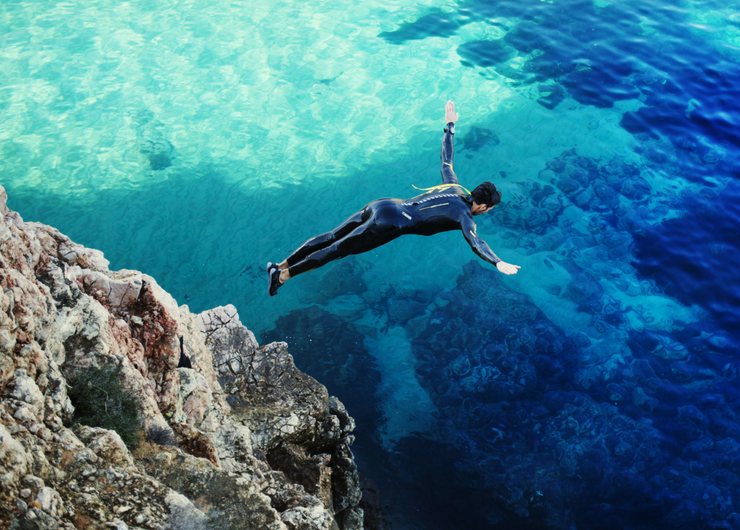 There's something about that first whiff of spring that makes us eager to embrace the outdoors. Swimming is nice and hiking can be amazing, but how about trying something infinitely more spectacular? Something that gets your heart racing and your blood pumping. We give you four extreme sports that will satiate your wanderlust while giving you the thrill of a lifetime.
Caving – but not as you know it
Described as one of the most dangerous sports in the world, freshwater cave diving is not for the claustrophobic. It involves scuba diving in water-filled caves, sometimes in places where your only chance to rise for fresh air is to swim all the way back to the beginning – possibly kilometres away.
For the advanced diver, it's an opportunity to explore where no-one has ever been before, discovering untouched worlds with rare flora and fauna. But there are exhilarating opportunities for the novice too, who can soak up all the wonders of cavern diving with the help of a guide.
Cavern diving – as opposed to cave diving – is different again. It requires you to stay close to the entrance of a cave (no further than 60 metres away) where you're always able to see natural light, and hence your exit. There you can enjoy the beauty of stalactites and stalagmites and a whole host of marine life in what can only be described as an ethereal light.
Where to begin? A good place to start is the cenotes (or sinkholes) of Mexico's Yucatan Peninsula. Think crystal-clear turquoise pools surrounded by lush tropical jungle. But if you get a taste for it – and the requisite certification – there are plenty of opportunities back home. South Australia is a drawcard for divers from around the world.
Cliff hopping
If you want an adventure where you pit your wits directly against nature, coasteering might be the extreme sport for you. Originating in Wales with its rugged, windswept cliff tops, it's about exploring the inter-tidal zone – scaling large rock formations, leaping from cliffs and battling through impossible waves as you scramble your way along the coastline without the use of a boat.
Of course, it can be highly dangerous and there's enough death-defying moments to get your adrenalin going. But that's why you enlist the support of an accredited guide with safety equipment, who can also ensure you see the best on offer, whether that's hidden caves, peregrine falcons or Atlantic seals.
While Wales is a prime location for coasteering, the sport has now spread to other countries with similarly rugged coastlines. That includes Portugal, South Africa and New Zealand, not to forget Australia.
The art of flying
If you want to get your heart racing as you take in the most divine scenery, then microlight flying might be your thing. It involves a tiny sport aircraft with open cockpit – essentially a motorised glider – designed to carry no more than two people.
While you remain a passenger (assuming you don't get your licence), there are amazing experiences to be had. Top destinations include Zimbabwe and Nepal, two countries steeped in natural wonders. Imagine soaring over the thundering waters of Victoria Falls before you glide upstream across the Mosi Oa Tunya National Park to spot elephants, zebras and giraffes. Or how about flying over the impossibly beautiful Himalayas – snow-capped mountains emblazoned with the pink of a setting sun?
If you're tempted to learn to pilot a microlight plane once you're back home, it's worth trying a trial 'hands-on' instructional flight before you commit to a course of flying lessons.
NB: If you're a passenger in the plane you mustn't weigh over 110 kg.
Riding a volcano
Here's one you might not have considered: volcano boarding. If you're addicted to speed, imagine throwing yourself down the side of an active, 728-metre-high volcano, picking up pace to a possible 95 kilometres per hour on its 41-degree slope.
It doesn't come without work – but it does come with a stunning setting. Based in Nicaragua, the extreme sport of volcano boarding requires you to hike up the relatively new volcano Cerro Negro, lugging your reinforced plywood board and other equipment with you. Once you get to the top though, you'll be met by the stunning sight of two steaming craters, the black of the volcano in dramatic contrast to the green of the surrounding countryside.
The rather arduous journey up can take an hour, but you then fly back down in less than three minutes. Whether you sit or stand on your board is your choice. Standing may seem more impressive (and makes for a great photo), but it's actually meant to be slower.
Each participant dons a suit, goggles and bandana (around the mouth) with good reason. While Cerro Negro is largely made up of tiny grains of volcanic sand – perfect for surfing down – you can still take a rather sharp hit or two from flying gravel.
From all accounts, any minor cuts are worth it though, as is a wipe out. The best thing to do is start climbing back up that volcano again.