Setting sail: four stunning destinations to see by sea
As the weather starts to warm, the ocean calls. We present some of the world's most delightful destinations to set sail for – whether with the help of crew and cook, or entirely solo.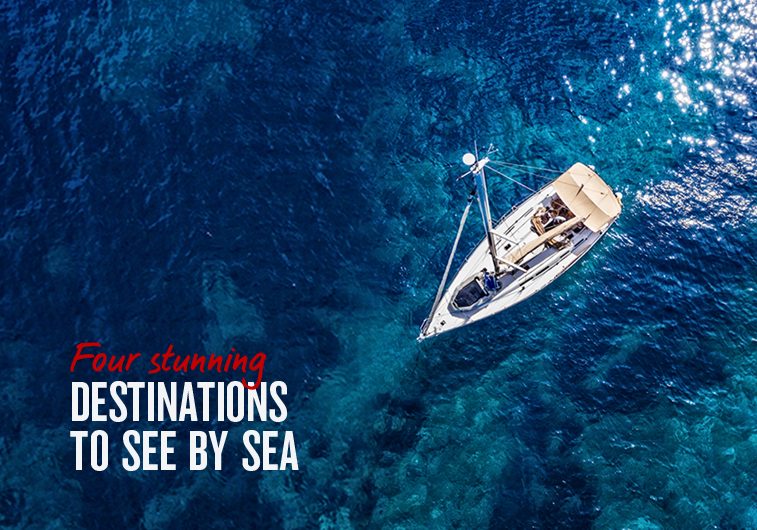 Whether you're an experienced sailor or a complete novice, navigating a yacht through some of the world's most stunning waters can be exhilarating – and entirely doable. There are plenty of opportunities to skipper your own monohull or catamaran with 'bareboat' yacht charters. Alternatively you could opt for the relative safety of a flotilla sailing holiday, where you have the added support of a lead boat crew. Still outside your comfort zone? Maybe hiring a boat together with full crew and chef is the way to go. Whatever you choose, make sure you don't miss these top four spots.

An angler's paradise
If you've sailed the Whitsundays time and again, how about dropping in on our neighbours? New Zealand boasts 15,000 kilometres of coastline dotted with secluded coves and serene bays plus numerous isolated islands. There are also plenty of charming coastal trips worth trying, where you can moor each day in a sheltered bay before sailing on at sunrise.
One particularly delightful area to navigate is the Bay of Islands, up north. The verdant green of its 144 unspoilt islands contrasts beautifully with the clear blue waters all around. You might want to go fishing in this 'angler's paradise or you can simply enjoy spotting such marine wildlife as whales, penguins and dolphins.
Further south, there's the undeveloped Abel Tasman National Park to explore, with its golden sands and idyllic blue waters framed by subtropical native rainforest. It's a great place to take out a kayak and observe the myriad sea creatures at close quarters.
If you're a seasoned sailor, try heading to the Marlborough Sounds, with its spectacular peaks and sea-drowned valleys. It's a veritable labyrinth of waterways with picturesque islands, coves and bays to sail in and around. Calm waters can become perilous, however, so it's not for the faint of heart – it's well worth hiring someone who knows the waters well.

Swimming with whales
In such close proximity to the international date line, it's understandable that the Kingdom of Tonga is seen as a place where time stands still.
You might wish it had, too, once you arrive. It's hard to tire of sailing among its stunning islands with their lush forests and pristine sands, serene lagoons and protected coral reefs readily visible in clear, blue waters. In fact, visibility can reach 70 metres around Tonga, making snorkelling and diving an absolute must on your trip.
To start your sailing journey, it's a good idea to head to the Vava'u archipelago where most charters are based. One of the highlights here is humpback whales. You might hear them from your yacht – or even swim with them – if you're lucky.
If you can tear yourself away from the water, it's worth a visit to a traditional Tongan village, after which you could enjoy the gastronomical delights of a 20-course torchlit Tongan beach feast.
NB: Tonga charters may not start or end on a Sunday.

A dip into history and nature
Like Greece, but not like Greece. Croatia boasts more than 1,000 islands along its Dalmatian Coast, but though it's gaining in popularity, it's still viewed as the road (or waterway) less taken.
Most of Croatia's islands tend to be wild, rugged and often entirely uninhabited. Your trip doesn't have to be devoid of cultural delights, however. The fact that Greeks, Illyrians and Romans all had a hand in establishing the cities along the Adriatic coast is evident in the beautiful old buildings of the area. Highlights include the UNESCO-protected ancient Greek port of Trogir and the striking city of Split with its massive Diocletian's Palace built at the turn of the fourth century AD (which has been a filming location for HBO's Game of Thrones).
You might also want to drop your anchor in the bay of Primosten. The town is famous for its distinctive 'stone lace' vineyards, which rise vertically from the sea and are divided by kilometres of white dry-stone walls crafted entirely by hand.
If it's solitude you desire, enjoy sailing around the isolated, unspoilt Kornati archipelago with its 140 islands. Most of the area has been declared a national park and with good reason.
Keep in mind that the winds are stronger on the northern coast of Croatia, though there's no reason you can't select the sailing area to suit your level of experience.

Mud baths and molten lava
Sicily, of course, is worth the journey itself with its delightful mix of Greek-, Roman-, Arab- and Norman-inspired architecture. Charter a yacht and you're likely to experience perfect sailing conditions as you explore the seven UNESCO World Heritage-listed Aeolian Islands just 35 kilometres north. Renowned for their unusual topography, these volcanic islands offer a wonderful experience.
There are islands rich in history dating back to Ancient Greece while others are barely populated at all. The smoking Stromboli, one of the few constantly active volcanos in the world, is likely to light up the night sky with giant flames and molten rock spray, making for an evening hike you'll never forget.
Then there's the rugged Vulcano, popular for its mud baths and thermal springs – if not for its sulphuric pong. The fashionable Panarea, meanwhile, attracts Europe's affluent and famous, and will give you a true taste of the islands' nightlife with its lively restaurants and sunset bars.