The evolution of corporate giving and community investment in Australia
Corporate giving and community investment, alongside high net worth giving, is the fastest growing segment of social impact funding.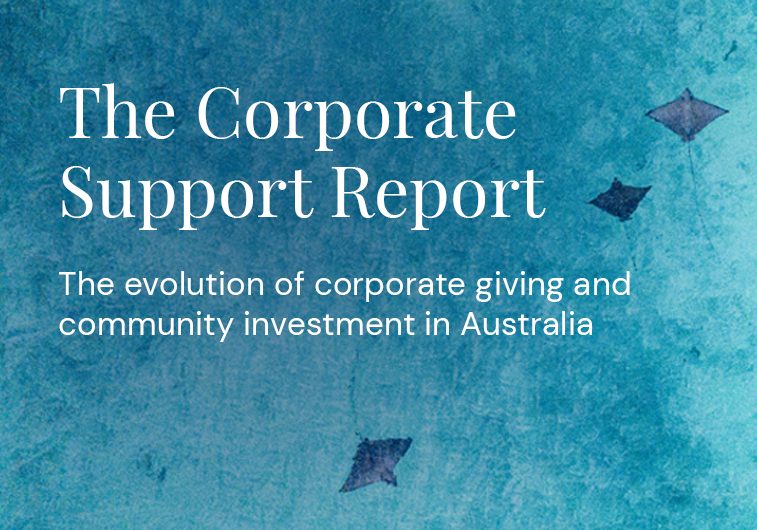 JBWere's Corporate Support Report
By increasing knowledge and improving understanding, JBWere's Corporate Support Report hopes to inspire more quality partnerships between corporates, businesses and for-purpose organisations, leveraging the strengths and capabilities of each to create real, lasting positive change.
The evolution of the corporate community relationship 
The place of businesses today is vastly different to that in the 1950s. The centre of many people's social interactions is now largely with their work colleagues rather than perhaps their religion or church. Ownership of public companies is much wider spread now with the growth in superannuation and other broader investment options.
In both Australia and the USA, annual corporate spending is around 7-8 times that of Government spending and 20-25 times the for-purpose sector. With that has come a growing interest in how businesses are operating and what effect that has on society. Employees care who they work for and consumers who they buy from. The voices of major investors such as Blackrock's Larry Fink are advising CEOs to show their positive contribution to society and more recently around climate. The outperformance of environment, social and governance (ESG) influenced funds are having an effect and there is research to show there is a better understanding of broad factors that affect business performance and ultimately profitability and market valuations.
"We're in a time now where customers expect to see business make a positive difference. Purchase behaviour is increasingly becoming more correlated to the ethics, impact, and purpose an organisation stands for. As a brand with a predominantly youth market, our customers look to us to make a statement, and support causes that are close to them. Organisations that don't address our social and environmental needs as a human race will cease to exist."  Tim Diamond, General Manager, Cotton On Foundation.
Where do corporate social responsibility (CSR) and community investment (CC) fit into this evolving corporate movement? "Purpose" provides the big picture answers of why and for whom a company exists and corporate social responsibility is more the 'how'. While there are many definitions, the Business for Social Responsibility summarised CSR as meaning "to operate a business in a manner that meets or exceeds the ethical, legal, commercial and public expectations that society has for business". Additionally, the voluntary nature of these actions are considered important factors of CSR.
What corporates and businesses can offer the community
Large corporates have a full set of assets that could help the community including direct funding, goods, services, knowledge, influence/advocacy and employee engagement including low or pro-bono support/volunteering plus a strong and diverse asset base.
For smaller, private and family businesses, the dynamics of giving often sits between private philanthropy and business related giving. An Ernst & Young report, Family business philanthropy: creating lasting impact through values and legacy, surveyed 525 family business owners and managers in 21 countries and found that 50% conducted their philanthropy directly through the business. However 40% were through a family foundation or trust and the remainder through a family office 30% or individually by family member 21%.
Australia's Top 50 corporates
It's important to understand the connection between the industry and particular assets each corporate brings to the causes supported. The reason for partnering should go beyond mutual interest in a cause and identify what advantage is brought by each organisation to the partnership.
Below is the latest list of the top 15 Australian corporates for their level of community investment in 2021. To view the Top 50 in JBWere's Corporate Support Report visit http://jbwere.com.au/corpratesupportreport
Considerations for corporate and business community investment initiatives
From the perspective of a business considering what community initiatives they might consider, there's a number of factors to analyse. These factors range from understanding why they are doing it and what success looks like, how integrated it is with business operations, what type of partners might be engaged, where it sits within the company or is it a separate structure, how funding is managed and what related elements might be included such as volunteering, workplace giving, asset/equity or other promotion of the cause being supported.
Also, corporates and businesses may need to engage with community because more of their competitors are doing it and they are being rewarded in many ways. The competition for and retention of staff is highly linked to social perceptions of the company. A review of various studies by Alex Edmans in Grow the Pie found that the survey of the 100 Best Companies to Work for in America had their share price beating their peers by 2.3% to 3.8% per annum over a 28 year period. It also found 60% of customers are willing to pay a premium for socially responsible products and pay 17% more for them.
"The JBWere Corporate Support Report is an insightful and idea generated read. Reports like this, and the series of which it is part, are crucial to the narrative and the story telling between the 'for-profit' and the 'not-for-profit' sectors. Both sectors are evolving to the place of real change where we all exist 'for purpose' and this is a giant leap forward." – Nicola Stokes, CEO Sydney Children's Hospitals Foundation.
For more insights or to download a copy of JBWere's Corporate Support Report, visit jbwere.com.au/corporatesupportreport
Important information: This article and the report has been prepared by JBWere Limited (JBWere) and comprises general advice only. In preparing it, JBWere did not take into account your investment objectives, financial situation or particular needs. Before acting on any advice contained in this report, you should consider whether it is appropriate in light of your financial circumstances or contact your adviser.