What's your private banking experience?
Digital innovation has only served to enhance what NAB Private can provide. So why do some banking transactions seem more laborious than ever? I'd like your feedback on the highs and lows of your own private banking experience.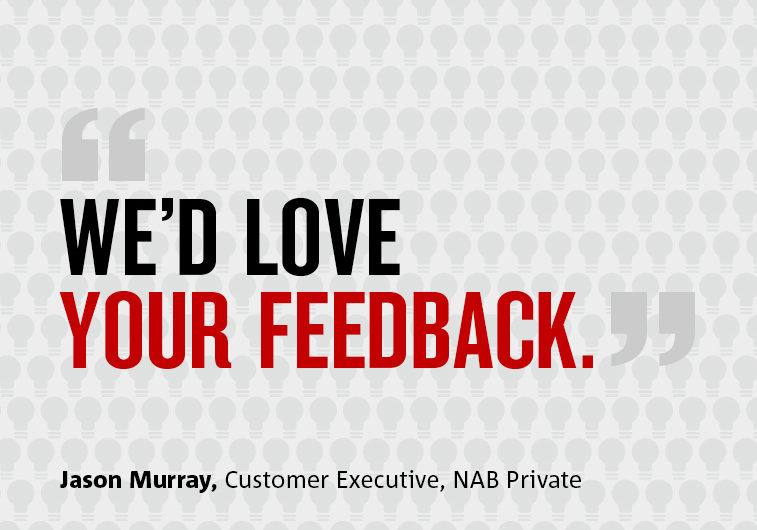 In many ways, engaging with your bank has become a whole lot easier.
Digital disruption means you no longer have to go into a branch to withdraw money or sign a form. Now you can transfer up to $100,000 via internet banking – or use it to wire-transfer foreign currencies, buy and sell shares, and view every single account you have, on your mobile.
At the same time, global regulatory changes and the rising threat of cybercrime have made certain transactions more laborious. Over the past decade a variety of procedures, both mandatory and voluntary, have been introduced to protect bank customers. The only problem is they tend to slow things down.
Why all the fuss?
Applying for a loan now is definitely a more laborious process than it was 20 years ago. Regardless of your circumstances – e.g. if you've been with your bank for many years, haven't changed jobs for more than a decade and your income goes into one of the bank's accounts – you still need to provide documented evidence of your income to us. Recent legislative change makes it unavoidable.
Cybersecurity has had a similar effect. The reality is that people's email accounts get hacked, which means we have no choice but to call customers back and get them to confirm payments if they send them by email – however long we've known them.
The new face of private banking
The issue is perhaps even starker when it comes to our private clients.
Of course, private banking isn't simply about banking. Most importantly it's about service. It's the saving of time – even more so than money – that's critical to the vast majority of high net worth individuals.
Private clients rely on a dedicated point of contact, someone who's there to understand their personal financial situation and help navigate the increasingly complex financial landscape. Moreover, they assume (and rightly so) that their private bankers will go to great lengths to make life easier for them.
The problem is, as much as we want to, in certain instances it's no longer possible. As responsible lenders, we have to have that all-important documentation, even if we visited your thriving business or your family home just yesterday. It's critical we ensure your identity hasn't been compromised, and that we have independent records to support our decisions.
The digital upside
Again, it's not all one way. Our digital age allows our private bank customers to access conveniences never before imagined. You can engage on a personal level 'anytime, anywhere' through multiple channels to suit your needs.
For instance, you can block your credit card on your mobile, either completely or simply for international transactions – and turn it back on again if you change your mind. As an existing customer, you can also open a new account or apply for a new credit card in minutes, all on our mobile app. Moreover, you can use the app to let us know of any international travel plans you might have to ensure your cards still work abroad.
What matters to you?
It may be that these digital enhancements outweigh some of today's restrictions. What do you think?
We'd love your feedback. How challenging have you found some of the more recent restrictions? What do you love about digital? Most importantly, what can we do to improve your private banking experience?
As Customer Executive of NAB Private, I would love to receive your insight – your comments, questions and suggestions. That's why I'd like you to contact me personally at Jason.murray.feedback@nab.com.au.
Jason Murray is Customer Executive of NAB Private.