Work and play: how to make a difference when you travel
Where in the world – and at home – can you blend some spectacular travel destinations with the satisfaction of giving back? Here are a few ideas for a 'voluntourism' adventure.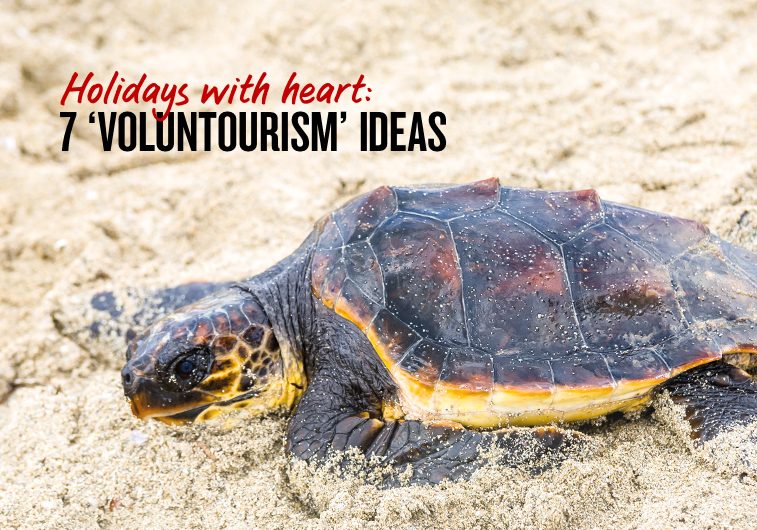 From teaching business skills in Tanzania to preserving the unique ecosystem of Madagascar, many thousands of people are including a stint of volunteer work in their travel plans to increase enjoyment and understanding of the places they're visiting. Whatever your motivation – or time frame – the range of 'voluntourism' opportunities around the world (and at home) continues to grow. Private View rounded up a few examples of how you can make a difference while taking time out.

1. Guiding small businesses in Tanzania
Australians with business experience are in demand as part of a project in Tanzania to help and advise small-scale entrepreneurs and businesses who are the recipients of interest-free microfinance loans. Based in the city of Arusha, Tanzania's gateway to northern national parks and the starting point of many memorable safaris, volunteers work alongside a Projects Abroad team and local groups to develop business plans and teach business skills, with the aim of helping disadvantaged people find their way out of poverty.

2. Teaching kids sport in Kerala, India
With its stunning backwaters, Kerala is one of India's key must-see destinations but it's also a rewarding place for sport-loving volunteers to share their passion to improve the lives of disadvantaged local school students. This GVI Australia project based in Kochi focuses on sports education with the goal of providing a safe, fun environment for children to develop athletic abilities and gain confidence. Classes may have a specific focus, such as cricket or football, or encourage fitness and well-being. It gives opportunities to young people who love sport but otherwise couldn't afford to join local clubs.

3. Building homes for Sri Lanka flood recovery
In May, Sri Lanka suffered from heavy monsoons and landslides that caused widespread flooding and damage, with thousands of homes destroyed. Through Habitat for Humanity, volunteers can help locals build new homes for families in the hill country area of Nuwara Eliya. The construction of new, permanent, flood-resistant homes for homeless families is part of an ongoing construction project with volunteers involved in various stages of building, from laying the foundations and mixing mortar right through to the official handover to the family.

4. Saving turtles in Greece – with your family
Travelling with the family? There's a lot to like about incorporating some volunteering into a family holiday. It's the chance to share some unique experiences while also having a sustainable impact in some of the world's poorest but also most beautiful locations. GVI Australia has recommendations for many projects ideal for families. How about some time in the Mediterranean saving turtles in Greece? Based near the southern Greek village of Giannitsochori, volunteers help conserve endangered loggerhead turtles, which nest on the local beach. They help the team with tasks like recording nesting activity and protecting hatchlings from predators as they make their first journey to the ocean.

5. Exploring the magic of Madagascar
Help preserve the unique and diverse ecosystem of amazing Madagascar while exploring its beautiful beaches or visiting the UNESCO World Heritage site of Tsingy de Bemaraha by volunteering in Project Abroad's Rainforest Conservation project. The project is based in the forests bordering the Indian Ocean working with a local national park supporting staff who don't have sufficient resources to maintain the park or carry out their research and reports. Volunteers do everything from reforestation and teaching English to local guides to building hides for sleeping out in the jungle.

6. Tracking killer whales in Iceland
Vestmannaeyjar in the Westman Islands, an archipelago in the south of Iceland, is the site of a pioneering scientific project under way to study the behaviour of the area's killer whale population and build a better understanding of the threats to the species. Through Earthwatch, volunteers can join the team on their expeditions on the water to track and record the activities of individual whales as well as help with collecting biopsy samples to monitor their diet, pollutant levels and genetic material. And it's not just the whales that will impress. Due to a volcanic eruption in 1973, a large part of the island is composed of a lava field and its volcano, providing a breathtaking landscape. Plus, the island is a wildlife haven of many species – including its iconic symbol, the puffin.

7. And closer to home…
There are plenty of opportunities here in Australia if you'd like to lend a hand locally. How about becoming a turtle tracker as part of the Ningaloo Turtle Program on site at the Ningaloo Marine Park on the Western Australian coast ()? Or perhaps head to the Northern Territory to help clean the remote Arnhem Land coast of marine debris threatening wildlife while enjoying one of our most spectacular wilderness areas.