AMW: Population 1.6m less than previously projected by 2030
Australia's population growth is expected to slow sharply over the next two years, primarily due to net migration given closed international borders.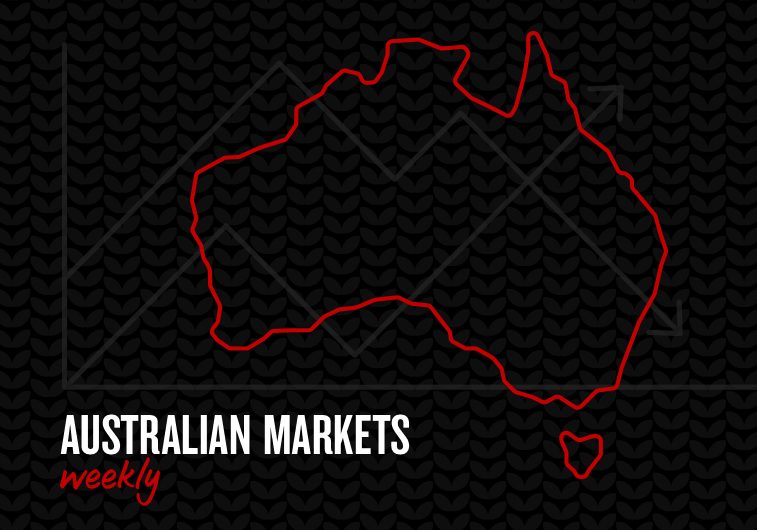 Download the reports for the full picture:
Analysis
Population growth is expected to be 0.2% in 2020-21 and 0.4% in 2021-22 against its current 1.5% pace.
Net migration is expected to fall from its usual 200k+ pace to subtracting from growth at -72k in 2020-21 and -22k in 2021-22. Importantly, this forecast dip in migration is temporary with the government forecasting a sharp rise in net migration to 201k by 2023-24. Australia's high migration-driven population growth strategy remains intact.
The implications of a sharp temporary fall in population growth are mixed and very geographically concentrated. Migrants have historically settled in Sydney and Melbourne, so other regional localities should be less affected.
Markets extend pricing for RBA policy easing after Lowe last week
RBA Governor Lowe's speech last Thursday saw markets extend their pricing for policy easing. Dr Lowe noted the RBA was evaluating the case for QE in the 5-10yr space as well as having considered the case for policy easing at its recent October meeting.
Yields fell in response with the 3yr yield falling to 0.12%, well below the current 3yr YCC target of 0.25%. Longer run yields also fell on the prospect of QE with the AU-US 10yr spread now negative. NAB remains of the view that the RBA will cut the cash rate to 0.10%, along with the 3-year yield target (YCC) and the TFF rate in November. We also expect the RBA to announce QE purchases in the 5-10 year area of the curve.
The week ahead
Australia: RBA October Minutes on Tuesday should echo Governor Lowe's recent speech (see above) and will be watched closely for any hints on the details of a likely easing package come November. Tuesday also sees Payroll data for the week to October 3, where a positive read is possible given some Victorian COVID-19 restrictions were eased from September 17. The preliminary estimate of Retail Sales for September is also out on Wednesday; (goods-heavy) retail sales are already 12.4% higher than pre COVID levels outside of Victoria.
International: : CH: Chinese GDP figures just out (+2.7% q/q) with the level of GDP now 3.2% higher than pre-COVID levels. NZ: Weekend election sees Labour's Ardern re-elected and could govern in her own right. Data wise the QSBO is on Tuesday and Q3 CPI figures are on Friday. US: Just over a fortnight until the election where Biden continues to lead, along with the possibility of the Democrats winning the Senate, the final presidential debate on Thursday.  Elsewhere earnings season picks up with Netflix on Tuesday the first FAANG to report. Jobless Claims remain under the spotlight. EU/UK: Flash PMIs for October on Friday closely watched to see whether increasing virus numbers are weighing on activity. Focus on Brexit negotiations.
Please see attached for further details
Charts of the week:
Chart 1: Population to be 1.6m smaller than previously projected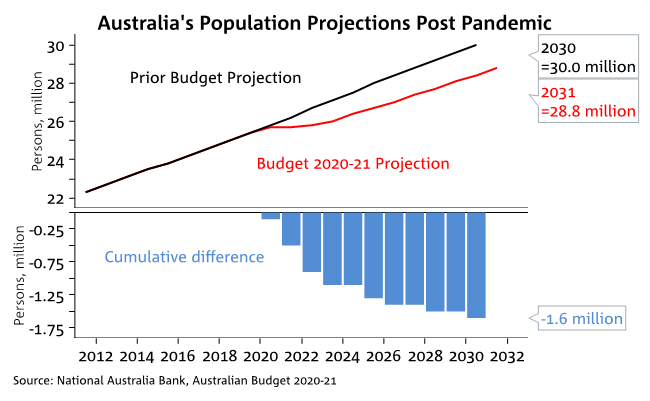 Chart 2: Big fall in net migration to weigh initially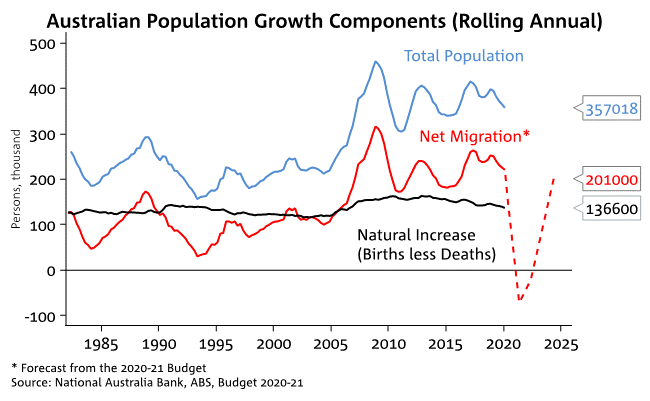 Customers can receive Australian Markets Weekly and other updates directly in their inbox by emailing nab.markets.research@nab.com.au with the name of their NAB relationship manager.