January 18, 2023
AMW: Q4 CPI Preview: Inflation to peak in Q4
CPI inflation is expected to have peaked in Q4 2022. Looking forward, we expected inflation to slow through 2023.
Q4 CPI Preview – Inflation to peak in Q4
CPI inflation is expected to have peaked in Q4 2022. Lower-than-expected fuel prices and lower-than-feared fruit and vegetable prices despite recent floods mean we now expect 1.6% q/q and a peak of 7.5% y/y, below the RBA's 8.0% y/y November SoMP forecast. Despite that, we expect the detail to provide little comfort about the inflation backdrop with strong services inflation likely.
For trimmed mean we forecast 1.6% q/q and 6.6% y/y, a touch above the RBA's November forecast for 1.5% q/q. While our forecast print is lower than Q3's 1.8%, on our numbers this is almost entirely due to slowing new dwelling construction cost rises. We expect market services and labour-market sensitive inflation to remain uncomfortably strong amid elevated labour cost growth and strong demand.
Notable drivers for inflation in the quarter will be unseasonal increases in electricity, as the measured effect of subsidies in Q3 partially unwind (concentrated in WA), and in health, as some insurers delayed premium increases to November from April. The NAB Business Survey for November also showed elevated final prices in retail, and in rec & personal with our mappings consistent with a 1.6-1.7 q/q print. The Melbourne Institute's Inflation Gauge also mapped to a 1.6% q/q print.
Looking forward, we expected inflation to slow through 2023 (particularly y/y). Headline inflation is likely to fall back below 7% y/y in Q1 and be around 6% in Q2. Goods and new housing are expected to be key sources of disinflation. Supply chains have rapidly unsnarled, product availability has improved, and shipping costs have fallen. Price rises for new dwelling construction has also materially slowed with a risk of some price falls for new contracted homes over the year ahead.
But inflation is broad-based, and the tight labour market and accelerating labour costs and earnings remain. A second year of large electricity price increases is also expected in Q3 2023 CPI. Although CPI is important, key for the RBA in being confident in getting inflation back to target will be wages growth with WPI on 22 February. We expect the RBA to hike rates by 25bp on 7 February and in March.
Chart 1: Inflation to peak in Q4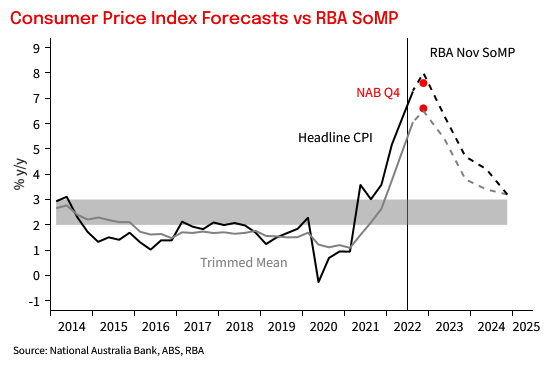 Chart 2: New Dwellings slowing as Electricity to surge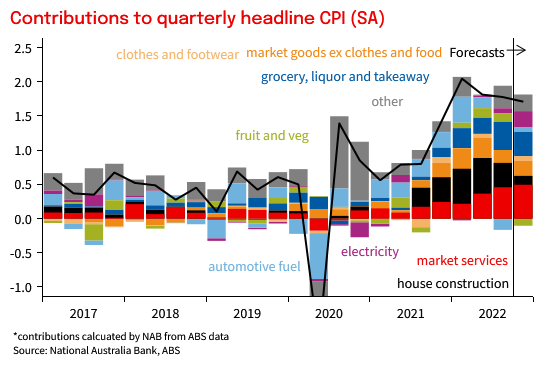 Read our NAB Markets Research disclaimer.