AMW: the uneven impact of job losses
Despite strong job gains in June and July, there are still over half a million people who have lost work since March and an unknown number supported by JobKeeper.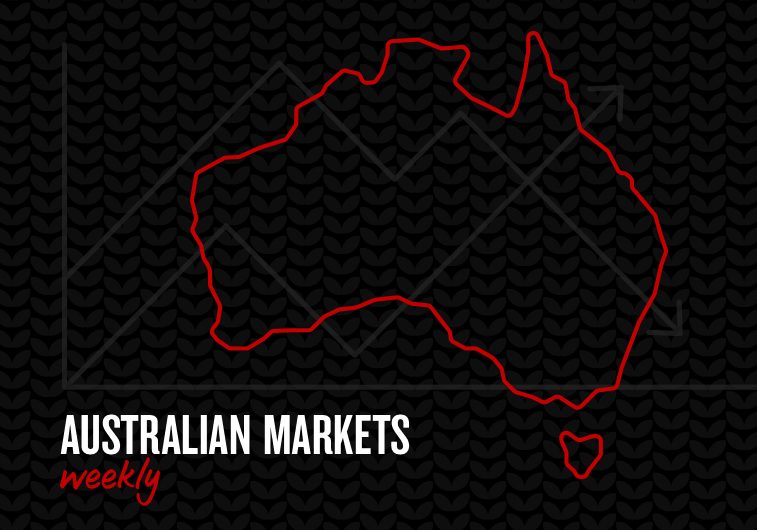 Download the report for the full picture:
Analysis
Job losses to date have been concentrated in lower paid industries, in keeping with trends seen in other major advanced economies given the common nature of the shock
Household income on the other hand has actually risen during the pandemic with the government's massive JobKeeper wage subsidy and JobSeeker programs bolstering incomes. The ABS estimates households received $67.6bn in support in the June quarter, while GDP data shows household income rose 2.2% even as compensation of employees fell 2.2%. This continues to raise the question as to the outlook for the economy when this support begins to taper from the end of this month.
Victoria's protracted re-opening plan
Victoria unveiled its re-opening plan on Sunday. The protracted timetable has been widely criticised by business with the trigger points for an easing of restrictions akin to the state pursuing an elimination strategy instead of a suppression strategy.
The plan sees the current lockdown extended for two weeks until September 28, or until the average daily case count is 30-50 a day over a fortnight. However, most businesses will not be able to return to normal operations until a more stringent threshold of less than 5 cases a day for two weeks is achieved (pencilled in for Oct 26), while gathering sizes will restrict the recovery in the hospitality sector until a final easing of restrictions that requires no new cases for two weeks (Nov 23 pencilled in).
The plan – unless revised – will mean Victorian activity will drag on national activity for somewhat longer-than-previously expected. In that environment the RBA and the government will likely continue to think what more they could do to assist the recovery. The government is set to unveil its budget on October 6 where speculation centres around the bringing forward of income tax cuts, business investment incentives and labour market and regulatory reform.
Week ahead
Australia: Payrolls are on Tuesday for the week to August 22 and will be closely watched to see to what degree job losses in Victoria are being offset by gains in other states and territories, we expect an overall decline. The NAB Business Survey is also Tuesday and this month's report will be the first survey to pick up the impact from Victoria's stage 4 lockdown, while Home Loan Approvals data is on Wednesday.
International: CH: CPI and PPI is on Wednesday where disinflationary pressures are likely to remain. Aggregate financing figures are also due anytime from Thursday. US: Labour Day public holiday on Monday makes for a quiet start. Jobless Claims on Thursday will continue to be closely watched to track the recovery in the labour market. The CPI is also Friday amid continuing debate on the trajectory for inflation. EZ: The ECB meets Thursday with focus on commentary around the currency given its recent appreciation. UK: July monthly GDP is on Friday, while EU-UK trade talks resume in London.
Please open above report for further details.
Chart of the week
Victorian virus numbers continue to fall.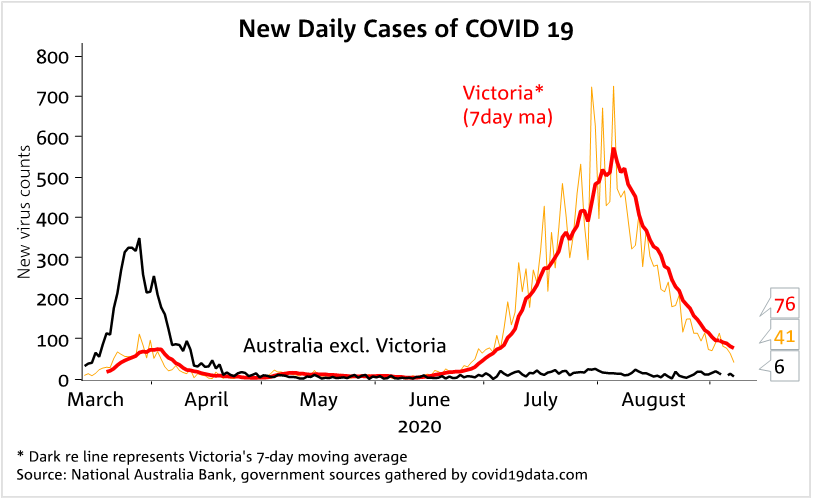 Customers can receive Australian Markets Weekly and other updates directly in their inbox by emailing nab.markets.research@nab.com.au with the name of their NAB relationship manager.