January 27, 2017
Attending and exhibiting at trade shows
Gain awareness and credibility by attending and exhibiting at trade shows. Not only can trade shows increase your visibility among potential customers, they can also provide you with rich insights and market research.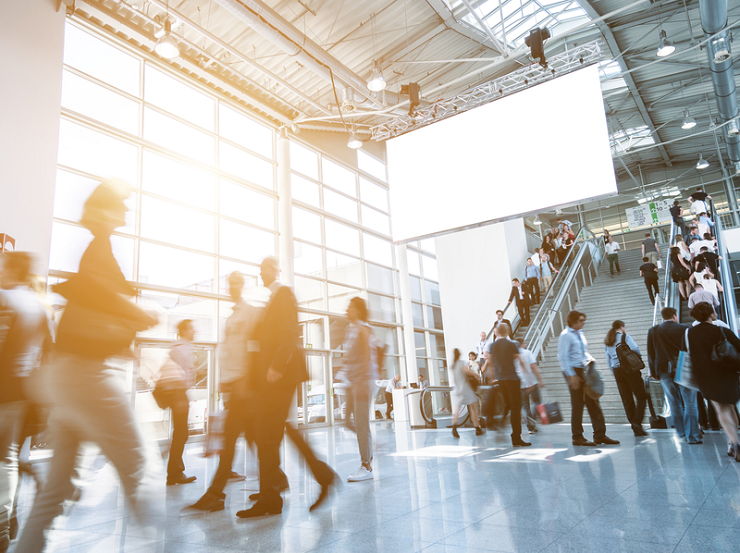 Why utilise tradeshows to get your brand out there?
To get your foot in the door in Asia, you'll need contacts. This is where getting out and attending (and exhibiting) at Asian trade shows will begin to show rewards.
As a trade show visitor, you'll have the chance to get a deeper understanding of which brands you'll be competing against in the export market. By exhibiting at a trade show, you'll also get valuable feedback and advice from a whole spectrum of people – from like-minded business owners to potential customers.
Using trade shows to get sales rolling
The nature of the trade show itself has pre-qualified attendees, allowing you to showcase your products and services to receptive audiences.
That said, don't expect trade shows to generate a lot of actual sales. In fact, you may even lose money by offering heavily discounted specials at the event. These so-called loss leaders serve a higher purpose in getting sales rolling. You may experience an initial loss, but you'll draw in potential long-term customers.
When targeting partners, distributers or customers in a promising Asian market, you'll likely need to adapt to the local ways of negotiating and doing business. For example, in Taiwan networking is highly important to progress your business, while meeting over food and drink with prospective customers or partners is commonplace.
Austrade has some excellent guidelines about how to manage sales enquiries from trade shows.
Building brand awareness
Change your mindset about trade shows. Instead of thinking of them as sales channels, treat any trade fairs where you exhibit as an investment in your new export market.
The goal is to expose your business to a new market. You can achieve this by having:
Clear and effective signage – plus samples and special deals. Be careful with foreign languages. If you're attending a trade show, make sure you have a reliable local advisor to help with translating your marketing materials and avoiding cultural mishaps.
Loads of business cards on hand – and make it easy for potential customers to buy your offerings at a later date.
Making new contacts
In many cases, simply getting the contact details of other business people, distributors, wholesalers, or retailers is the best you can expect from an export trade fair. In other cases, making new business contacts may be your driving goal for attending a specific trade show – particularly in the Asia-Pacific region.
Follow up with your contacts
Trade shows represent beginnings – coming home with a stack of ignored business cards won't help win your business sales. Ensure you:
Reach out to the contacts you've made – many business relationships in Asia are built on reciprocity, like in China for example, where a large proportion of businesses are family owned.
Schedule follow up meetings.
Begin building those important relationships – for example, in Hong Kong value is heavily placed on well-developed long-term relationships. Your sales won't go through the roof without a lot of hard work building those connections.
Whether these contacts translate into future sales will depend on your follow-up actions. Just as it's important to hand out your own business cards, it's equally important to get the contact information from the people you meet at the trade show – and then follow up afterwards.
Austrade conduct a number of export presentations each year that may be of use.
Test your new export market
One way to be certain that a market exists for your products or services is by testing them in various environments – including at trade shows. Make sure you:
Pay attention to attendees' reactions – and ask them for feedback.
Keep an eye out for non-verbal cues – as body language and facial expressions can tell you a different story. For example, in India head nodding can be confusing so it's important to learn the basics. Your potential customer or contact might be saying yes, no, maybe, or simply showing you some respect.
Check out your potential competitors
Trade shows provide you with a convenient way to research your competition. Have a staff member cover your exhibit while you explore the exhibit hall in search of competitors. You'll want to be aware of your potential competitors and:
What they bring to the table.
Their pricing structures.
How they get their goods or services to their customers.
Research their offerings and pick up as much of their promotional material as you can.
Weigh up the costs
Trade shows require an investment – both in terms of the registration fees as well as associated costs. These can include your time, trade show materials that may need translating to the local language, discounts offered on your products and services, freight and travel expenses.
As with any business expense, you'll want to get the most bang for your buck.
If you approach your participation in a trade show as an investment in your export market, you'll likely come away with the market insights that you'll need to move forward.
You may need to visit Asia-Pacific trade shows more than once to establish the connections you'll need to be successful.
Contact your State Government's export department to learn about trade shows they're attending which you could be a part of.
Next Steps