Fields of gold: from agri innovation to business success
Encouraging new ideas, fostering value-adding innovation and celebrating an emerging spirit of entrepreneurship is vital if our agribusiness sector is to hit a $100 billion valuation by 2030.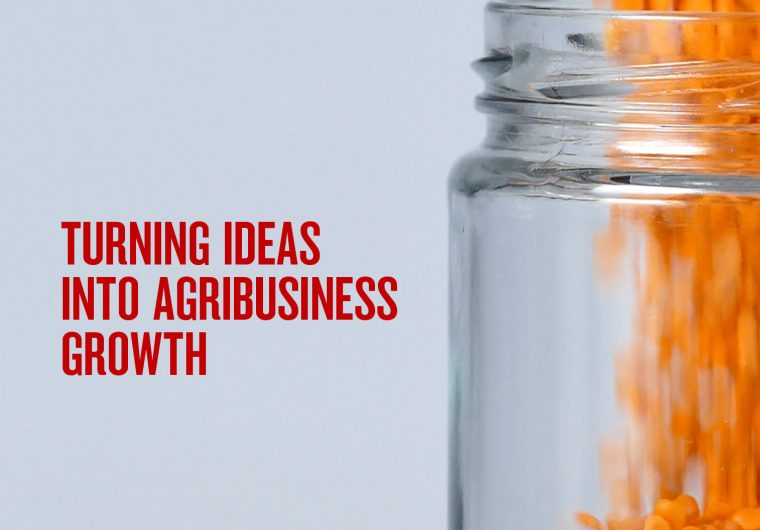 The old adage that necessity is the mother of invention has never been truer than in Australia's agribusiness sector over the past few years. 
First it was low dairy and grain prices, then drought, followed by global pandemic and continuing trade disruption with China.  
All have progressively placed financial pressure on many of Australia's 90,000 farmers and farm businesses that not even record cattle prices and a bumper 2020-21 harvest can automatically relieve.  
But the silver lining has been the surge in diversification among many agricultural producers – away from simply growing mainstream crops such as wheat and barley, or producing meat and wool, to finding opportunities to further value-add to their products or expand their business activities. 

Attitude adjustment
NAB Agribusiness Strategy Executive Bel Quince, who is based in central NSW, says she has seen a big change in attitude among farmers, with many no longer prepared to be simply price-takers supplying bulk raw commodities to overseas markets and major multinational corporate buyers. 
Instead, many are finding ways to turn their raw produce into higher value food, and connecting directly with consumers and major end-user customers to meet their bespoke needs. Examples of this include growers planting specific varieties of barley demanded by craft brewers and sheep producers selling spring lambs online direct to consumers as value-added meat cuts instead of via saleyards. 
Other farmers are inventing technological solutions to their own on-farm problems or to help cut costs and improve efficiency and selling the resulting homegrown ag-tech to producers with the same issues.  
Diversifying income is another driver of innovation, according to Quince, and has seen farmers turn old farm sheds and cottages into Airbnb rental properties to tap into the post-COVID demand for unique rural accommodation.   
Then there's the emerging opportunity to earn extra income from existing assets via carbon farming payments, biodiversity credits, wind farms and forest offset covenants. This trend is in line with the National Farmers' Federation prediction that, by 2030, as much as 15 per cent of average Australian farm income will come from alternative sources linked to land stewardship. 
"We are seeing increased activity nationally from our customers," Quince says. "They are still producing traditional commodities, but diversifying their income streams to complementary and new income sources that are emerging in the ag sector."  
"Value adding to farm produce is also very important from a national interest perspective; agriculture will never become the $100 billion sector it is aiming to be by 2030 by increasing production alone – we have to make that produce higher-value as well. 
"It's all about risk management and opportunity – not putting all your eggs in one basket so you are vulnerable if that market disappears, there is supply chain disruption, or reduced demand or pricing and your product falls. It's no coincidence that domestically, COVID was a driver of some of these adaptations." 

Lighting the innovative spark
But turning a bright idea or vague diversification plan into a serious long-term viable business has always been the problem for many aspiring farmer-entrepreneurs and their families. Many are remotely located, have not had previous access to business planning or training, and often find it hard to see how they can run a farm and develop a new business from scratch. 
While it might seem daunting, there are a few different avenues where innovative farmers can turn to for support.  
NAB has been working with Australian agribusinesses for over 160 years and can support through its network of 650 on-the-ground regional and agribusiness bankers located in more than 120 regional locations. They can provide support by sharing economic insights, thought leadership and customer case studies. 
Other avenues include initiatives like the Innovative Ideas and Bootcamp Accelerator programs from Farmers2Founders, designed to help farmers become more entrepreneurial, financially successful and better able to commercialise their ideas. 
Free for successful producer applicants, the programs are funded by the Federal Government and major agri-research and development bodies including Meat and Livestock Australia, the Grains Research and Development Corporation, and AgriFutures. 
From crashing prices to… a new product
Phillipa Lawson is a prime example of one farmer who's benefitted from the initiative Accelerator program. The wheat, barley and lentil grower, from Pinnaroo in South Australia, began looking for new paths in 2019 when the imposition of an Indian import tariff caused lentil prices to crash and drought reduced the size and shape of her lentils until many were rejected for export, despite their nutritional value remaining the same. 
At the same time, one of her two young daughters were refusing to eat vegetables – even the homegrown lentils Lawson hid in her spaghetti sauce. "I was talking to [my husband] Skeet about it, and suddenly thought maybe we could grind the lentils to make a flour. Finally, I was able to get some protein into her diet!" 
Lawson also realised that the vast majority of lentils sold in Australian supermarkets were imported, while top-quality Australian crops were exported. She saw the opportunity to diversify and achieve higher-value returns for her lentil crop by making a gluten-free lentil flour to sell locally.  
At this point, friends encouraged her to apply to Farmer2Founder.   
"At the beginning, I literally had no idea what I was doing," Lawson says. "We didn't have any infrastructure on the farm, hadn't created a business plan, and we weren't sure if there would be any demand. Our key motivation was to find an alternative way to market our lentils."  
The three-month program, completed online because of COVID, stepped her through everything from customer research and competitor products to website development and marketing, testing if her business idea could ever be viable.  
"They had a huge emphasis on speaking to physical customers or potential customers to work out if your product is likely to solve a problem," Lawson says. "Nearly every second person I interviewed asked if this product was going to be gluten free, so we went down that avenue." 
 Now, the farm's machinery undergoes stringent cleaning before harvesting the lentils, which themselves have their own storage facility to avoid cross-contamination. Once they are milled, a sample is sent to Adelaide to test for any gluten traces.   

Finding the confidence factor
Dr Christine Pitt, co-founder of the Farmer2Founder program, says producers are really good at having ideas about how they could make their products better and how to innovate or farm more efficiently, but often in the past lacked the confidence and skills to make their concepts work commercially.    
"Yet we've found so many go-getters out there who just need a bit of support and training and they can really fly," Dr Pitt says. "These new business ideas give better returns to the farm, turn producers from being price-takers into price-makers and, like Pip Lawson, often provide an alternative route to market for other producers too as the business grows." 
That alternative route to market has proved a winner for Lawson. 
In just six months from ideation to commercialisation, she has developed her own brand, The Pinnaroo Farmer, and now sells branded 1kg bags of high-value red lentil flour online and through local and Adelaide retailers. Demand is booming among consumers looking to add more plant-based, gluten-free protein to their diet.  
"Our product is good for my family, it's great that the product is enjoyed locally, and hopefully we will soon be servicing even more customers who'd like to be able to trace their lentils from gate to plate," says Lawson.  
"Ultimately, my vision is that The Pinnaroo Farmer will one day be in a position to purchase lentils off other local growers around our district, giving farmers greater financial autonomy through accessing an alternative lentil market."