Good times coming for the aged-care sector
Aged care is a sector that's been under the microscope for years. But while it has faced real challenges, its future now looks bright.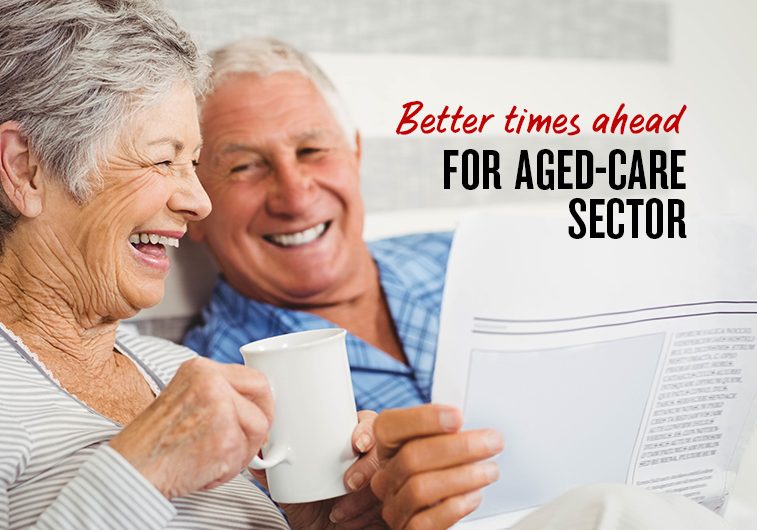 Before I explain why I'm upbeat about the future of the aged-care sector, let me start by making it clear I'm no Pollyanna. NAB has banking relationships with more than a quarter of Australia's aged-care providers. That means our aged-care team possess a deep understanding of both the challenges and opportunities the sector faces.
Over the past three years, there has been plenty of attention paid to the challenges. Industry players have been buffeted by rising staff costs, changes to government-funding arrangements and considerable media reporting around the standard of care provided in facilities. The December 2017 Stewart Brown report indicated that about 40 per cent of facilities are currently making a loss.
Nevertheless, it's my contention the sector has faced some challenges and is set to rebound – and these are my reasons.
1) The funding situation can't get any worse.
With close to half of all operators making a loss, the federal government is unlikely to do anything (i.e. extend freezes of indexation for care subsidies, to make the Aged Care Funding Instrument any less generous or escalate direct care costs) that further negatively affects the profitability of aged-care facilities.
The 2017 ACFA report estimated that an additional 83,500 places are required over the next decade to meet the provisional target ratios. While this may change with the increased rollout of home care packages, the fact remains that the government needs profitable businesses to not only supply the places but operate them to a high standard. Even if funding remains static, cutting red tape and allowing operators more flexibility – as has now been recommended by numerous industry reviews – could do wonders for bottom lines across the sector. The government has an opportunity to become proactive on these recommendations if it wants an industry with long-term viable businesses.
2) Demographic and consumer trends are favourable.
Australia is heading into the peak baby boomer retirement years. There were 5.6 million Australians born between 1946 and1966,according to the Australian Bureau of Statistics, and over the next 13 years all of them will reach retirement age.
In contrast to their parents and grandparents, many baby boomers are heading into retirements that will, in many cases, stretch for decades. What's more, many baby boomers will have access to plentiful capital (from super accounts and the sales proceeds of a house that has skyrocketed in value).
As they have done with every stage of life, the baby boomers are reinventing retirement. There will be strong demand for aged-care places at all price points in the coming years but there will be particularly strong demand at the top end of the market. As with other industries, the more price points available the more opportunity there is for all operators to capitalise on this wealth. The caveat is that they need to understand the segment of the market they are targeting and aggressively pursue it.
3) Industry consolidation is resulting in larger, more resilient aged-care providers.
Let me be clear – there will always be a role for the smaller, family-owned operators who are personally invested (not just financially) in their business. Those that believe in their target market and have the cost structure set up to succeed. However, given rising costs, more demanding consumer expectations, government regulations and static (or falling) funding, the sentiment is that aged-care providers have increasingly needed to get big or get out. Marginal players have been selling out and even medium to large operators have been merging with or acquiring each other. This hasn't always been a pretty process, but it's resulted in businesses with efficiencies of scale and the ability to leverage their cost price.        
How NAB is partnering with go-getters
Perhaps the main reason I'm convinced the medium- to long-term outlook is positive is the size of NAB Health's aged-care business pipeline – it's the biggest it has ever been. Lots of operators are borrowing significant amounts to refurbish or expand their existing facilities. Or to build greenfield facilities. Or to acquire competitors. Or to develop narrowly targeted facilities aimed at, for example, first-generation immigrants. There's tremendous optimism across our client base, which is a large and representative sample of the sector as a whole.
The majority of meetings our aged-care team and I have with aged-care operators focus on funding the opportunities those operators have identified. We have the resources, corporate memory and agility that allows it to partner with growth-focused operators, even those doing something out of the ordinary or experimenting with new offerings. For not only is NAB one of the most significant providers of capital to Australian aged-care operators, we also take pride in offering them flexible and innovative funding. With the dynamic nature of the industry, there is no such thing as a one-size-fits-all approach to lending to the aged care sector any more.
Perhaps as a result of the recent industry dynamics leading to more professional businesses, growing numbers of operators have done a thorough analysis of the marketplace, have a clear and comprehensive growth strategy in place, and are prepared to back themselves to the hilt. They are on an exciting journey. At NAB, our purpose is to back the bold that move Australia forward, and we're proud to play a part in backing those transforming Australia's aged-care sector.