May 24, 2019
Insights into habits of the wealthy
The latest Investment Trends research shows the number of high net worth individuals (HNWIs) in Australia rose to a record 460,000 people, reasserting Australia as one of the wealthiest countries in the world.
Despite jittery markets and reducing house prices, leading to an overall decline in average household wealth, the latest Investment Trends research shows the number of high net worth individuals (HNWIs) in Australia rose a surprising 5.7% in the year to October 2018, to a record 460,000 people*. This reasserts Australia as one of the wealthiest countries in the world.
The growth in the number of wealthy Australians can largely be attributed to:
a growing number of business owners realising the profits from their business operations and transitioning out of their businesses,
high income earners (professional services, medical and consulting) contributing more of their income towards savings and investment assets,
the returns of top-performing investments (property, shares, bonds and increasingly alternative assets, like hedge funds and private equity),
continued immigration into Australia.
At NAB Private, we work with HNWIs every day. It is fascinating what sets the 'relatively wealthy' apart and it's not what generally comes to mind. It is the extra focus on savings and investment that makes the difference, not the level of income or profits from a business. There is just no substitute for a long-term savings and investment strategy.
The growth and protection of wealth
When it comes to investing, HNWIs cite market crashes, share market volatility, the broader Australian economy and global geopolitical risk as their major concerns. In response, 43% of HNWIs made substantial changes to their asset allocation last year – with the majority moving to make their portfolio more diversified or defensive.
The movement in asset allocation over the past 10 years also shows an increasing focus on diversification. The way wealth is grown and protected has shifted, with allocation to managed investments (funds, LICs, ETFs) increasing at the expense of direct shares and property.
The build-up of cash holdings is also reflective of the market uncertainty currently facing investors, with the current 12% allocation double that of 2009 (6%).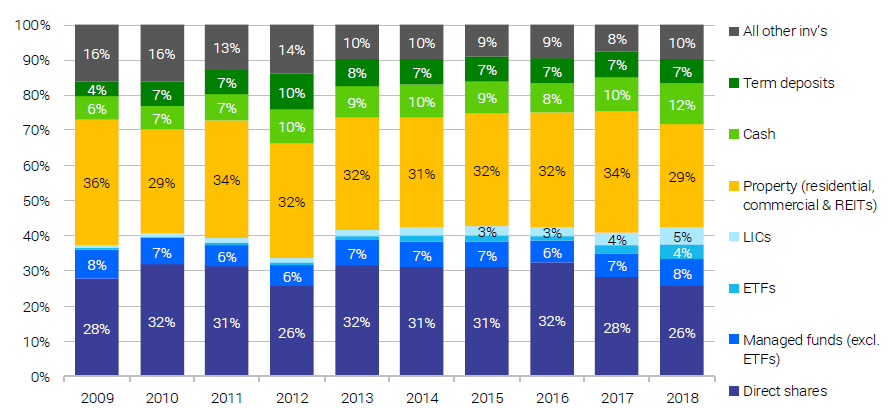 Source NAB Private & Investment Trends January 2019
While the broader environment has impacted HNWI investing sentiment in general over the past year, what we are seeing is the appetite for growth-orientated investments is actually increasing. Over half of HNWIs (54%) cite capital growth as a key investment goal for this year. Their favoured investments being managed accounts, unlisted index funds, direct international shares and investment property all earmarked as avenues for growth.
Social and ethical mindsets take centre stage
This research also shows an increasing interest among HNWIs about the different facets of socially responsible investing, with investors of all ages taking more notice of environmental, social and governance (ESG) considerations as part of their investment decisions.
Interestingly, the focus area within ESG differs across generations. Most commonly, younger investors consider environmental factors, middle-age investors look more at social factors and investors over 50 years consider governance.
While many HNWIs indicate an interest in adopting responsible investing principles, just over a third (36%) currently do so. A further 25% have an intention to consider ESG factors in the future or are interested in learning more to better their understanding of this growing aspect of investing.
For those interested in learning more, a good place to start the conversation is the NAB Private Global Investment Desk or, for those with more than $2.5m of investible assets, sitting down with a JBWere adviser. Given that ESG investing is often aligned to personal preferences and causes, it is worth understanding the products and solutions available which meet your personal investment goals and align with your values.
While NAB has been servicing the unique needs of HNWIs and business owners for more than 150 years, our increasing focus on the HNW sector is built on several important factors. Firstly, there is clearly a need, with 460,000 HNWIs in this country. Less than 20% of these individuals have a private banker. Secondly, we are increasingly focused on reinvigorating private banking to consistently better meet the needs of the modern day HNWIs. A strong focus for us is better servicing you – now and into the future.
If you'd like to hear more, please get in touch with your Private Banker.
*Investment Trends – HNWI Report 2018
About Investment Trends
Investment Trends is a specialist financial services market research organisation, spanning eight countries across Australia, Asia, Europe and the US. The 2018 HNWI survey involved over 7,900 respondents.