NAB backs regional and agri in new division
With almost one in three Australian agribusinesses banking with NAB, we're pleased to share our plans for delivering better service for all our regional customers.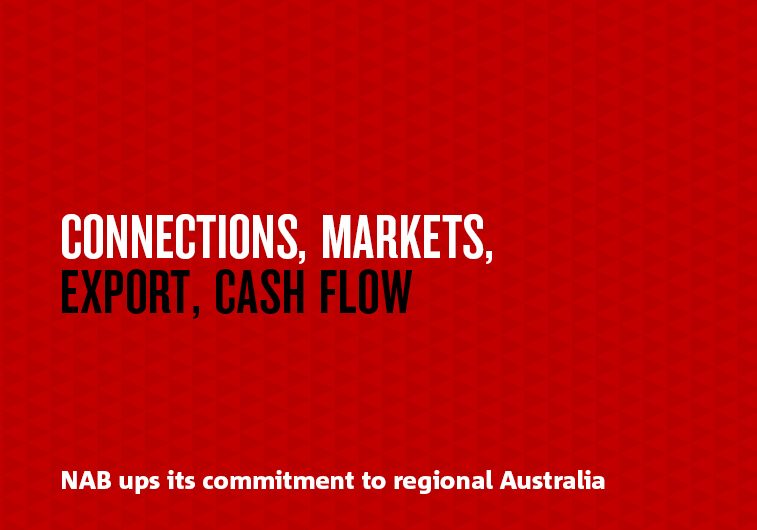 Rainfall. Community. Agtech. Connections, markets, exports and cash flow.
These are things that matter to our agribusiness customers – and the reason why we're structuring our business to suit what you need. We understand what will help you move ahead and make a difference – and want to work with you to set you up for success.
For more than 155 years we've been working with Australian farmers. Today we have 550 agribusiness bankers in 112 national locations and are Australia's largest lender to agricultural business.
Yet we also know regional businesses, and work with a growing number of businesses based in rural and regional areas.
With this in mind, we're pleased to announce that we are bringing together our SME and agri bankers in each regional area in our new business called NAB Partners– Regional and Agri.
Committed to regional Australia and its future
Australian farmers are experiencing prolonged dry and drought conditions and it's times like this when we can really support you.
We're backing our farmers in adopting agtech to help improve yield sustainably and mitigate risk – through solutions such as farm accounting software, soil sensors, spraying technology and satellite imaging.
We're backing you with energy-efficient loans, helping the transition to more sustainable business model.
And we're backing you with our highly talented agri and regional bankers, integral parts of the local community.
Today, agriculture, health and education represent almost a quarter of the Australian workforce. Together, the three sectors account for 15 per cent of our economy and are among our top six most productive industries when compared to global peers.
We're excited about supporting regional Australia and its local businesses and farming operations, as we welcome a world-class team to deliver the best service to customers.
New division launches
Since he joined NAB in January, Chief Customer Officer of Business and Private Banking Anthony Healy has made key changes to the Business & Private Banking operating model that will bring teams together in local geographies to further support our customers, sharpen our focus on specialisation and support our growth ambition.
Called NAB Partners, the new geographic model is about bringing local leadership and the best of the business bank directly to customers, through a single leader in each geographic area. It's about ensuring local leaders and their teams can focus on their customers and connect them with our deep, specialist industry knowledge in specialist business sectors such as agribusiness, health, government, education and community.
The NAB Partners – Regional & Agri business will be focused on our customers in regional and rural locations around Australia.
New faces leading agribusiness
NAB has established a new business under which all growing industries will sit – Growth Sectors. Led by Cameron Fuller as Customer Executive, the business will focus on deepening and strengthening our specialisation. Cameron will work closely with our NAB Partners business to grow NAB's priority segments, focusing on agriculture, health, education and community, professional services, private banking and emerging sectors.
Leading NAB's Regional and Agribusiness banking team nationally is Julie Rynski, who focuses on bringing our regional businesses together and fostering links between farming and other business sectors.
Neil Findlay has been appointed Agribusiness Customer Executive, and he'll drive our agribusiness thought leadership agenda. A highly experienced agri banker, Neil comes to the role from NAB State Head of Agribusiness in Victoria and Tasmania, where he was instrumental in the growth of the business over the past decade.
We'd like to acknowledge the great work of Khan Horne over the past decade in his role with us, and are excited to say he's moving to a newly-created role with us, leading our largest regional business, the NSW Regional and Agribusiness banking team. Khan and Neil have worked closely for many years and we're looking forward to seeing each of them leading great teams that support our customers in all their banking and business needs.
For all of us at NAB, a commitment to regional and rural Australia and to farming families and communities is in our DNA.
We wish our customers the best success and look forward to working with you for years to come to help grow and support your business.