February 22, 2023
NAB leaders: How we'll embrace equity in 2023
This International Women's Day is about 'embracing equity'. Six NAB business leaders share what that means to them.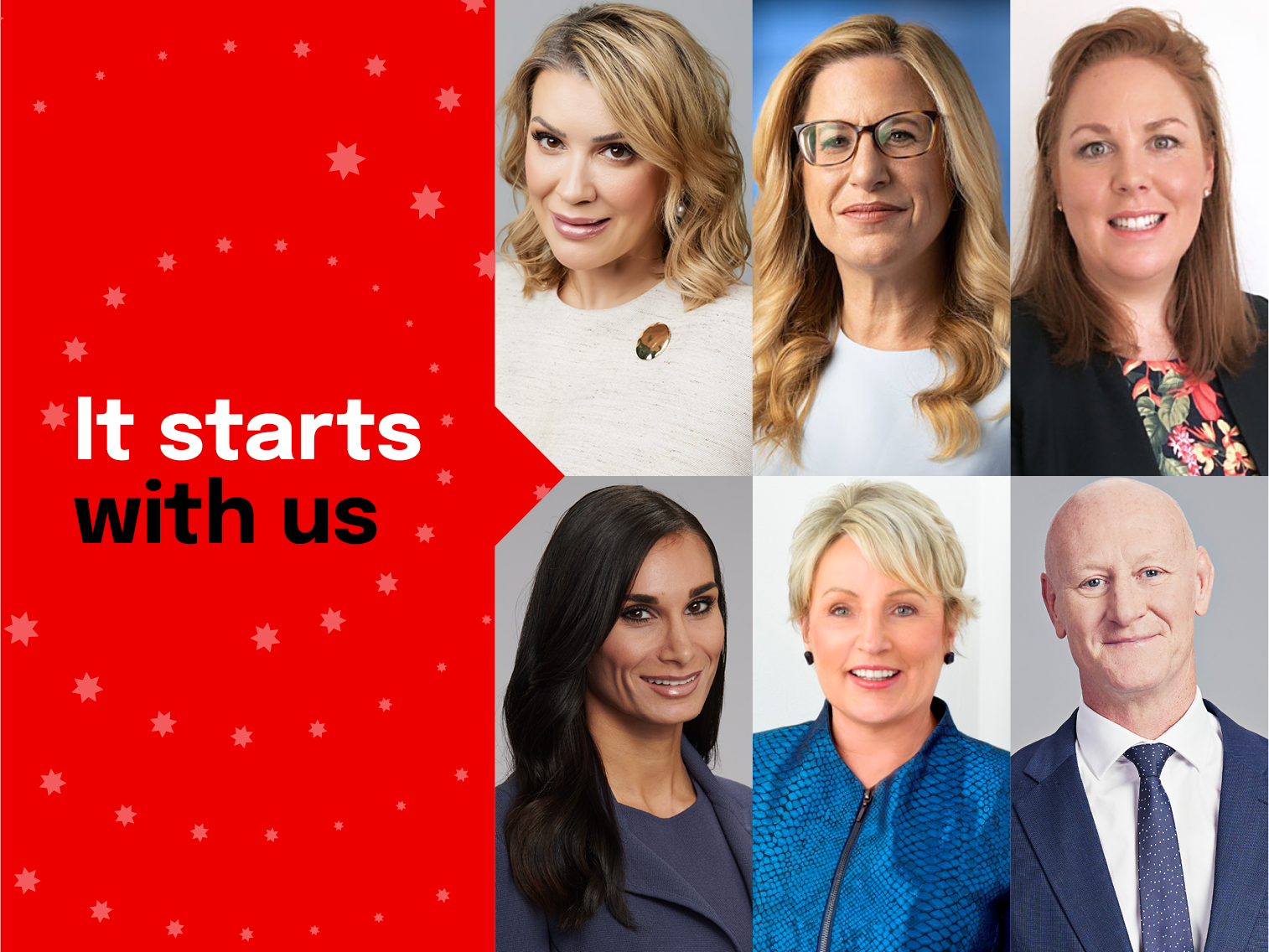 As individuals, we have the power to effect change. It's with this in mind that NAB executives are working to make a positive difference in their workplace this year, embracing equity as they ensure women are both heard and supported – whatever their ambitions or background.
When I think about embracing equity, I think about everyone coming together, with no one person better than the other. It's an alliance of all genders moving forward to create a world we want for future generations.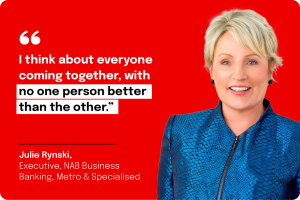 In my new position, I want to look through the lens of equity – not just for women but for all. Advocacy and compassion are critical to leadership, and I want to ensure we're having the conversations that we need to have to elevate this discussion. I want to let people know that this is a safe conversation to have – to look at how we do things so everyone has equal opportunities.
I've been fortunate in my career to have had amazing leaders who gave me the support and confidence to aim high. I want to do the same for others coming up.
We need to empower people to have a voice.
For me, embracing equity is about valuing people and their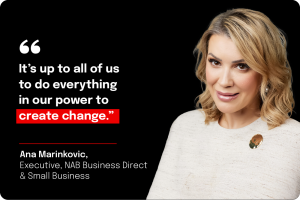 contribution without being influenced by preconceived notions of what each of us can achieve. That comes down to giving people that voice – not only listening to them but also responding to their suggestions, their perspectives, their ideas. I've found that can be super powerful. It encourages people, including women, to speak up, sometimes even louder than before.
Ultimately, we've got a long way to go before we see true equity – not just in terms of the male-female paradigm but right across the spectrum, including people's socioeconomic background, cultural background, religion, sexuality, age.
None of these fixed attributes should deny someone equity – but they do. It's up to all of us – especially those of us in leadership roles – to do everything in our power to change that.
As the late US Supreme Court judge Ruth Bader Ginsberg once said, there will be enough women on the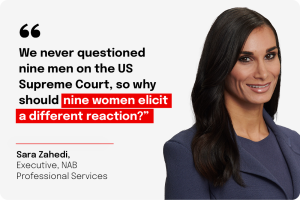 Supreme Court when there are nine (out of nine) female judges. When it comes to embracing equity, I believe we need to start with ourselves and the way we view situations. We never questioned when there were nine men on the court, so why should nine women elicit a different reaction?
We all have our role to play, and it comes down to simple things like having the confidence to call out inequity when you see it and not be complacent.
I'll be doing that in 2023. I'll also be encouraging women to invest in themselves, to back their own abilities and reduce the self-doubt – and have the confidence to go for that job we're not sure we tick all the boxes for. And I'll continue to seek out great, capable and motivated women when any vacancy comes up.
I want to show women they can get the roles they want.
As the new head of JBWere, I'm aware there are
very few senior female leaders out there in financial planning. I want to show women they can make it happen.
My focus will be a combination of building a stronger pipeline of female associates, advisers and managers, and supporting those who've expressed interest in being in a more senior role.
While many women express an interest, nearly as many don't achieve their goals for a variety of reasons, including the impact of being out of the workforce to start a family or not being sure or supported to take their career to the next level. I want to really understand these great women, and their individual situations, and do all I can to help them on the path to achieve their ultimate goals.
Embracing equity is about fairness and respect. It's something we should do, that should be part of our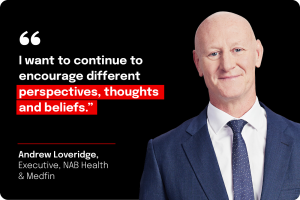 DNA.
This year, I want to continue to encourage different perspectives, thoughts and beliefs; to not be in rooms filled with likeminded people who sound like me. It's something I've always valued and worked on. I was part of a group that helped establish a mentoring program in partnership with the Macquarie Graduate School of Business, encouraging connections between female students and female leaders at NAB. Certainly, it's something I am proud of.
I don't think there's a silver bullet when it comes to female equity. There's lots of talk of legislation and quotas, but it's more complex than that. Ultimately, we need leaders, teams and individuals who are willing and able to make a difference. I hope I'm one of them.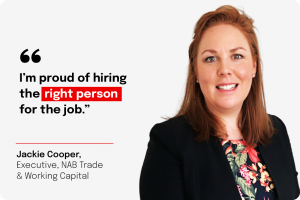 To me, embracing equity is about being fair and embracing people's different perspectives and experiences.
Truly valuing our differences and refraining from gravitating or choosing someone "like you" is super important. I'm a big believer in building a diverse team of individuals with different backgrounds and skillsets that we can all learn from. I want to give people the confidence to back themselves, to step outside their comfort zone and take that next role. Reflecting on my career, I have been fortunate to have people do this for me.
Parental leave is available for both parents and this represents an amazing opportunity to promote equity in the workplace. My job is to make sure my team, both men and women, know it's there, and have the confidence to take it up. I'm proud of making decisions to put the best person in a role, even when they were pregnant or on parental leave, even if it meant they weren't in the role for a period of time. I think we can be too short-sighted sometimes. Getting the right person for the job is much more important in the long run.