Prize-winning invention could save millions of lives
Vincent Garvey had no experience of dialysis – but his prize-winning invention is on track to save millions of lives.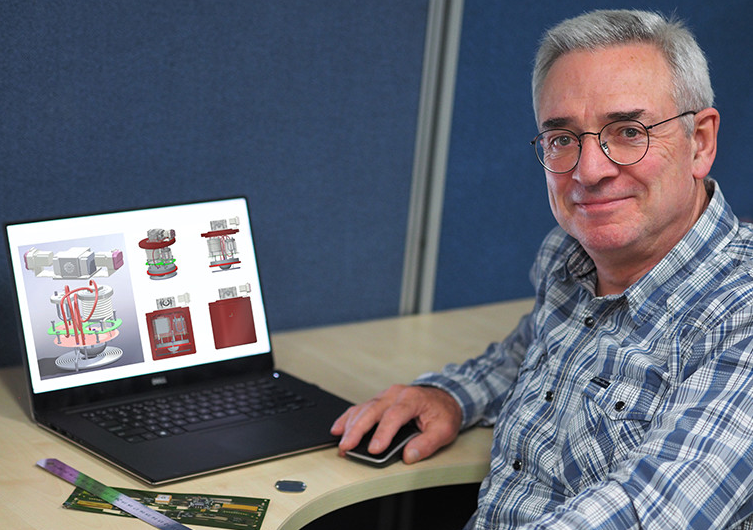 A prize-winning invention could slash the cost of treating Australians with kidney disease and take life-saving treatment around the world. Senior researcher Professor John Knight of The George Institute for Global Health reveals how an international competition uncovered this breakthrough technology.
Without dialysis or a transplant, chronic kidney disease is a death sentence. Currently, more than seven million people with no access to treatment die every year.
"The millions of avoidable kidney deaths around the world each year are mostly down to the cost of treatment – and they inspired our search for the world's first really affordable dialysis system," says Professor John Knight, a children's kidney specialist and senior researcher at The George Institute for Global Health.
A US$100,000 prize
In 2015, The George Institute launched a worldwide international competition with a prize of US$100,000 in collaboration with the International Society of Nephrology, the Asian Pacific Society of Nephrology and the Farrell Family Foundation. The goal? A portable, solar-powered machine that could:
match the performance and safety standards of traditional dialysis machines
purify water from any source on the spot
be manufactured for less than US$1000 and have low operating costs.
"The winner, Vincent Garvey, is a serial inventor but he had no previous experience with dialysis," Professor Knight explains. "He just saw an opportunity to help save lives."
Changing lives in Australia
 Most of the preventable deaths from kidney failure occur in developing countries but, even in Australia, dialysis takes a huge financial and personal toll.
"In this country, dialysis costs $75,000 per person per year," says Professor Knight. "We're very fortunate that this cost is covered by the community though the health system but treatment makes it very difficult to hold down a job and, if you live outside a major urban area, the cost of transport and accommodation can be quite a shock."
Aboriginal and
Torres Strait Islander peoples face a unique set of challenges: "They're 20 times more likely to suffer from chronic kidney disease than all other Australians, and to suffer when they're younger," says Professor Knight. "Many live in remote communities and they may have no choice but to relocate to a city for their treatment, which can be extremely stressful for them and for the whole family. Vincent's invention could easily be used at home or in a local medical centre, transforming the lives of many Aboriginal kidney patients."
How does it work?
Dialysis machines take over the work of the kidneys when they can no longer function.
"The most well-known system is haemodialysis, which uses a blood pump and a filter to remove toxins and extra fluid from the body," Professor Knight explains. "The other system – just as safe and effective – is peritoneal dialysis (PD), which uses the membrane that lines the abdominal cavity as a filter with the help of a sterile cleansing fluid. This is usually changed three times a day, seven days a week."
PD is potentially cheaper but, as each patient needs three two-litre bags of the cleansing fluid every day, manufacturing and delivery costs are high.
"The fluid itself is easy and inexpensive to make – it's basically salt water with a pinch of sugar," says Professor Knight. "Vincent invented a way of creating it on the spot and filling empty bags under sterile conditions at the point of care."
Very early days
The system is currently in the early stages of development.
"To help Vincent get the product to market, we created an Australian company – Ellen Medical Devices – and employed a local engineering firm – the ide Group – to build and test a prototype," says Professor Knight. "This should be up and running here in Sydney by the end of the year."
The dialysis fluid will then be sent to a laboratory for testing before field trials with kidney patients can begin.
"If all goes well, we'll register the Affordable Dialysis System as a medical device with regulatory bodies in Australia and overseas and have it on the market by 2021," he adds.
Australia's strength in innovation
The new system has already received industry recognition – it reached the finals of this year's prestigious Eureka Prize for Innovation in Medical Research.
"I think the high standard of the entries underlines the fact that, in terms of medical technology and devices, we Australians are continuing to punch well above our weight," says Professor Knight. "The other finalist developed an innovative way of identifying different types of multiple sclerosis, and the winner's blood test for bowel cancer is about to go to market in the United States.
"The biggest challenge for the Australian research community is how to move from a bright idea to a commercial product."
NAB is committed to supporting Professor Knight and his team on their journey to market.
"As their partners in growth, we're pleased to help wherever we can, including raising awareness of the important job they're doing," says David Nash, Senior Business Banking Manager at nabHealth.
Community awareness is critical. As a not-for-profit organisation, The George Institute depends on public support.
"A few people who heard our story on the radio were moved to donate a significant amount of money – enough for us to build the prototype," says Professor Knight. "It's thanks to a handful of visionary individuals that we've been able to get this far, so we welcome all support."