The AUD in April 2018
April was a month of two halves for AUD/USD. Get the picture with our annotated chart.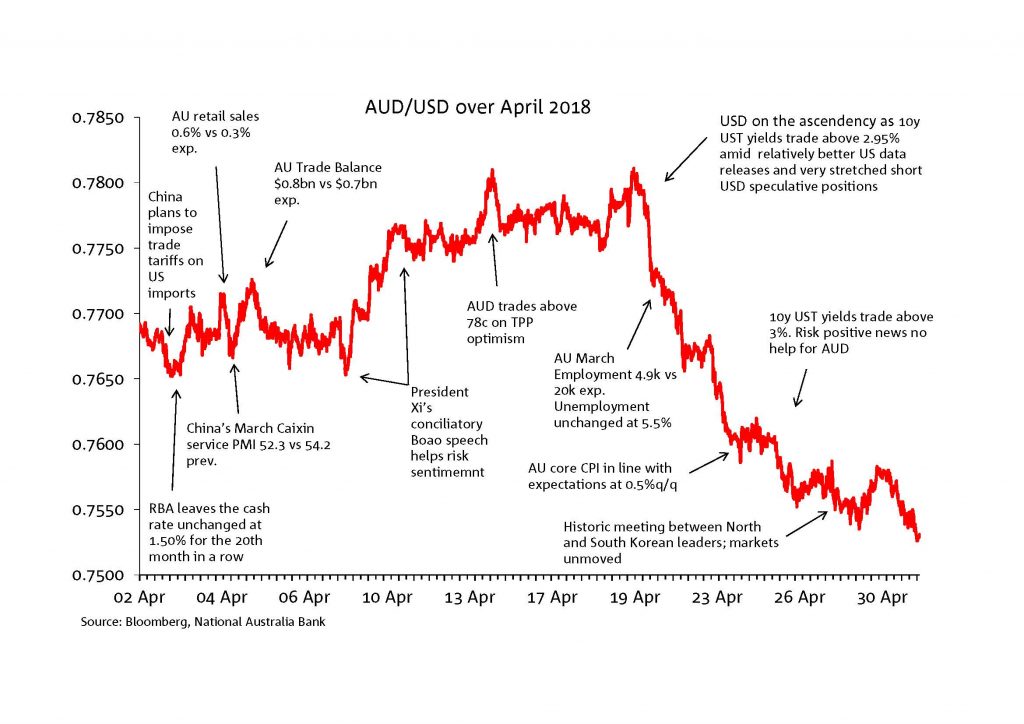 April was a month of two halves for AUD/USD. In the first half, better domestic data releases and conciliatory trade news from China boosted risk sentiment and helped the AUD/USD trade from just above 0.7650 to and intra-month high of 0.7813 on April 19th. Later in the month, the USD regained its mojo and despite risk-positive news the AUD began a decline of almost 3 cents, trading to an intra-month low of 0.7525 in the second last hour of the month, before closing April at 0.7530.
The AUD/USD began April on the back foot following China's plans to impose trade tariffs on US imports as a response to Washington's plans to impose tariffs on imported steel and aluminium from China. The RBA came and went leaving the cash rate unchanged for the 20th month in a row. Better than expected domestic retail sales data later boosted the AUD and then on April 9th, a conciliatory speech by President Xi helped alleviate fears of an escalating trade war. A few days later the AUD remained in the ascendency, further boosted by speculation the President Trump might be willing to re-enter the Trans-Pacific Partnership (TPP).
After trading to a monthly high of 0.7813 on April 19th, the AUD/USD embarked on a steady decline towards 0.7530, mainly driven by resurgence in the USD, amid better than expected US data releases, higher US Treasury yields and stretched short USD speculative positions. On April 19th, 10 year US Treasuries traded above their previous year to date high of 2.951% and a few days later they briefly traded above the 3%. Risk-positive news such as the historic meeting between North and South Korean leaders did little to arrest the AUD/USD decline with the pair ending the month at 0.7530, a level not seen since early December last year.