The AUD in April 2020
April was a very rewarding month for the AUD/USD.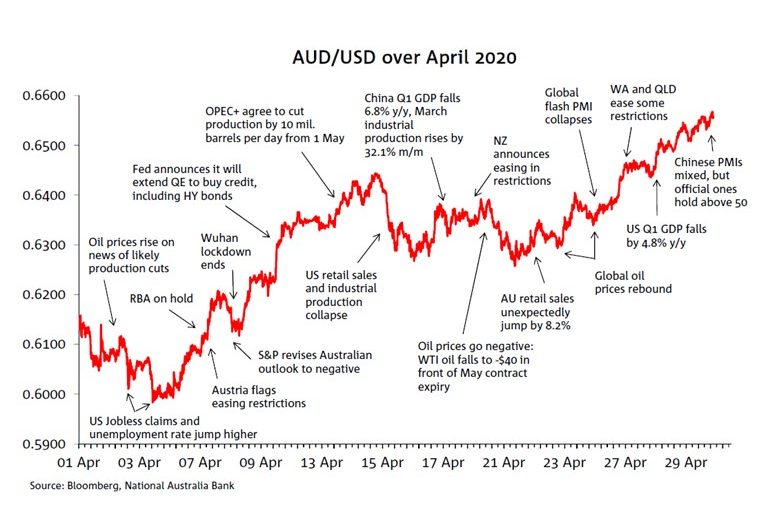 The AUD/USD traded in a 5.9c range and closed the month comfortably at the top of G10 leader board, up 6.2%, its 12th strongest monthly performance since it became a floating currency in 1983. Early in the month, (April 3) the currency recorded its monthly low of 0.5980 and its high of 0.6570 came on the last day of the month.
AUD gains in April can be attributed to the improvement in risk sentiment as evident by the recovery in global equities since their slump in February/March and fall-back in risk sensitivity measures such as the VIX and High Yield bond spreads.
On the policy front
The US Fed's actions were critical in supporting market sentiment. In addition to its big QE announcement late in March, in April the Fed rolled out another round of substantial emergency policy measures, looking to invest up to $2.3tn in loans to aid small and mid-sized businesses, state and local governments, as well as fund the purchases of some types of high-yield bonds, collateralised loan obligations and commercial mortgage-backed securities – moving into the realm of sub-investment grade securities for the first time.
Economic data releases during the month didn't elicit big market reactions, including in the AUD/USD. The data prints depicted a sharp deterioration in the global economy, but this view is now broadly accepted and "well in the price". Even the US earnings season, where many companies showed little inclination to provide guidance given the uncertain future, barely made an imprint on the market.
Instead investors' attention appears to have shifted towards the prospects for economic recovery. On this score, the beginnings of relaxation of social distancing measures around the globe have also supported the positive vibes with Australia one of the most successful countries in the containment fight against COVID-19. This success seemingly also contributed to the AUD/USD's outperformance during the month.
Download a PDF of the annotated chart
For further FX, Interest rate and Commodities information visit nab.com.au/nabfinancialmarkets