The AUD in August 2020
August proved to be a big month for the AUD/USD.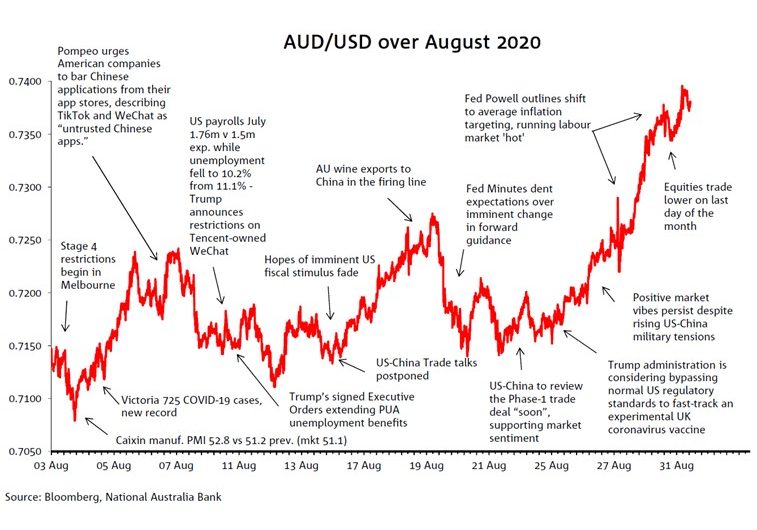 The AUD/USD rose by 3.2% and which was more than just a reflection of USD weakness. In index terms, the USD only lost about 1.5% (BBDXY).  AUD/USD began the month at 0.7143 and after making a low of 0.7124 on 3 August, reached a high of 0.7403 on 31 August before pulling back slightly to end the month at 0.7376.
International rather than domestic influences dominated much of the currency's intra-month movement
There was scant impact from the renewed lockdowns in Victoria and predictions from Treasury that these would knock some 2.5% off Q3 GDP. In fact, there was some support for AUD out of the 4 August RBA meeting when the Board failed to validate expectations evident in some quarters that the RBA might commit to some additional easing measures because of the situation in Victoria.
Rather, it was risk sentiment that was in the driving seat for much of the month. This produced some wobbles for AUD in the first half of August from US announcements regarding restrictions on the operations of Tik Tok and WeChat and then the failure of a planned six-month review of the Phase-1 China-US trade deal to occur on time (subsequently, talks did occur and affirmation of the deal provided a boost to both risk sentiment and the AUD).
Late in the month
The AUD/USD powered ahead in conjunction with US equity indices making successive new record highs. Fundamental drivers for the latter included hopes for the fast-track release of one or more coronavirus vaccines and then the Jackson Hole speech from Fed Chair Jay Powell, confirming a formal shift to 'average' 2% inflation targeting as well as a one-sided or asymmetric assessment of labour market conditions. This underscored the Fed's intent to allow the economy to run 'hot' in future, supporting risk assets and the negative 'real yield' argument for USD weakness.
Download a copy of the chart: AUD annotated chart August 2020
For further FX, Interest rate and Commodities information visit nab.com.au/nabfinancialmarkets
More from NAB