The AUD in January 2021
After the big gains during November and December last year, the first month of 2021 has been a period of consolidation for AUD/USD.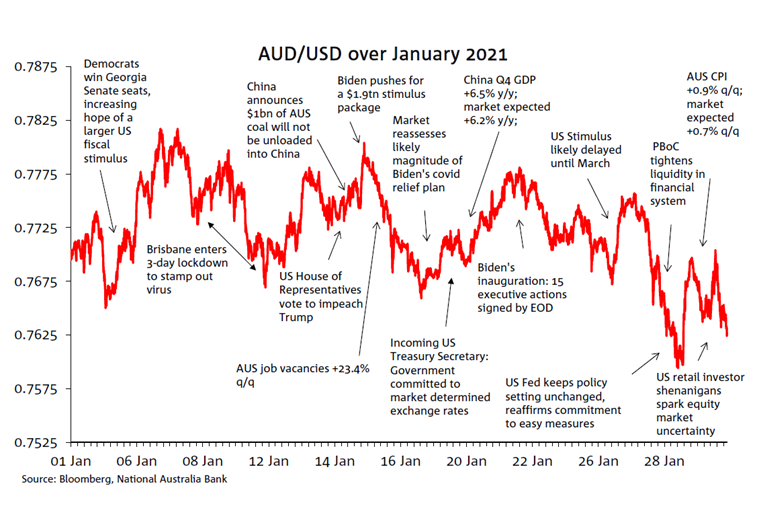 The pair started the new year at 0.7694 and it ended January half a cent lower at 0.7644. During the month, AUD/USD traded in a 2.2 cent range, quite a contrast compared to the 4-cent range in December.
Early in the month, market sentiment was boosted by the victory of the two Democrats in the Georgia Senate run-off elections. The results meant that Democrats have a marginal majority in the Senate (50-50 partisan split plus VP Harris tie-breaking vote), raising hopes for large US fiscal spending. The AUD/USD traded to its monthly high of 0.7820 on January 6th.
In a speech a week later, President (elect at the time) Biden asked Congress for $1.9tn to fund immediate relief for the pandemic-wracked US economy. But instead of boosting sentiment, the speech left the market wondering whether the new US administration would be able find enough bipartisan support to get the spending plan approved. The prospect of higher taxes to fund future infrastructure spending was an additional unsettling factor for markets.
Vaccine developments also contributed to the AUD/USD range trading pattern in January which mostly confined the pair to a 0.7640 to 0.7820 range during the month. While global plans for vaccine roll-outs was a positive, question marks over the efficacy of vaccines against new variants was one uncertainty with potential global supply shortages another, following EU threats to impose export restrictions if supply commitments to the EU were not met.
Domestic economic releases didn't elicit big AUD/USD moves, although notably labour market and inflations data releases printed above market expectations. Developments from China garnered a little bit more attention with the PBoC's decision to tightening market liquidity unsettling investors and contributing to the AUD/USD decline late in the month. The AUD/USD traded to its monthly low of 0.7594 on January 28th with higher equity market volatility weighing on the pair, linked at least in part to the antics of retail investors, seemingly acting in concert to squeeze Hedge Fund short-sellers of some smaller cap stocks.
Download a copy of the chart: AUD annotated chart January 2021
For further FX, Interest rate and Commodities information visit nab.com.au/nabfinancialmarkets