The AUD in July 2020
The AUD/USD in July was a tale of two halves.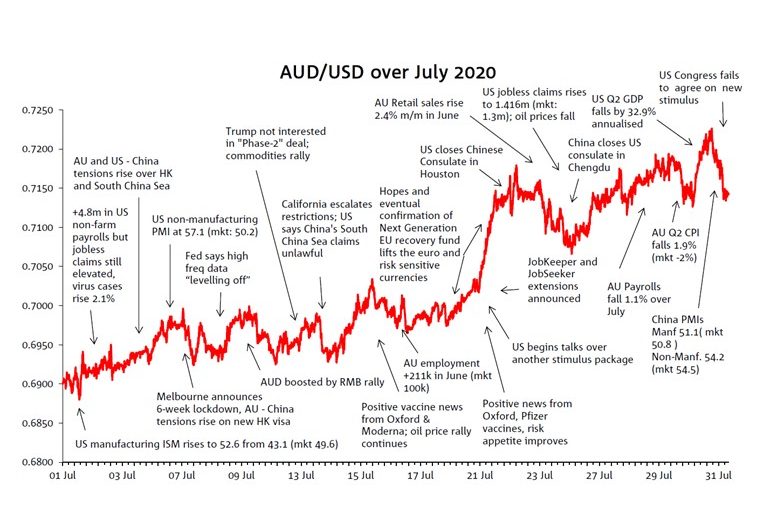 A narrow range trading first half, which kept the currency trading with a 69c handle, and an ebullient second half that propelled the AUD/USD above 72c for the first time since mid-April last year. The shift in the currency's fortunes half way through the month can be largely attributed to a broadly-based USD decline triggered by hopes and the eventual confirmation of the 'Next Generation EU' recovery fund. The news lifted risk sentiment, equity markets and commodity prices, a perfect combo for the AUD/USD. The AUD/USD traded in a range of 3.5c in July with the month low of 0.6877 recorded on the first day of the month while the month high of 0.7227 printed on the last day of July.
On July 21
After four days and night of negotiations, EU politician agreed on the 'Next Generation EU' recovery fund. The market was already optimistic ahead of the negotiations and after some wrangling by the so-called 'frugal four' – Sweden, the Netherlands, Denmark and Austria – the EU agreed on a fund of €750bn where the amount to be allocated via grants was reduced from an original €500bn to €390bn. Agreement on the fund has been seen as a big step towards an EU fiscal union and a massive boost for the euro. In July the euro gained 4.84% against the USD, it biggest monthly gain since late 2010.
The AUD/USD benefited from the EU induced improvement in risk appetite and broad USD weakness. During the second half of July negotiations over a new US fiscal stimulus intensified and despite the expiration of supplementary unemployment benefits, US politician were not able to agree on a new COVID-19 economic relief package. This further weighed on the USD, with negotiations still ongoing early in August.
Meanwhile
Early in July the increase in COVID-19 infections forced the Premier in Victoria to announce a 6-week lockdown. Separately, on July 21, the Federal Government announced an extension to both the JobKeeper (Dec-20) and JobSeeker (Mar-21) support programmes. The AUD/USD took the domestic news on its stride.
Download a copy of the chart: July 2020
For further FX, Interest rate and Commodities information visit nab.com.au/nabfinancialmarkets