The AUD in May 2020
After a solid April, the AUD/USD began May with some trepidation dipping below the 64 cents mark a few times early in the month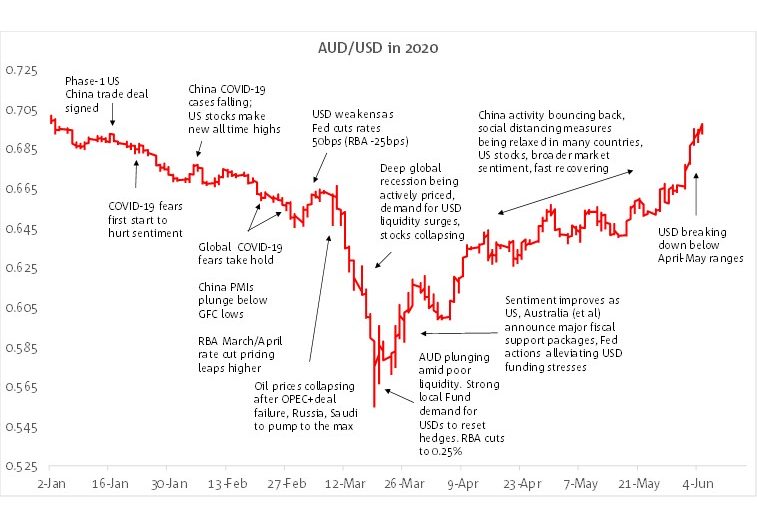 However, as May commenced its second half, the currency found itself on a stronger footing climbing above 65 cents and then after a breather it closed the month comfortably above 66 cents. The AUD/USD traded in a 3.07 cent range in May, printing its monthly low of 0.6373 on the 4th of the month and its monthly high of 0.6680 on the 27th.
From a market's perspective
The month of May was characterised by an improvement in risk sentiment, evident in broad based gains in equity markets around the globe. Investors looked through the dire hard economic data releases and instead focused their attention on the prospects of economies reopening and the implicit rebound in economic activity.
Simmering in the background
The heightening in US-China tensions was a source of market volatility and a headwind for the AUD/USD. On May 3rd remarks from US Secretary of State Mike Pompeo noting that there was 'enormous evidence' COVID-19 originated in a lab in China rattled markets and contributed to the AUD/USD printing its monthly low of 0.6373 on that day. Shortly after, the FT ran a frontpage article suggesting the White House and Capitol Hill were looking to match the anti-Beijing rhetoric with steps to curb supply chains and investment flows.
China's imposition of Australian barley tariffs and ban on meat exports didn't help the AUD/USD either, but as we moved into the second half on the month, the currency regained its mojo boosted by an increase in risk sentiment. Investors placed more weight on leading indicators such as PMI prints pointing to evidence of a rebound in activity which were also corroborated by high frequency data releases.
The US continued its anti-China rhetoric, but the lack of meaningful action left risk assets in an ebullient mood, and less concerned over a potential derailment from US-China tensions. The AUD/USD ended the month at 0.6667 and has risen to above 0.6700 at the start of June.
For further FX, Interest rate and Commodities information visit nab.com.au/nabfinancialmarkets