The AUD in October 2020
AUD/USD traded a more subdued range in October than in September (less than 2 ½ cents versus more than 4 cents in September).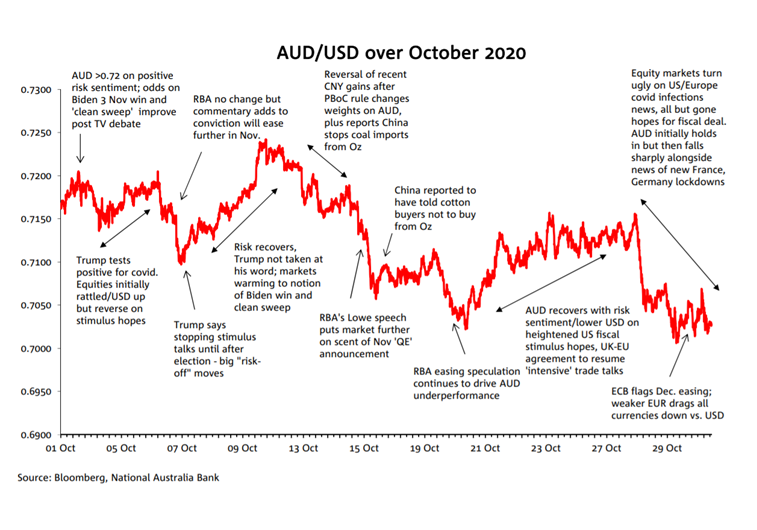 AUD/USD recorded a high of 0.7242 on 10 October and low of 0.7006 on the last business day of the month, exactly matching the September low. Though the correlation between risk sentiment as measured by the US stock markets and the AUD weakened considerably in October, relative to prior months, it still played a role in driving day-to-day AUD volatility. Independently, AUD underperformance relative to other major (G10) currencies owed much to the combination of speculation the RBA would be announcing a suite of additional easing measures out of the 4 November Board meeting – views encouraged by a mid-month speech from Governor Lowe – as well as disconcerting news reports of China placing restrictions on more Australian goods exports (specifically coal and cotton).
AUD/USD spent most of the first half of the month above 0.7150, aided by a mostly positive global risk backdrop driven by a combination of US opinion polls showing a rising likelihood of a clear Biden win in the 3 Nov elections including a possible Washington 'clean sweep; (i.e., on reduced uncertainty) and hopes for a pre-election agreement on substantial US fiscal support. This was interrupted only temporary by news of President Trump contracting COVID-19 and later a tweet that he was stopping stimulus talks until after the election.
Hoped for pre-election US stimulus waxed and waned during the second half of the month driving much of the day-to-volatility in risks sentiment and the AUD; but global equity markets took a turn for the worse – and with that the AUD – in the last few days of October on news of record virus infection rates in the US and large parts of Europe and announcements of imminent fresh economic lockdowns in the latter.
For further FX, Interest rate and Commodities information visit nab.com.au/nabfinancialmarkets