Work smart: legal tech that will pay for itself
As law firms continue to look for ways to stay competitive amid digital disruption, the need for their own innovative technology is greater than ever. But what to invest in?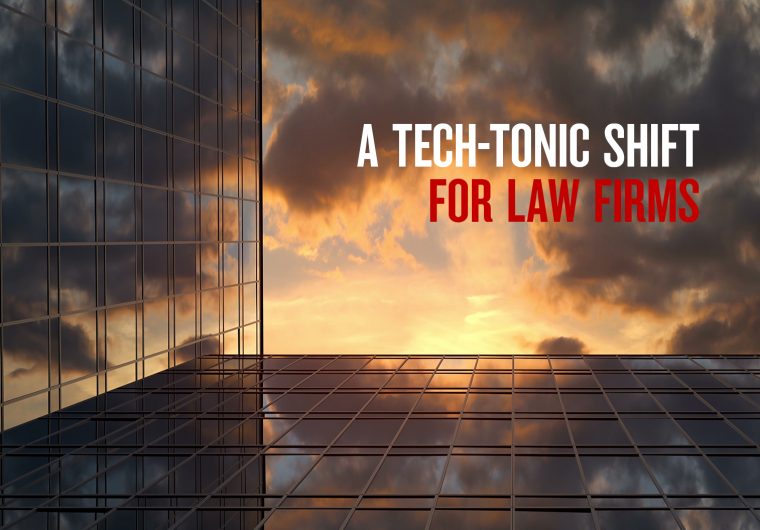 It wasn't long ago that law firms saw themselves as 'change ready' for the disruptions of new technology. They were unconcerned about the mandatory introduction of electronic conveyancing, according to the NAB 2018 Australian Legal Services Industry Survey, deeming themselves "very well-prepared", and similarly upbeat about their preparedness for online courts and online dispute resolution.
This was in stark contrast to businesses in all other sectors, which considered themselves much more vulnerable to digital disruption.
An emerging tech deficit
So, two years on, how have law firms fared? Has their technology kept pace with the rapid change?
In 2020, Thomson Reuters reviewed law firms and legal departments, and found that fewer than half of employees surveyed considered their organisations, systems and processes efficient. According to these respondents, they were also unable to handle an increase in workload, or to scale into the future. In addition, they thought their firms should invest further in document automation and document drafting solutions.
It's not as if law firms aren't open to the need for change. About one-quarter (26 per cent) of respondents described their organisations' interest in investing in legal technology as high, while almost half (47 per cent) reported it as moderate.
Yet this openness doesn't solve the issue of what technology to invest in. After all, with so many digital innovations, it's hard to know where to start – which tech will deliver a return on investment.
According to the Thomson Reuters survey, the most commonly used legal technologies relate to cases and spend management, legal research solutions and know-how, and precedent solutions. However, it also found that too many organisations have adopted poor-performing technologies, with 23 per cent of respondents believing their organisations had done so due to loyalty to current legal solution providers.
https://insight.thomsonreuters.com.au/legal/resources/resource/tech-and-the-law-2020-report
Understanding your tech needs
Baybridge Lawyers Managing Partner Marwan Kojok understands the angst behind such investment decisions. For his law firm, however, it's been a case of taking things step by step. First and foremost, Kojok says, you need to evaluate the digital investments that can maximise your firm's success – now and in the future.
In their case, it was clear Baybridge had to respond to two overriding issues: client demand for instant feedback and service, and the impact of increased competition on margins – driven largely by technology and digitisation over the last decade.
Baybridge specialises in franchising, licensing and distribution, and property. Third-party suppliers and automation now handle what Kojok describes as the "paper-pushing" parts of the business, enabling high-value team members to focus on client-facing work.
According to the firm's Head of Growth, Walter Silva, automation is already reducing the time to complete a property transaction from up to 12 hours to five or six hours. He explains that when the firm introduced the automation system last year, it allowed them to make much greater use of technology to process a property transaction, as opposed to employees "running around, booking settlements in different parts of the city".
Baybridge has also introduced an automated quotation system to replace a process previously done by several back-office employees. "It's now done automatically without us being aware – we get a ping and, 'Hey, we've been engaged'," Kojok says.
Other important digital investments include ID verification software that enables the firm to confirm identities in any location, helping safeguard sensitive information and interactions. It can be done automatically and it means clients don't have to visit Baybridge's office – great for COVID times. "You could be in Alaska and we're able to do that in an instant," Kojok says.
Think big… then bigger
But to maximise your return on investment from technology, firms can also see technology investment as a fundamental strategic business opportunity. Searching for a corner of the market that would be well-presented by a technology-based product, for example, Baybridge launched a digital-only real estate conveyancing platform.
"We opted to create a new business venture under a new brand altogether, called Titlespace," Kojok says.

The new brand, which focuses on the property market, is 100 per cent digital and feeds back new processes and ideas that allow Kojok to rethink how Baybridge operates and services all clients. In the meantime, the Titlespace team is reviewing where technologies like robotic process automation could streamline the mundane aspects of property transactions, thereby regaining margin and delivering better client experiences.
In addition to bought-in tech solutions, firms should consider the ROI that investing in in-house technology expertise can achieve. For Baybridge, that meant a 'digital investment' with Silva's appointment as Head of Growth, incorporating the role of Chief Technology Officer. Silva's focus on technology encompasses understanding the products available in the marketplace and how these can improve client experience.
Using tech to make new markets
Deploying new technologies can also enable law firms to expand beyond traditional offerings. In the case of Titlespace and Baybridge, Kojok explains this means using the data obtained when a client buys a property or buys into a franchise to look at what other services both firms – in partnership with other suppliers – can offer clients.
For example, Titlespace can identify that a client who has completed a property transaction through its application may have other relevant interests, such as wanting to upgrade technology, finance another investment property or obtain home contents insurance. "These are things we would be able to introduce a client to third party suppliers for," Kojok says.
Such big picture thinking around tech and return on investment is another way to future-proof your firm; the very essence of a business strategy able to meet new challenges.
Five go-to tech solutions
Looking to consider your tech options? The Law Technology Today website recommends law firms consider these five investments:
Single-click document generation software for even the most complicated documents, to minimise the time high-billing lawyers spend on this task
Project management software that can report on individuals' productivity, efficiency and profitability
Digital file-keeping (combined with strict file hygiene processes) to eliminate siloed, inefficient paper-based filing systems
Replacing internal email with a third-party communication system, (such as Slack or Microsoft Teams)
An effective client intake system that combines a trained intake team with direct integration into a case management system