Why multidisciplinary care brings multiple benefits
It's not hard to see why integrated primary health care is gaining traction in Australia – co-located multidisciplinary teams can deliver big benefits.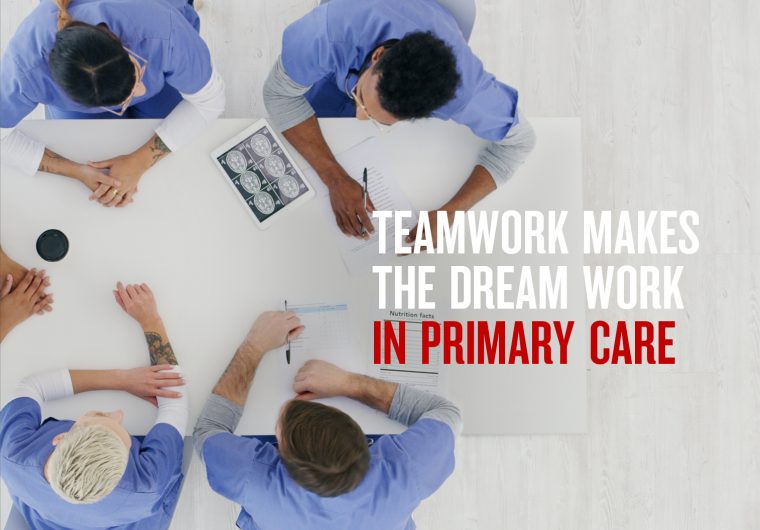 Every Friday, a group of Gold Coast healthcare providers get together to discuss treatment options for patients with complex or challenging conditions. The collective includes GPs, physiotherapists, psychologists, podiatrists, dietitians, a diabetes educator and a pharmacist. All are based at Medical on Miami – and all are confident that pooling their experience and expertise as part of a multidisciplinary team results in better patient care.
Many experts would agree. It's now widely acknowledged that having a range of health professionals working together brings increased health benefits for patients. For example, a major study in the Journal of the American Medical Association found that integrated care in a primary care setting led to better patient outcomes and reduced costs.
Based on data from 113,452 patients over a 10-year period, the researchers reported that in patients who received integrated primary care, emergency room visits fell to 18.1 per cent from the 23.5 per cent seen in patients cared for under a traditional model. Hospital readmission rates were lower too – 9.5 per cent compared with 10.6 per cent under the traditional care model. Patients in the integrated care group also made fewer visits to their primary care physician (the US equivalent of a GP).

Under the one roof
In Australia, a growing number of large medical centres – such as Medical on Miami – are bringing the benefits of integrated care to patients in a primary setting by housing different providers under one roof.
The Royal Australian College of General Practitioners found in its 2019 General Practice Health of the Nation Report that 69 per cent of general practices are co-located with a pathology collection centre. Among other co-located services, 42 per cent of general practices offer psychology, 38 per cent physiotherapy, 35 per cent dietary advice, 34 per cent podiatry and 28 per cent pharmacy.
The report also found that, as the number of non-GP health professionals in a general practice increases, GPs are more likely to consult with other professionals about patient management. The larger and more diverse the teams, the more likely the practice is to report that formal structures are in place to encourage communication among providers.
Looking at integrated care from the perspective of patients with complex needs, in tandem with improvements in care, co-location brings more practical benefits.
"Someone living with diabetes, for instance, might need to see a range of providers such as a dietitian, a podiatrist and an educator as well as their GP," says Heather McLellan-Johnson, Co-Founder and Managing Director of service provider HMS Medical Group, of which Medical on Miami is a part.
"When these are all in the same place, the patient can coordinate appointments to reduce travel costs, time and the effort of travelling."

More collaboration, less burnout
Integration brings benefits to those delivering care too.
Within its HealthOne model of integrated care, the NSW Government cites enhanced practitioner job satisfaction as a major benefit of collaboration. McLellan-Johnson also suggests a team approach can reduce burnout, which is a growing concern within the medical profession. A 2021 study published in The New Zealand Medical Journal found that 45 per cent of almost 200 senior medical officers interviewed were experiencing high levels of personal burnout.
"It's easy to see how making complex medical decisions on your own could create huge pressure," McLellan-Johnson says. "At Medical on Miami, the final decisions naturally lie with the treating practitioners, but being able to discuss a difficult case with supportive colleagues can help to reduce the load."

Teamwork sparks innovation
Collaboration can also support a forward-thinking and innovative mindset.
"Providers find it much easier to stay up to date with innovation when they can share their specialised knowledge," McLellan-Johnson says. "Having everyone in one place also helps to drive innovation and positive change. At Medical on Miami, the scheduled weekly case conference is just one of many opportunities for interaction. Even casual conversations over the coffee maker can spark new ideas."
Practitioner education is another area where Medical on Miami benefits from an integrated approach.
"The new graduates, medical students, registrars and nursing students who spend time there keep providers in touch with the latest developments in their specialisation," McLellan-Johnson explains. "Anything relevant can then be shared with the rest of the team."

A safe space for a multidisciplinary model
 The 2020 Productivity Commission's case study Innovations in care for chronic health conditions promotes the benefits of collaborative care. However, it also cautions that sustained collaboration doesn't happen spontaneously.
"Bringing people together makes it easier to provide multidisciplinary care, but it doesn't guarantee it will happen," McLellan-Johnson says.
"Locking in a weekly conference is important, as are the casual meetings that happen throughout the day. But true collaboration will only develop if everyone on the team feels confident they can speak out and that their voice will be heard. That means using clear protocols and limits to create a safe, trusting and respectful environment."