Why new challenges in agri require fresh thinking
How building better business sense and developing critical thinking skills are preparing tomorrow's agriculture workforce to meet new challenges.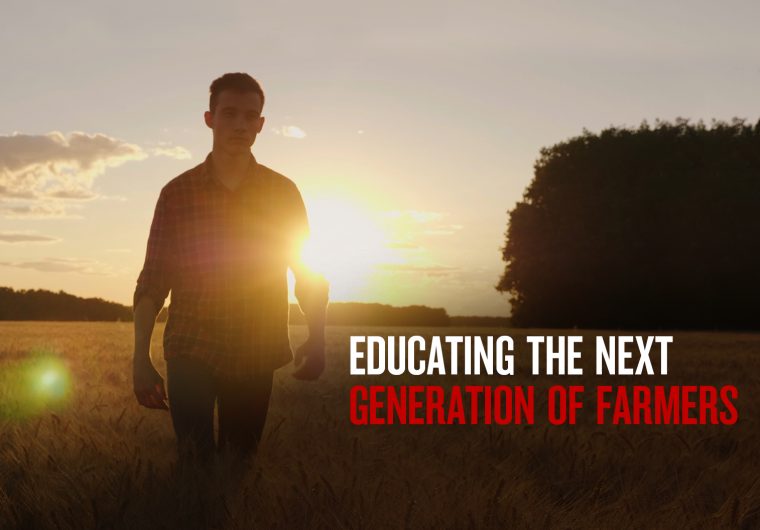 Well before one of Australia's biggest-spending budgets landed, the agricultural sector received a financial boost. In late June, in the thick of COVID-19, the Minister of Education announced a 62 per cent fee reduction for all agricultural tertiary degrees from 2021.
The initiative came at a critical time. After years of drought, widespread fires and a global pandemic, farmers are under more pressure than ever to embrace new ideas, skills and technology to maximise their productivity sustainably. Simultaneously, the entire agriculture sector is struggling with an undersupply of suitably educated graduates.
Improving the affordability of tertiary agricultural degrees signals a step in the right direction. It encourages the next generation of farmers – and the many others who make up the agriculture sector – to educate themselves to respond to a rapidly changing world.
Why we need more agri grads
Enrolments in agriculture and environmental studies have fallen for the past two decades, according to Universities Australia. It was the only undergraduate discipline to see a decrease between 2008 and 2017, recording a 0.2 per cent drop. Postgraduate studies fell by 17.4 per cent over the same period.
That's an issue for farmers, says David Falepau, Professor of Agricultural Business Management at Charles Sturt University, but it's also an issue for the whole agricultural sector in general – for the many agribusiness jobs "beyond the farm gate", as he puts it. He notes that in areas like agri finance, agri tech, food processing and marketing, which are all desperately seeking well-trained professionals, there simply aren't enough graduates.
"They're screaming out for people," Falepau says, adding that, according to the Australian Council of Deans of Agriculture, there are upwards of five jobs available for every agricultural graduate produced
And this at a time when the agriculture sector needs more-informed farmers and trained professionals like never before. As a report released by the Australian Council of Learned Academies in September underlines, the next decade will see challenges continue to grow, including intensified climate variability, environmental and sustainability issues, global competition, biosecurity risks and changes in consumer preferences. An educated workforce able to understand advanced technologies will be key to addressing these.
Why critical thinking matters
 Yet educating our next generation of agriculture professionals isn't as straightforward as just equipping them with the latest technological know-how. First, they need to focus on the basics, says Professor Jason Able, Head of the University of Adelaide's Department of Agricultural Science.
"At the end of the day, our graduates need really good learning outcomes from a foundational perspective, in terms of the pure sciences, the chemistry and biology, statistics," he says. "Because, ultimately, understanding that underpins pretty much anything in agriculture."
However, it's also important that today's students learn to think critically – something that's made clear when the universities regularly engage with the agriculture industry. "Above all, we need to deliver 'job ready' graduates," Able says. "That calls for a far broader focus."
Falepau agrees. "The industry wants students to have practical grounding in agriculture. But the other thing they're desperate for is critical thinking. Our grads need to seek information, be able to research, analyse and work out what application is most applicable – whether they're farming, providing advice to farmers, or helping famers make decisions themselves. That is where the tertiary education really steps in."
No room for standing still
As the times – and challenges – change, so too must the people on the ground.
Falepau relates it to animal genetics. He notes that 50 years ago, you probably only had the choice of Brahman cattle in the north and Angus or Hereford in the south. "To decide which bull you might buy to put over your cows, you went to the local agricultural show and chose the nice looking bull with a ribbon around its neck."
Fast-forward 15 to 20 years to the advent of quantitative genetics. "Now, you can not only look at the bull, you can also choose based on their estimated breeding values, the genetic merit published next to each bull," Falepau says. "Add to that the introduction of DNA markers, or marker-assisted selection, and you can see how much more complex the decision-making process is today. Not to mention there are now dozens of breeds and composite breeds to choose from."
These sorts of advances hold true in every other area of agriculture. Which comes back to the need for critical thinking. "It's great there's so much choice, but it really puts the onus on the farmer, or the professional working in agriculture, to work out what's the optimum for their particular situation," Falepau says.
Building your business proposition
 Education in agriculture shouldn't be limited to farming operations or agricultural production either. "Industry is demanding greater financial literacy and better business management skills," Falepau says.
Falepau thinks a traditional focus on operations – livestock, cropping etc – has often taken priority over thinking about the farm as a business first and foremost.
"There's also a significant amount of capital just waiting to be invested in the agricultural sector," he adds. That requires strong business management skills and financial literacy. "If our farmers are going to take advantage of this, they've got to have that education. They've got to be able to present their business for investment."
Helping today's farmers
 The educational opportunities aren't confined to the next generation. The current generation of farmers can update their own understanding of the latest technological advances with onsite learning, something the University of Adelaide's Able does through tech expo field days.
Able finds many of the farmers, tertiary educated or not, who attend these field days have an open mind to embracing the latest advances. "The older generation of growers want to embrace any of that technology they can get their hands on," he says. "They're willing to embrace that technology just as much as the younger generation."
Education is a win-win for farmers and industry alike, Able adds. It not only means more skilled workers for the many jobs available, it also puts the sector in a better position to deal with future challenges. "By delivering better graduates … by us imparting the latest and the greatest in terms of the techniques and technology that's out there, then businesses ultimately benefit from that," he explains.