AMW: Labour market outlook
Labour market recovers 40-50% from pandemic lows, but large spare capacity remains.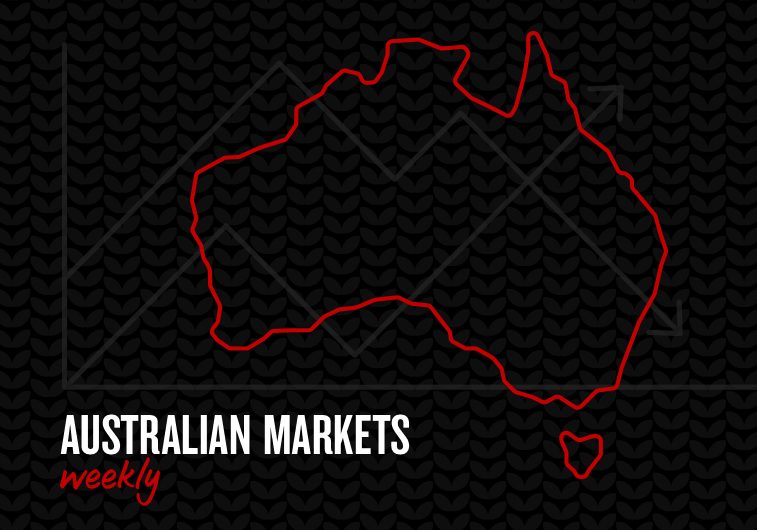 Download the report for the full picture:
Glimmers of light are emerging with Victorian virus cases looking like they have peaked and the conversation is starting to turn to the necessary trigger points to see a gradual easing of restrictions. The Victorian Treasury assumes some easing in mid-Sep.
Today's Weekly focuses on the outlook for the labour market and how Australia is tracking relative to other countries. Traditionally the labour market has been a lagging indicator of activity. However, in this pandemic it is largely contemporaneous and is thus a good summary indicator of the wider economy as well as being timely given new data sets such as weekly payrolls and regular job ad updates by SEEK and Indeed.
Payroll data suggests almost half of the job losses associated with COVID-19 have been recovered. Similar figures are seen in hours worked (47%), though on both counts payrolls and hours worked are still down an incredibly sharp 4-5% on pre-COVID levels. Driving the rebound has been job gains outside of Victoria, broadly offsetting the decline associated with Melbourne's earlier level-three lockdown. Importantly, job ads suggest the recovery outside of Victoria is continuing, though the move to level-four lockdown in Melbourne back in early August will weigh on near-term outcomes.
Australia's rebound in hours worked relative to other countries is one of the strongest. No doubt JobKeeper and other government support payments are large contributors. Despite that relative success, past recessions suggest only a slow decline in unemployment. Treasury Secretary Kennedy last week briefed leaders of his fears that unemployment may remain above 6% for at least five years. Ongoing labour market spare capacity will put downward pressure on wages, weighing on inflation outcomes for years and leading some to question what else can the RBA and the Government do.
The week ahead
Australia: A mostly quiet week domestically with the RBA Minutes on Tuesday and a flash read of retail sales on Friday. While the Minutes after a SoMP do not tend to shed too much more light, we will be looking closely for further context around Governor Lowe's comments stating the RBA could do more if they thought it would gain traction. For retail sales we see a solid 0.5% m/m rise. Surprisingly the level of retail sales is 7.2% higher than pre-COVID levels.
International: Across the ditch the NZ general election slated for September 19 has been delayed to October 17 due to COVID restrictions. After the dovish RBNZ Statement, a speech by the RBNZ's Ha on Friday will be closely watched; there is Q&A. CH: a quiet week with only the PBoC loan prime rate decision on Thursday. Trade issues remain under the spot light after the postponement of US-China trade talks. Europe: PMIs on Friday loom where it is expected further improvement will be modest. US: FOMC Minutes on Wednesday will be closely watched for any new hints on forward guidance. Jobless claims on Thursday will continue to be watched closely.
Please see attached for further details.
Charts of the week
Australia's labour market recovery outperforms while new virus cases are trending lower in Victoria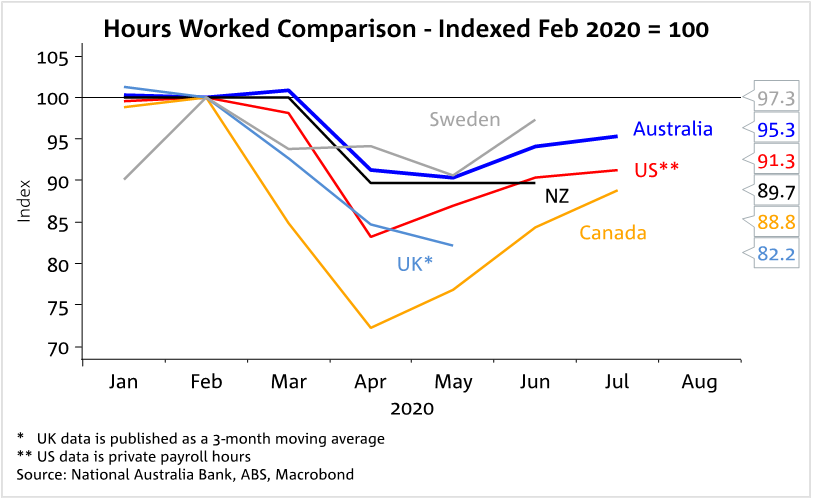 Customers can receive Australian Markets Weekly and other updates directly in their inbox by emailing nab.markets.research@nab.com.au with the name of their NAB relationship manager.