Australian Markets Weekly: Initial v-shape recovery
Tracking Australia's recovery through high-frequency data.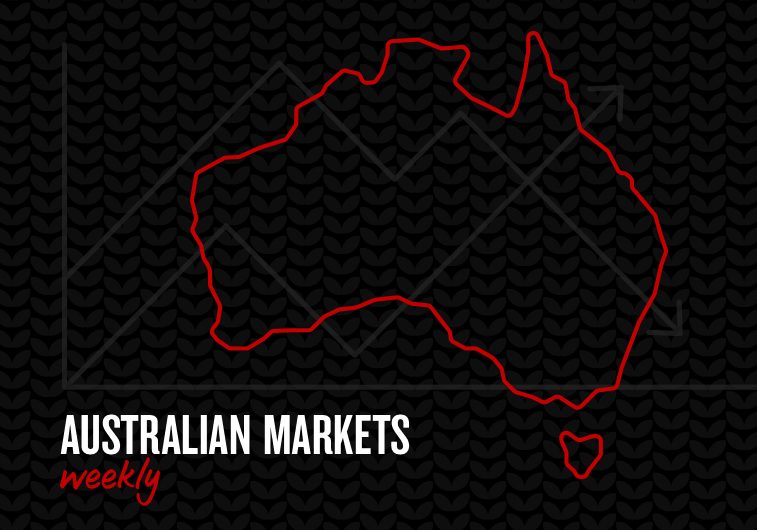 Download the report for the full picture:
The Australian economy likely bottomed in mid-April according to several high frequency data sets that we track. NAB internal data (published last Thursday) also reports the recovery is wide-spread across Australia's states and territories.
In this Weekly we delve into the high-frequency data in detail to try to answer what is the shape of the recovery currently underway, and how sustainable this recovery is, given fears over a 2nd wave of infections (particularly evident in the US and Iran).
We find Australia's recovery so far could be described as a "V-shape in growth terms", but at this stage is still likely to be a "U-shape in levels" given border restrictions will largely be in place until a vaccine is available – optimistic best-case scenario is for late this year, and the global economy is likely to remain soft given varying success in containing the virus.
Amongst the high-frequency data, the movement of people has picked up, the rate of new COVID-19 infections remains very low and consumer confidence has rebounded strongly. Spending is lifting with NAB seeing a broad pick-up across its transactional data since mid-April and restaurant and hotel bookings are rising from very low levels (chart below). Encouragingly, job ads are also rising, while the labour market appears to have troughed according to weekly payrolls.
At this stage it is unclear how much of the rise in activity reflects pent-up demand, or a genuine return to more normal levels of activity. Studies of prior pandemics suggest precautionary savings rise for a prolonged period (40 years!, see link), though given low virus numbers in Australia the behavioural impact may not be as large as in other countries. Amid the uncertainty, high frequency data will continue to be monitored as well as the path of the virus (and vaccine trials) given it is the path of the virus that will ultimately dictate the recovery.
The week ahead
Australia: A big week with employment on Thursday and prelim-retail sales on Friday – both for May, though the more important piece may be ABS weekly payrolls on Tuesday to see whether the labour market is starting to recover as indicated by a pick-up in job advertising. Consensus looks for unemployment to rise to 7.0% (from 6.2%) and for employment to fall by 75k after last month's ‑594k. As for retail sales, a strong rise is likely given the easing of lockdown restrictions. The RBA Minutes are also on Tuesday.
International: CH: activity indicators today for May were just out with a disappointing rise in retail sales despite a sharp rebound in the Caixin Services PMI. BoE/BoJ/SNB: the three central banks meet, while EU leaders will get together and discuss the proposed €750bn recovery fund. US: virus count numbers under focus amid fears of a 2nd wave of infections. Powell speaks on Tuesday and retail sales for May are also out.
Please see attached for further details
Chart of the week: Initial V-shape recovery?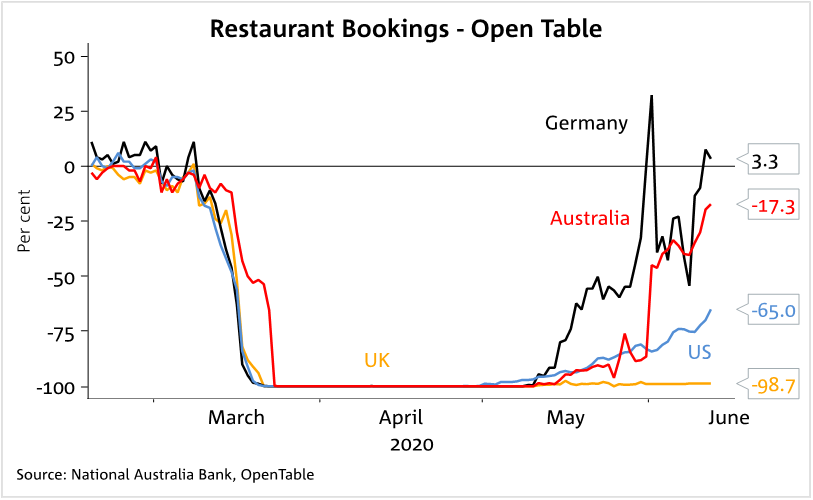 Download the full report for more detail.
Customers can receive Australian Markets Weekly and other updates directly in their inbox by emailing nab.markets.research@nab.com.au with the name of their NAB relationship manager.