Changing the world, one investment at a time
Think charitable giving is the only way to make a valuable difference? Think again. You can now use your investments to help effect social and environmental change, with increasing opportunities to back projects that promise to address our world's most pressing issues.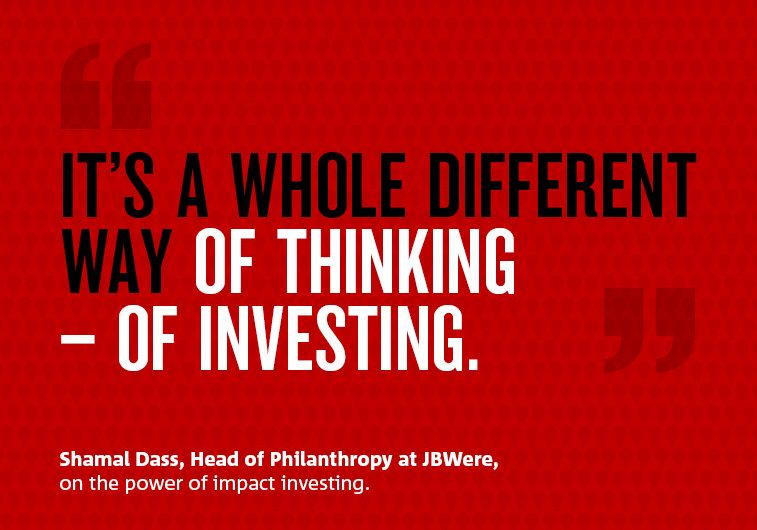 It's easy to understand why people want to make a positive financial contribution to the world. The question, really, is how?
Until recently, philanthropy would have been the only obvious answer – donating much-needed funds to the cause of your choice.
But that was before the idea of impact investing took hold – investing into companies, organisations and funds with the aim of delivering social and environmental outcomes alongside a financial return. Essentially, it aims to overcome the tension between making a lot of money and doing good.
"Why can't your investment be about making a six or seven per cent return while you build a water facility in a poorer country that will improve nutrition and save lives?" JBWere's Head of Philanthropy Shamal Dass asks.
"You don't have to make money over here and give out money over there as a philanthropist. You can actually do the whole thing together."
The purpose of capital
At the heart of impact investing is a fundamental rethink about the purpose of capital. In a time of unprecedented wealth, many people are questioning its uneven distribution.
"There's been significant wealth created across the world in the last 10 years, even since the global financial crisis, and yet that has accumulated in limited places," Dass says.
At the same time, people are concerned about climate change and an evident lack of leadership at the political level.
Impact investing gives investors the opportunity to take a degree of control. It enables them to employ their funds to address the world's most pressing challenges in sectors such as sustainable agriculture, renewable energy, conservation, microfinance, and affordable and accessible basic services including housing, healthcare and education.
By its very nature, impact investing sits across all asset classes.
"It's not just one or two products that you tack on to your traditional investments," Dass says. "It's a whole different way of thinking – of investing."
An issue of scale
However, while the market is quickly evolving as new and differently structured deals are created, it remains in its infancy – particularly in Australia.
"It's still very much in the nascent stage. They're just developing these [financial instruments] as they go," Dass cautions. "It's not standardised in any sense."
Meanwhile, there remains a shortage on both the supply and demand side. "Scale is the issue at the moment – to build the deals in which the big funds can participate."
Ultimately, investors need to become more comfortable with the opportunities (and risks) it affords. That comes down to further education, Dass says.
"The potential is there. It's just that people need to become a bit more broad in their understanding of what it is."
Alternative approaches
Of course, it's not the only way to effect change through investing. In fact, JBWere identifies three pillars in its socially responsible investment framework – an approach that seeks to integrate non-financial factors into the investment, research, analysis, selection and monitoring process.
In addition to impact investing, there's ethical investing (the screening of your investments based on ethical, moral or religious beliefs) and the integration of environmental, social and governance (ESG) factors into your investments.
Ethical investing has been around forever and is the most popular form of responsible investing. It allows people to avoid companies, sectors or whole countries that don't reflect their personal values.
ESG is also widespread but there's a growing recognition that it's about best-practice investment rather than 'feel-good' factors. By considering a company's environmental and social record, as well as how it's governed, investors ensure they have the additional data required to determine whether it's being run well.
Indeed, JBWere considers ESG essential – not only for the purposes of socially responsible investments but for investing in general. As Dass notes, it shouldn't be a matter of choosing ESG over ethical investing.
"At JBWere, we've created a framework that allows our clients to not only have best practice investment process through ESG integration, but also to be able to implement ethical exclusions in a very nuanced manner."
Just the beginning
According to the Global Sustainable Investment Alliance, Australia's responsible investment market jumped from $US148 billion in 2014 to $US516 billion in 2016 and now accounts for more than half of all professionally managed assets.
Dass believes we're close to a tipping point, largely due to the youngest members of our society.
"The transition of wealth to the next generation is going to be phenomenal over the next 10 to 15 years and that generation is bringing a different set of values to the table," he says.
"A 20-year-old is much more worried about the environment than a 75-year-old, because that's their environment. So investing like this is actually a no-brainer for them because it's their society, their environment, that they'll inherit."
Investment returns are not guaranteed and your capital may be at risk. To find out more about socially responsible investing, visit jbwere.com.au or talk to your JBWere wealth manager.