Digital health – the lure of a multibillion-dollar market
It's set to be one of the fastest-growing areas of innovation – and Australia has what it takes to be a world leader. Here's how we could step on to the digital health global stage.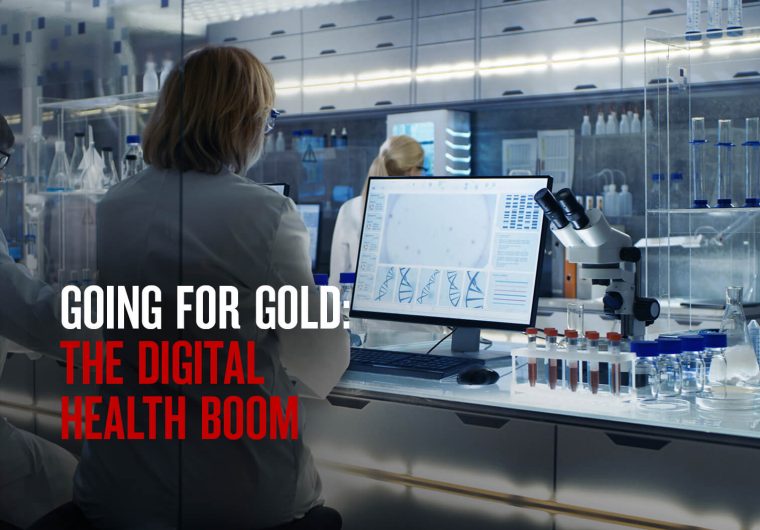 The electronic pacemaker, ultrasound, the cochlear implant, gene shears, spray-on skin… these are just a few examples of Australia's world-class medical innovation. With such a history to build on, is digital health another great opportunity to shine? 
 Research suggests there's an enormous market to be tapped. In 2021 alone, the global digital health market is expected to experience a 37.1 per cent spike in growth, according to the Digital Health – Global Market Trajectory & Analytics report by Global Industry Analysts, following a huge migration to digital platforms over the past year.  
 Globally, digital health is one of the largest and fastest growing classes of investment, according to the report Digital Health: Creating a New Growth Industry for Australia. However, while the digital health sector has seen strong growth in venture capital investment globally, the report also found that "Australia is proportionately well behind other nations investing in this space". 
 Dr Terry Sweeney, CEO of the Digital Health Cooperative Research Centre (DHCRC), agrees that, if Australia is to succeed, it needs to revise aspects of its innovation strategy. 
 "At the moment, Australia's digital health market is worth about $2 billion, which is just one per cent of the $200 billion global market," Dr Sweeney says. 
 "We're purchasing more digital health capability than we're creating – but we have everything it takes to flip that around." 
 He adds that DHCRC is prioritising commercialisation to support high levels of growth.  
 "Of course we want to solve real world problems for clinicians and patients – but we also want to develop a digital health industry that stimulates the economy, creates jobs and attracts international talent and businesses to Australia. To that end, we won't invest time, effort, resources or finances in projects unless we see an opportunity for a commercial outcome." 

Taming the digital data explosion
 From wearable technology to personalised medicine, digital health depends on data – and there's been an explosion in the amount we collect. 
 "Ninety per cent of all the information that exists in the world today was created in the last two years – and healthcare information is doubling every 73 days," Dr Sweeney says. "A typical clinician would have to read for over 167 hours a week just to keep on top of information available for their particular discipline." 
 He adds that, while advances in artificial intelligence (AI) and machine learning are making it possible to identify, assimilate and use information in a meaningful way, clinicians still can't access the insights they need.  
 "A typical healthcare organisation in Australia gets valuable information from about 15-20 per cent of the data held in its own organisation, never mind looking outside," Dr Sweeney says. "There's also a disconnect between different care settings. For example, if individuals in aged care see a GP who refers them to a hospital, healthcare information doesn't follow them on that journey. These are problems – but there are great commercial opportunities in coming up with solutions." 

Bringing the benefits to life
 So far, Australians have been cautious about sharing their healthcare information for the greater good. 
 "I think some of their concerns around data privacy, security and sovereignty are perceived rather than real," Dr Sweeney says. "Given how much people are prepared to share for online shopping or banking, or on social media, I think we need to do a better job of making it clear that we have appropriate checks and balances in place and, in the context of the greater good, data is always anonymised."  
 He suggests that real world examples could help to bring the benefits to life.  
 "For example, if you'd just been diagnosed with heart disease, would you want your clinicians to be able to draw on every bit of relevant information so they can make the best possible choices about your treatment and care, and potentially your survival? I don't think anyone would say no to that." 

Overcoming digital roadblocks
Technology is advancing so quickly that policy and legislation can easily lag behind. However, COVID-19 showed just how fast things can change in digital healthcare. 
 "The most obvious example is telehealth," Dr Sweeney says. "When we needed to reduce face-to-face consultations [during the pandemic], the government made the really good move of extending Medicare reimbursement to cover remote consultations. This also helped clinicians and the community to see digital health in action, and to understand that other aspects could be safe, effective and convenient, as well as costing less to deliver." 
 NAB Health also responded quickly and agilely to the pandemic by allowing private health insurers to process claims electronically through HICAPS. 
 "This enabled members to claim their benefit immediately rather than paying in full, having to complete a claim form and waiting to be reimbursed," says James Beilby, Head of Product at HICAPS. 
HICAPS has also been working with private health insurers to digitise their membership cards. 
 "This sounds like a simple change, but its impact goes well beyond the convenience of not having to carry a plastic card around," Beilby says. "A digital card requires members to download their insurer's app, and this enables the insurer to gather a lot more of the rich data that can help them tailor their offerings to individual needs."  
 In every case, innovative technology can only ever be as good as the information feeding into it. 
 "It's vital that policy and legislation keep pace with change," Dr Sweeney says. "We're working closely with the federal and state governments to make sure this is high priority." 

Primed for success
The projected growth rates across all sectors of digital healthcare are staggering. AI in healthcare is set to reach $6.6 billion this year, according to the report Digital Healthcare in 2020: Digitalization, IoT and Edge Computing. The same report found the Internet of Medical Things (IoMT) market will cross $136 billion this year, and the healthcare wearable market will have a market volume of $27 billion by 2023. 
As for what this means for Australia, Dr Sweeney is confident we have all the ingredients for success on a global scale. 
"The start-up and scale-up community is very strong here," he says.  
"The clinical community is also very strong, and we have very high levels of clinical outcomes. If we can bring all these together with digital innovation, we'll have a very attractive commercial proposition to take to the world."