'Diversity saved my life': Building Australia's defence capability
Australia's first female Deputy Chief of Army has a personal stake in building workplace diversity as she outlines her strategic insights – from geopolitics to sustainability – as special guest at the NAB Capital Markets 2022 conference.
A tense moment in Southern Lebanon in the early 2000s is the stark personal encounter Major General Natasha Fox recalls to champion workplace diversity in an organisational sphere where the stakes are higher than most.
Back then it was the quick thinking of a colleague who delivered from left field a culturally appropriate response to successfully calm an escalating situation in one of the world's flashpoints.
It was a response General Fox, AM, CSC, believes literally saved her life.
Today, as Australia's first female Deputy Chief of Army, she is among those leading in a strategic environment which requires diverse thinking and skills to deliver effective outcomes in times of extreme uncertainty.
Speaking at the recent NAB Capital Markets 2022 conference, General Fox told industry guests the Australian Defence Force was invested in the same sort of macro themes as other organisations preparing for a challenging future.
"The word 'uncertainty' has been used quite a lot these past few years," General Fox said. "And while it is impossible to be 100 per cent sure which events may be likely, or what risks may emerge, what we do know is Australia is contending with arguably the most significant strategic shift we have seen in our region since the end of the Cold War.
"We know that across this region there is also accelerating military modernisation, technological disruption, cyber activity and disinformation impacting economic, political and social systems. We are seeing evidence of 'competition' and 'coercion' in our region. And, as history reminds us, we know that this type of circumstance can be dangerous in terms of the potential amongst rival powers for strategic miscalculation."
Rising threats
To prepare for this environment, the ADF is committing more than $270 billion over the next decade on equipment and operating systems1. As part of this, the Army engages more small and medium enterprises – across services, products and delivery – than any other corporate entity in Australia, with $55 billion being invested to 2030, defence figures report.
As well as military risks, reaching into the grey area of cyber attacks and undeclared warfare, today's challenges also include the impacts of climate change which affect political stability and threaten humanitarian disaster.
"Climate itself will not cause conflict," General Fox says. "It is the impact on human security – it is access to food, water, and impacts on health that multiply the climate change impact on security.
"Our Pacific Island neighbours are experiencing the impact of rising sea waters, salt water inundation of fresh water systems and impacts on root crops causing food shortages, rises in malaria and dengue fever, changing sea temperatures impacting fish stocks. People are moving from the rural areas to the cities where the density of the population has its own impacts."
General Fox says the scale of deployments in the region in the aftermath of cyclones, floods and fires often involves thousands of personnel, compared with the ADF commitment in Afghanistan at its height of just over 1500 troops physically serving in the country.
"Support to disaster relief as a consequence of climate change is a significant commitment of resources and people," she says. "This is why the ADF is committed to playing its part in supporting efforts to reduce temperature changes and support environmental sustainability."
Sustainable innovation
As part of these efforts, the ADF has been implementing renewable energy2, with a current capacity of 4.8 megawatts and a further 47 megawatts being planned.
Projects include converting a Bushmaster Protected Mobility Vehicle to electric drive "to really understand the opportunity that electrification can bring to the battlefield," General Fox says.
In partnership with Australian business and universities, the Army is also exploring and prototyping emerging and disruptive technologies from artificial intelligence and robotics to quantum technology, alternative power and energy and additive manufacture.
Among technologies being trialled is a fleet of 20 "optionally crewed" combat vehicles, as well as more than 40 robots – legged, wheeled and tracked – being placed into the hands of soldiers in units.
"The outcome of this work is to understand how this technology provides Army an advantage, how it impacts on our force design and operational concepts and also to understand how an adversary might leverage similar technology," General Fox says.
Army on the ground
But despite advances in such future military capabilities, she stresses there will always be the need for the Army in the field to secure the area and deal with the people involved in any conflict or relief efforts.
General Fox adds that across the pandemic as COVID-19 hit supply chains, the Army also helped support Australian exports. An ADF international freight coordination team planned, moved and directed 554 tonnes of produce worth $4.5 billion in a partnership that has supported 35,000 direct and 120,000 indirect jobs.
With organisational resilience a key theme over the period, she says when the ADF trains hard for the hardest of jobs it is also conscious of being able to pivot back to other tasks while using an array of skills.
"It's about thinking for the future and continually posturing and scanning and making sure that people are investing in professional and personal growth to undertake those challenges.
"We ask extraordinary things of our people; they are courageous, versatile, and adaptable."
General Fox herself grew up on the West Coast of Tasmania, joined the military at 17, and is a strong champion of diversity. Today she is among a permanent force which includes 20.0% women, an Indigenous participation rate of 3.4% and around 25.9% culturally and linguistically diverse members3.
Reflecting on the experience at the Middle Eastern checkpoint, when her colleague from another country delivered a gesture of peace that resonated so successfully, she says: "I really do believe that diversity saved my life that day. Diversity delivers innovation and capability.
"When you are in the military there is a great focus on what you bring to the team, so while it's been challenging often being the only female, or one of the few females, there has been a growth in culture and we have over 11,000 incredibly talented women in the Australian Defence Force today.
"We also rely on the support of our communities.  I would like to thank all industries, and NAB who employ reservists, partners of military people and of course veterans, because in doing so you are supporting the ADF to undertake our duties for Australia."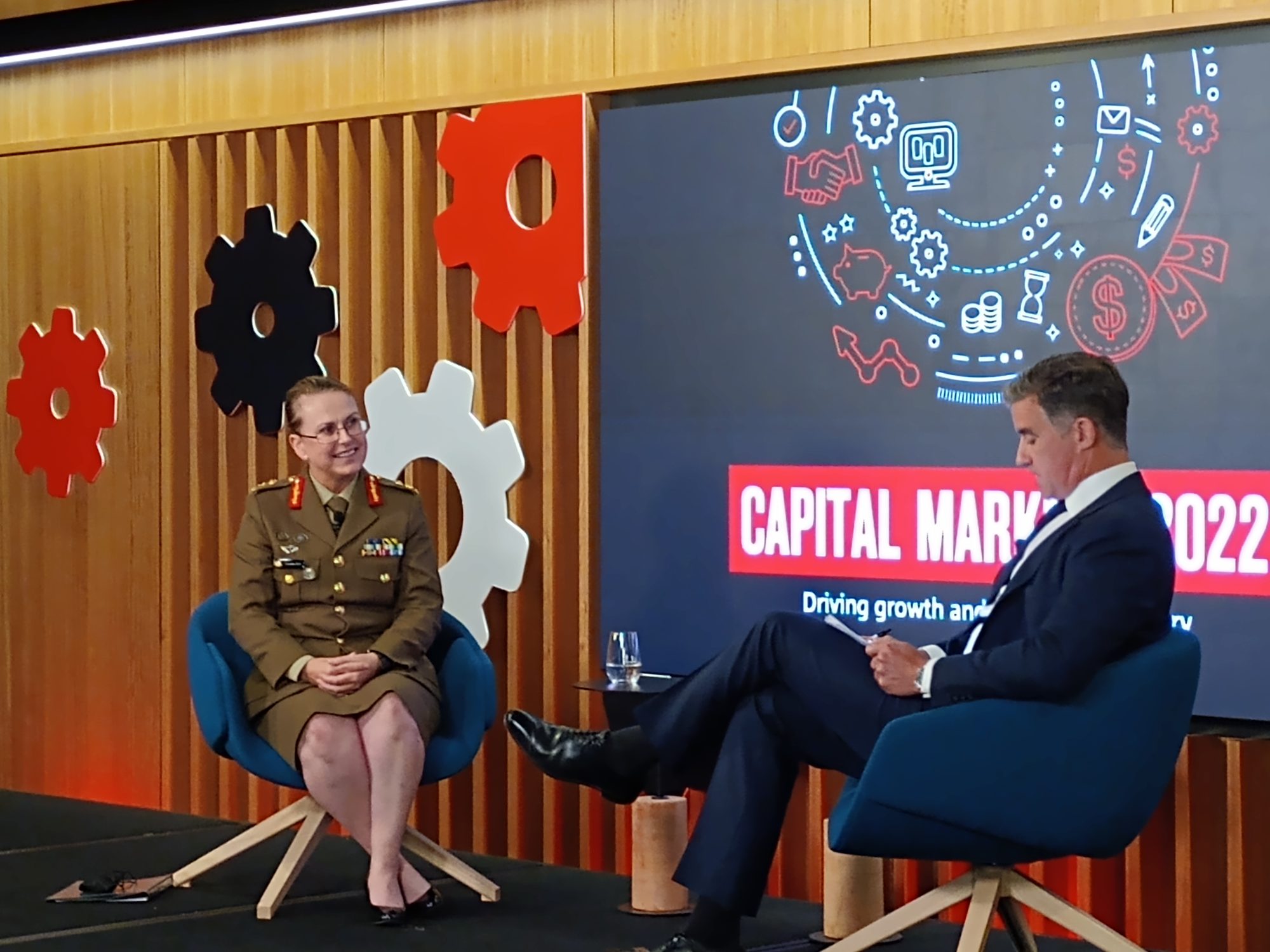 Major General Natasha Fox at NAB's Capital Markets 2022 conference with host NAB Executive, Investor Sales, John Bennett.

Read more NAB Capital Markets 2022 content on our dedicated Business Research and Insights page.
____________
1 Budget 2022-23 delivers record investment in Defence and supporting our veterans | Department of Defence Ministers
2 DEQMS – Energy Efficiency: Department of Defence
3 Defence diversity and inclusion | Transparency Portal Latest Defence figures updated February 2022.