Eyes in the skies
More than mere high-tech toys, drones are being put to work by businesses around the world in a multitude of ways.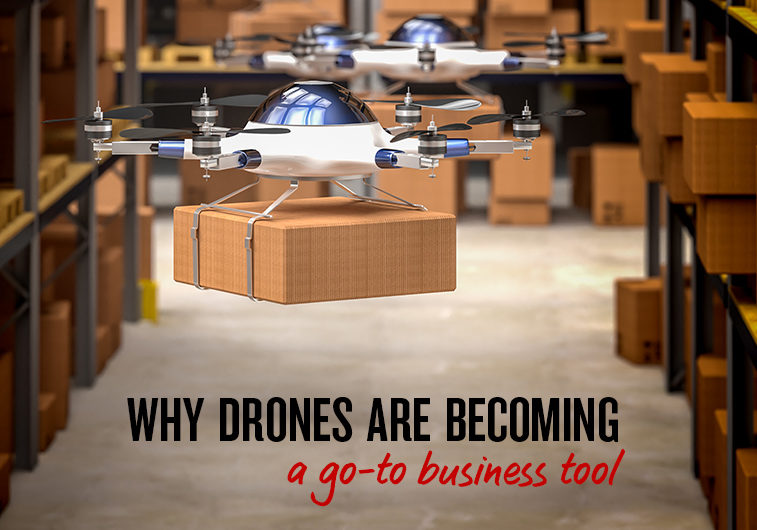 Once the stuff of science fiction and war movies, unmanned aircraft have emerged as cost-effective, go-to tools for businesses of all sizes and stripes.
From the disruption of flights at Gatwick Airport to consternation in Bunnings' Sunbury car park when a drone dropped by the sausage sizzle, unmanned aircraft continue to generate their share of headlines.
A curiosity just a few short years ago, drones have become the high-tech toy du jour and an indispensable tool-of-all-trades for businesses in Australia and around the world.
Military in origin, they're being deployed in dozens of industries to drive efficiency, cut costs and perform tasks that are difficult, dangerous and expensive for humans.
As a consequence, drones are now seriously big business. One estimate put the global market opportunity for drone technology from 2016 to 2020 at US$100 billion.
Here in Australia, the Civil Aviation Safety Authority (CASA) is busy dealing with what Remotely Piloted Aircraft Systems branch manager Luke Gumley recently described as the "rapid growth, continual innovation and non-stop media attention" being experienced by the sector.
The federal agency charged with regulating drone activity, it's CASA's responsibility to license individuals and organisations using drones for anything but limited recreational purposes.
Remotely Piloted Aircraft operator certificates have been issued to 1,504 entities, while about 11,000 individuals hold remote pilot licences. The latter figure is predicted to rise to 24,000 by 2023, as more enterprises explore ways to harness the power of eye-in-the-sky technology. The agricultural sector has long been alive to the possibilities – think crop monitoring and spraying, irrigation, field and soil analysis and stock mustering; all traditional farming tasks that can be completed more efficiently with a little high-tech help.
Professionals in the infrastructure sphere are also heavy drone users for activities such as aerial photography and asset inspections of major properties and projects in remote locations.
As drone technology becomes cheaper and more reliable, their use in other industries is limited only by the imagination.
In Rwanda, drones have been put to work as humanitarian helpmates, ferrying blood products from the capital Kigali to outlying clinics in just 15 minutes, rather than the rugged half-day round trip the exercise could previously necessitate.
In nearby Tanzania, they've been deployed to track wildlife poachers while, elsewhere in the world, conservationists have them monitoring illegal logging and observing rare fauna in its natural habitat.
Urban usefulness

In the concrete jungle, meanwhile, drone technology is putting window cleaners out of work, by delivering a spraying and scrubbing service that it's been claimed is safer and faster than the human equivalent.
Ordering in has become a 'thing' in recent years, courtesy of apps that make it uber-easy to have everything from fast food to gourmet fare delivered to the door. Dispatch via drone appears a logical next step.
Commercial drone operator Wing trialled it in parts of Canberra in 2018 (to a mixed response from locals) while Domino's has its own plans to deliver pizza via the Domino's Robotic Unit, ready for take-off when the time is right.
What's the bottom line for Australian companies that can't envisage a use for the technology in their sector? Keep your eyes on the skies. When it comes to doing things differently with drones, the business world is only just getting airborne.