From side hustle to booming business
Rapid growth and huge demand proved a cash flow challenge to toy company Connetix. Here's how NAB specialist support bolstered their continued expansion.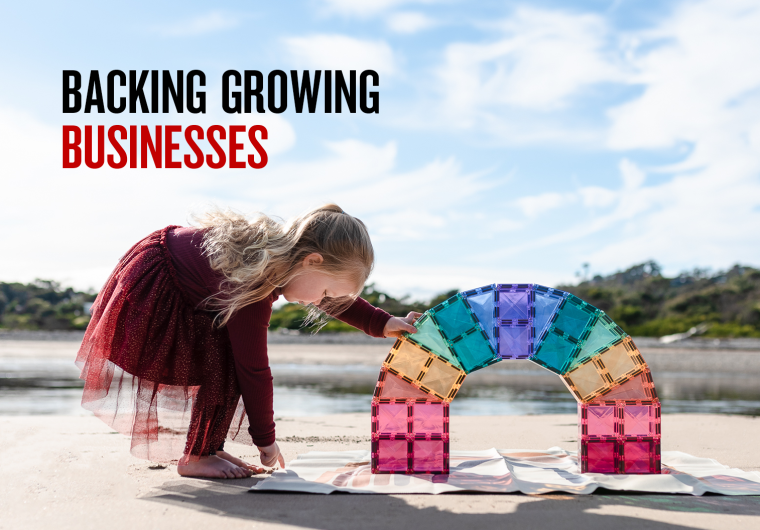 As an early childhood teacher, Brea Brand was familiar with the developmental benefits of open-ended toys, but she did not anticipate a side hustle selling connectible magnetic tile sets would morph, almost overnight, into an enormously successful business.
Launched in 2019 by Brea and fellow school parent, Dave Alexander, Connetix has grown from a garage business into a play-based learning powerhouse. The company employs 15 staff and has more than 680 trade customers in 59 countries, an Amazon Marketplace presence and its own online store.
Brea and Dave's aspirations were decidedly more modest when the idea of setting up shop together first arose.
"Dave's a mortgage broker who was selling random products on Amazon as a sideline and I was studying towards a Masters in Early Childhood and had a social media account that promoted play-based learning," Brea explains.
"Dave suggested we start a business that used both our skillsets. The two things our kids loved playing with most were Lego and magnetic tiles. We saw an opportunity in the magnetic tile market, to launch a safe, high-quality product, with a twist."
Off to a flying start
The pair spent several months liaising with contract manufacturers in China before settling on a partner that could deliver a product which met their stringent design and quality requirements.
An investment of $20,000 each covered an initial run of 62-piece Rainbow Starter packs. They flew out of Dave's garage within days of their arrival in June 2019, as did a subsequent series of larger shipments.
"The size of our orders kept doubling. By October that year, we had customers in six countries and then, in March 2020, we did a couple of trade fairs and things really took off," Dave says.
"At that point, we were ordering $200,000 worth of stock a month from China. Our supplier worked on a 30 per cent deposit with the balance payable when the shipment left the factory, so I had to get pretty good at juggling payments."
Tackling COVID and the Christmas rush
But fast-forward 15 months and the self-financing juggle was no longer an option.
By June 2021, Connetix had multiple product lines, warehouses in 13 countries and 450 retailers on the books. COVID-related disruption had prompted it to increase its inventory in order to maintain supply. And, given the capacity constraints of its contract manufacturer, it needed to start stacking the shelves months in advance if it were to have a shot at meeting anticipated Christmas demand.
Stocking up to that scale called for more working capital than Connetix had to hand. And the alternative – not doing so – meant passing up the opportunity to grow sales and profits, something Brea and Dave were loath to do.
"Having to say that you're out of stock when there's so much demand for your product means you've effectively wasted the effort you put into building brand awareness," Brea says. "We started Connetix with the attitude that we'd see how far we could go, so when the opportunity to scale up arose, we wanted to make the most of it."
Partnering with NAB
Working with its NAB business banker and a NAB Trade and Working Capital specialist allowed Connetix to access the financial support it needed to continue its rapid growth trajectory.
The team's knowledge of the Connetix business enabled the bank to provide a $1 million trade finance solution in just three weeks, according to NAB Trade and Working Capital specialist Hayley Andersen.
"One of the advantages of partnering with NAB is that we have specialists in different areas," Hayley says. "Our trade and working capital team is very familiar with inventory and cash conversion cycles – the period of time from when customers need to purchase stock to when they sell – and the funding required to support that.
"Having a specialist involved who understands the cash flow impacts means we can structure a facility that allows our customers to capitalise on opportunities, as they arise."
The flexibility afforded by the new funding facility is a boon, according to Dave. "If we need to use it to upscale so we have stock ready to meet peak demand, it's there," he says. "And if we don't, it doesn't cost us much."
Connetix has been a NAB customer since its inception and the team's understanding of the ecommerce sector was invaluable, Dave adds.
"We originally spoke to another bank and they didn't like the fact that our growth had occurred so rapidly," he says. "We were like, 'Are you kidding me?' But NAB was more than happy to work with us to find a solution to underpin our expansion.
"We're aiming for 250 per cent growth in 2022 – that's a figure we think is sustainable and achievable for us – and it's reassuring to know that NAB is there to support us, as we take Connetix to the next level."