Infrastructure's missing link: customer stewardship
Customer stewardship means putting the customer at the centre of our infrastructure.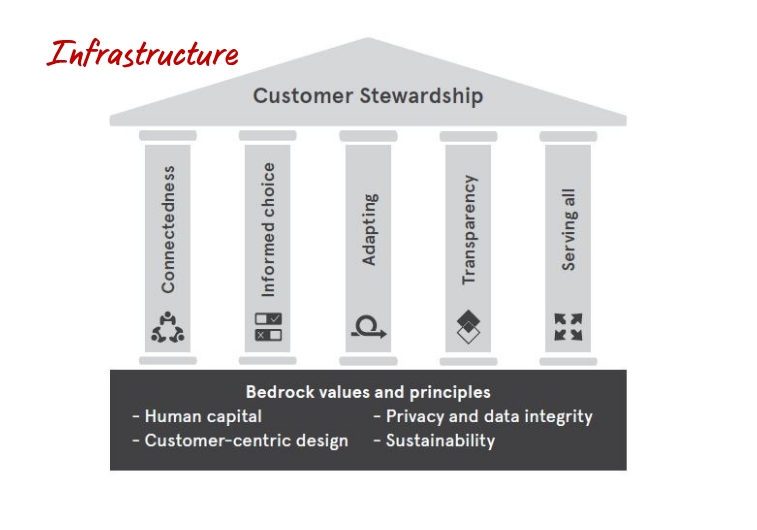 Most of us know the value of good quality infrastructure that meets the user's needs and expectations.  Whilst much of Australia's infrastructure is of a high quality, there's always the opportunity to keep lifting the bar for the betterment of our customers and communities.
In September, our partner, Sydney University's Better Infrastructure Initiative, released their latest paper Customer stewardship:  infrastructure's missing link, which focusses on the concept of customer stewardship.  The premise is that if our infrastructure services are vested in customer outcomes over the long term, wider social and economic benefits will result, including better returns, smarter use of capital and the rebuilding of trust.   The paper continues the theme of customer-led infrastructure.  That is, we'll get the best results if we put the customer at the centre of our infrastructure services, designing and adapting our infrastructure services to their changing needs.
The first step is to understand who the customer is and how their needs are evolving.  All industries are faced with changing customer expectations, in part enabled by new technologies.  The rise of the experience economy means customers demand the best experience of any industry as the new benchmark.
In addition, with shifts in our demographic patterns, including through increasing populations and new growth corridors, customer desires and behaviours will continue to evolve.  The industry needs the agility to respond.  With this agility infrastructure can be adapted, operational efficiencies can be increased, spend on new capacity can be minimized and high return investment can prevail.
What is customer stewardship?
Customer stewardship is defined by the Better Infrastructure Initiative as "the collective management principles and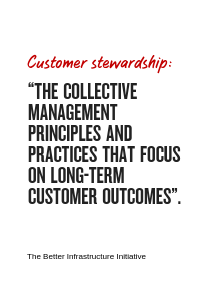 practices that focus on long-term customer outcomes".  The purpose of these principles and practices is to guide infrastructure owners and operators to deliver services that adapt to what's needed and desired by their customers.  Without it, the requisite discipline and purpose to direct capital may not be present.
To assist this process, a workable framework was required; a framework that can be applied across industry and be used to help owners and operators benchmark against best practice.  This has been the focus of the work of the Expert Reference Group (ERG), a cross-sector industry working group established in 2018.  The ERG has developed the Customer Stewardship Blueprint comprising five pillars of practice and provides guidance to help owners and operators understand their own organisation's readiness and mindset towards true customer stewardship.
Customer stewardship exemplars
We have many infrastructure owners and operators who are customer stewardship exemplars, all providing strong leadership and connecting to one or more of the pillars of practice.  They include our ports, airports, roads, utilities, train stations and convention centres.  They span industry and ownership models.
Some exemplars of customer stewardship are adapting to improve sustainability: SA Water and Adelaide Airport worked together to reduce tarmac temperatures through irrigation of nearby open space.
Others work to better serve specific groups of customers or stakeholders. For example, Southern Cross Station introduced an initiative to assist vision impaired patrons, while Auckland City Rail Link integrated indigenous consultation into the design of the project. There are no doubt many unsung exemplars.  Part of the challenge concerns both transparency and consistency of information that would enable a customer stewardship story to be identified and shared.
It's intended the blueprint and the work of the ERG will help bring more customer stewardship examples to the surface so that all our communities can benefit.
To read more about the exemplars and the importance of customer stewardship in infrastructure, download the paper, Customer stewardship: infrastructure's missing link .
Speak to a specialist