Investors urge coordinated action on climate change
Investors are keen to understand how their portfolios are exposed to global risks from climate change and want more green and sustainable products to invest in, a recent conference heard.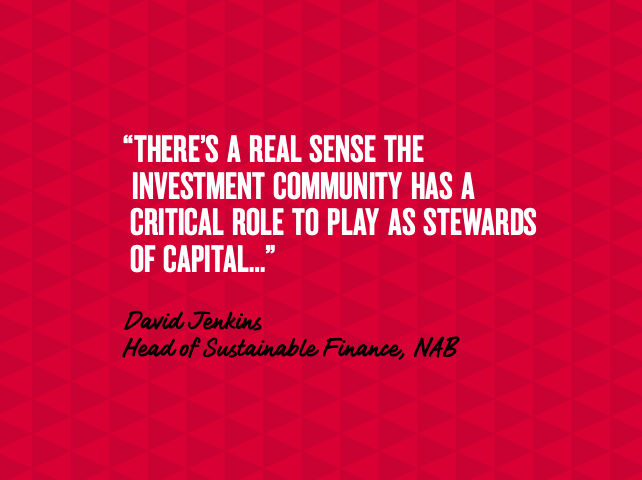 Investors face growing financial risks from climate change as the window of opportunity for action to keep global warming to two degrees is closing, the Investor Group on Climate Change (IGCC) Summit was told recently.
A sense of urgency pervaded the 3rd IGCC Summit held in Sydney on 14-15 October, which examined the role for investors in tackling climate change. The conference heard that the regulators, including the Reserve Bank and the Australian Prudential Regulatory Authority, have clearly stated that a massive redistribution is required to decarbonise the economy.
"We are already seeing the impacts of the change in climate and the impacts on the communities where we live and work," IGCC Chief Executive Emma Herd told the summit, which was sponsored in part by NAB.
"This is creating financial and investment risks both systemically across the economy and within portfolios, investments and transactions," Herd said. With the new year and 2020 just a few weeks away, it is widely accepted that action taken over the next 10 years will shape the impact on climate for the next century.
The IGCC is a collaboration of Australian and New Zealand investors focusing the impact that climate change has on the financial value of investments.
The financial sector has taken a range of steps in recent times to assess physical risk across portfolios, engage with companies about their plans to transition to a low-carbon economy, and make climate-related financial disclosures against global common reporting targets.
In Australia, banks, insurers and investors including superannuation funds have come together to form the Australian Sustainable Finance Initiative, which has been established to realign the finance sector to support the transition to a more resilient and sustainable economy.
Influence on corporates
NAB's Head of Sustainable Finance David Jenkins said one of the key takeaways from the IGCC Summit was the extent to which investors are more willing to use their voice and influence with corporates to accelerate change.
"There is a real sense that the investment community has a critical role to play as stewards of capital to hold companies to account and encourage them to see climate change risk as a financial risk, and that includes ensuring that earnings are sustainable for the long term," he said.
One of the large investors at the Summit told a panel that the driver of change in recent years had come from the fund's members who wanted their money to drive positive impact on the economy. Another investor cited the need to analyse impact on demand for a company's products through the lens of economic transition.
"The range of potential outcomes for the economy is huge and demands a range of different scenario analyses – the difference between 1.5 degrees and 3 degrees has vastly different implications," Jenkins said.
New opportunities to invest
Investors at the IGCC summit welcomed the rapid growth in the green debt market in the past few years, with Australia now ranked as the 10th largest market for green bonds globally.
"One of the most exciting shifts is the development of the market for green loans, which began in Europe and has started to gain traction in the Australian market," NAB's Jenkins said.
Unlike green bonds, which are raised to finance specific projects, a sustainability linked loan (SLL) can be used for general corporate purposes. The loan uses incentives to offer a reduced interest rate if certain sustainability criteria are met, helping to drive a change in behaviour.
NAB has brought eight sustainability and green bonds to market in 2019, and participated in sustainability linked loans recently for AGL and Sydney Airport.
Regulators play their part
Participants in the conference made frequent references to guidance provided by Australian and international financial regulators, including a speech by Reserve Bank deputy governor Guy Debelle earlier this year that highlighted the risks of climate change for the economy and for financial stability.
APRA executive board member Geoff Summerhayes, who is also a member of international regulator committees, told the Summit he has seen a paradigm shift over the past two years among investors and regulators who had previously been focused on implementing post-financial crisis reforms.
"History shows we don't always have orderly transitions from one phase of the economy to the next," Summerhayes told the Summit.
He said investors, banks, insurers, regulators and scientists all needed to work collaboratively on the data and analysis for a range of economic scenarios, with modelling underdeveloped to deal with risks of the scale of climate change.
"We need to work collectively on unbelievably complex issues because we're dealing with natural systems and how will those natural systems play out and impact on real assets and the real economy."
"My view is that the energy sector transition will play out a lot quicker than everybody thinks, I think that will have played out by 2030… We are talking about trillions of dollars of investment transition for decades to come."
Read more about the IGCC Summit.
Speak to a banker