Is telehealth finally starting to gain traction?
Thanks to video conferencing, onerous trips to the hospital to seek medical advice may be drawing to a close.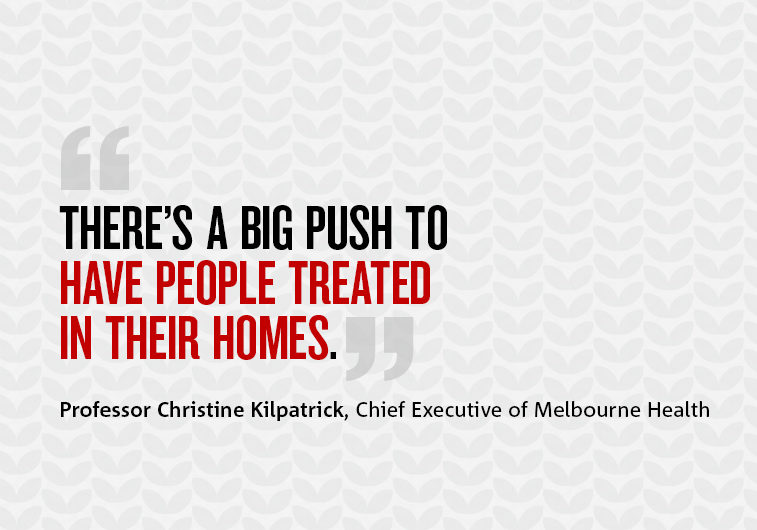 In the first full year of service, the telehealth program of Royal Melbourne Hospital facilitated over 800 telehealth consultations. In 2019, it's estimated to reach about 2,000. Exponential growth is expected in the coming years.
It's part of the coming of age of telehealth, the use of technology to access health care remotely.
Telehealth can drive efficiencies, cut costs and make life much more convenient for both patients and health professionals. In a country with an ageing population sparsely distributed across a vast continent, the business case for it is clear-cut.
So why has the endlessly heralded telehealth revolution never quite arrived?
In 2017, Royal Melbourne Hospital (RMH), part of Melbourne Health, launched a telehealth program where patients could have video appointments with RMH specialists using their own smartphone, tablet or computer − at home or at work. Even better, these consultations could be bulk billed.
Hospitals and health services across Australia – and around the world – have been experimenting with telehealth with varying results for years. However, the RMH telehealth model is a standout. Two years in and it appears not only scalable but destined to be a case study in how to remove some of the friction between health professionals and patients, and between health professionals and other health professionals.
Professor Christine Kilpatrick, Chief Executive of Melbourne Health, and Dr Kudzai Kanhutu, a driving force behind RMH's telehealth program and one of Australia's 'Superstars of STEM', discuss the three factors that have shaped existing telehealth services and will determine the fate of future ones.
1. Show me the (digital-health) money
"We weren't starting from scratch when we introduced the telehealth program," explains Dr Kanhutu. "There were already some doctors video conferencing with patients. However, there wasn't a standardised approach to service delivery. It was a government grant that allowed RMH to fund its telehealth program and build telehealth into 'business as usual' within specialist clinics."
As Professor Kilpatrick notes: "All the goodwill in the world will not be enough if you don't have funding streams." She adds, "Those funding streams have started to be put in place, but there is still lots of work to be done. For example, we initially only had Medicare funding to conduct telehealth consultations with patients based outside of Melbourne. Patients who lived nearby had to come to the hospital even if they had childcare, financial or mobility issues that made it difficult for them to do so. Now these services can be funded using state government outpatient funding.
"But those are the money issues you run into when introducing telehealth initiatives."
2. We have the technology
In Professor Kilpatrick's view, the technology piece of the telehealth puzzle is now in place. "The user experience is far less clunky than it used to be. It's now easy to use video-conferencing services and the visual and audio quality of those services is more than adequate."
She explains that RMH's telehealth program sits inside its broader digital health infrastructure. "This means that while a clinician is conducting a telehealth consultation with a patient, they can bring up data about that patient's medical history and current condition with a few taps on their keyboard."
However, Dr Kanhutu laments Australia's failure to invest in a world-class broadband service. "There are countries with gigabit-speed internet," she says. "In Australia, patients in remote areas still worry about the image breaking up when they are video conferencing with their doctor."
3. Progressive patients, conservative clinicians
To their bemusement, Dr Kanhutu and Professor Kilpatrick have both found it's not patients but health professionals who tend to be telehealth sceptics.
"We've done the customer-experience surveys and it's clear that patients have no issue with telehealth consultations," Dr Kanhutu says. "They might need some initial guidance, which we happily provide, if they haven't video conferenced before. But they don't feel a telehealth consultation is inferior to a face-to-face one. It's clinicians who tend to feel that way; they are the ones who are conservative when it comes to changing the traditional way of doing things."
Adds Professor Kilpatrick: "You need buy-in from doctors if telehealth programs are going to succeed and we've been careful to respect their wishes. For example, it's always the doctor who makes the final decision as to whether a telehealth consultation is appropriate.
"Telehealth involves cultural change and that is never quick or easy."
What's next?
While there are all kinds of sci-fi scenarios that could play out in the future, at present Professor Kilpatrick and Dr Kanhutu are concentrating on the more immediate gains that the wider use of video conferencing promises.
"There are now posters all around the hospital saying, 'Is it hard to get here? Would you like to use our telehealth program next time?'" Professor Kilpatrick says. "There's a big push to have people treated in their homes, or at least their local hospital, rather than in major metropolitan hospitals.
"In the short to medium term, I'd predict the rollout of more telehealth services like Victorian Stroke Telemedicine (VST). This allows emergency room staff in regional hospitals to video conference with neurologists working at RMH. Sometimes patients having a medical emergency will need to be transported to Melbourne. But increasingly often they will be able to remain close to home – or even in their home – while still receiving expert care, thanks to telehealth initiatives such as VST."
Dr Kanhutu is excited about telehealth's potential to democratise access to international centres of excellence. In the not-too-distant future, she expects telehealth collaborations to scale from intra-state to international. One RMH clinician has already successfully enrolled an international patient into a clinical trial they are doing, she says.
"It's not uncommon to have a patient that nobody knows what to do with. If that patient is in sub-Saharan Africa, wouldn't it be fantastic if a specialist in rare disorders at RMH could consult on them? Likewise, if there's a patient at RMH my colleagues and I can't diagnose, it would be reassuring to be able to discuss the case with a world-leading expert based at [Baltimore's] Johns Hopkins Hospital."