Markets Today: Crumblin' down
US equities extend Friday's rally and Europe joins the party.
Today's Podcast
Phil Dobbie asks NAB's Gavin Friend whether company buy backs could be part of this shift.
Overview
US equities extend Friday's rally and Europe joins the party
VIX is steady at 26 and the USD trades with a softer tone
Commodities have a good night, helping the AUD outperform
Trump $200bn infrastructure plan underwhelms
US equity markets have started the new week on a positive note and after two consecutive days of negative returns, European equities play catch up, posting gains across the board. Excluding the back end of the curve, UST yields are marginally higher and the USD has given back Friday's gains. Commodities are up, helping the AUD outperform and late in the session President Trump unveiled his infrastructure plan to fix America's crumbling infrastructure.
After taking a beating over the past two weeks, US equities are showing signs of stability and look set to record a second consecutive day of gains. Looking at the S&P500 sector breakdown all 11 sectors are up on the day with materials and financials leading the way. Meanwhile the steady rise in US equities since late Friday has helped the VIX index settle around the 26 mark and early in the session all major European equity indices closed in positive territory, ending a two day losing streak.
Ahead of the US CPI data on Wednesday, US Treasury yields opened the day higher, but then drifted a bit lower over the course of the overnight session. The 2y rate is essentially unchanged at 2.07%, 10y UST are currently trading at 2.85%, half a bps higher, but the back end of the curve has been the big mover with the 30y tenor down 2.5bps to 3.135%.
Yesterday during our APAC session, the USD eased a little bit and after a brief rally during the overnight session, it has eased again. DXY trades at 90.21, a smidgen above yesterday's low of 90.073.Price action in G10 currencies has also been a little bit subdued although notably the NOK and AUD are up 0.54% and 0.36% respectively. A positive night for commodities is probably one factor supporting these currencies, although after a solid opening, oil prices have started to roll in the past few hours. Meanwhile copper and iron ore have led the way with both commodities up over 1%.
The AUD intraday chart shows the currency on a steady upward path and the pair currently trades at 0.7850, almost a full cent higher relative to the lows seen on Friday. NZD on the other hand has struggled overnight, down nearly all crosses . The kiwi briefly traded to an overnight high of 0.7277 and currently trades at 0.7250. Meanwhile the AUDNZD cross is back above 1.08, after trading to a low of 1.0748 on Friday.
EUR is a little bit stronger at 1.2290, up 0.27% and looks set to end a fourth consecutive day with a 1.22 in front of it. Meanwhile and ahead of the UK CPI release tonight, GBP is little changed  at 1.3839. Overnight, BoE's Vlieghe endorsed last week's view of the MPC in commenting that a bit more than three 25bp policy rate increases were probably needed over the next three years.  Under current market pricing of three hikes over three years the economy would still have excess demand and wouldn't get inflation back to target.  Fellow policy-maker McCafferty seemed to endorse that view as well, suggesting in a radio interview that it is likely rates would need to go up earlier. GBP hardly moved on the above comments.
Overnight President Trump unveiled a $200bn infrastructure plan aimed at fixing America's crumbling infrastructure. The plan aims to encourage about $1trn of extra investment from the private sector, state and localities, but it falls short of the $2trn needed according to the American Society of Civil Engineers. States and localities budgets are tight and after the recent federal deductions, support for infrastructure is unlikely to come easily, the plan is also likely to face opposition in Congress from both Republicans and Democrats. Democrats have already unveiled an alternative plan of $1trn in direct Federal spending and after passing the huge budget and tax plan, fiscally Conservative Republicans are unlikely to support additional spending. So best guess is that after some wrangling in Congress the infrastructure plan, if passed, will look very different to the current proposal.
Coming Up
This morning Australia gets the NAB Business survey and in addition to the headline readings of Conditions and Confidence, we are also going to pay close attention to the labour market indicators, namely wage cost and capacity utilisation. The latter is highly inversely correlated with the unemployment rate and has been rising in recent months.
Ahead of the survey release, RBA Assistant Governor Lucy Ellis speaks at the ABE Forecasting conference in Sydney (8.50 am AEDT), and later in the morning Japan prints its PPI reading for January.
Tonight CPI data (January) numbers are out in the UK and after last week's hawkish BoE, the numbers could have an impact on the pricing for the next BoE rate hike. Currently a March hike is only 13% priced while a May hike is 61%.
The NFIB Small Business Optimism (January) is out in the US and the Fed's Mester (Hawk, voter) speaks on Monetary Policy and Economic outlook.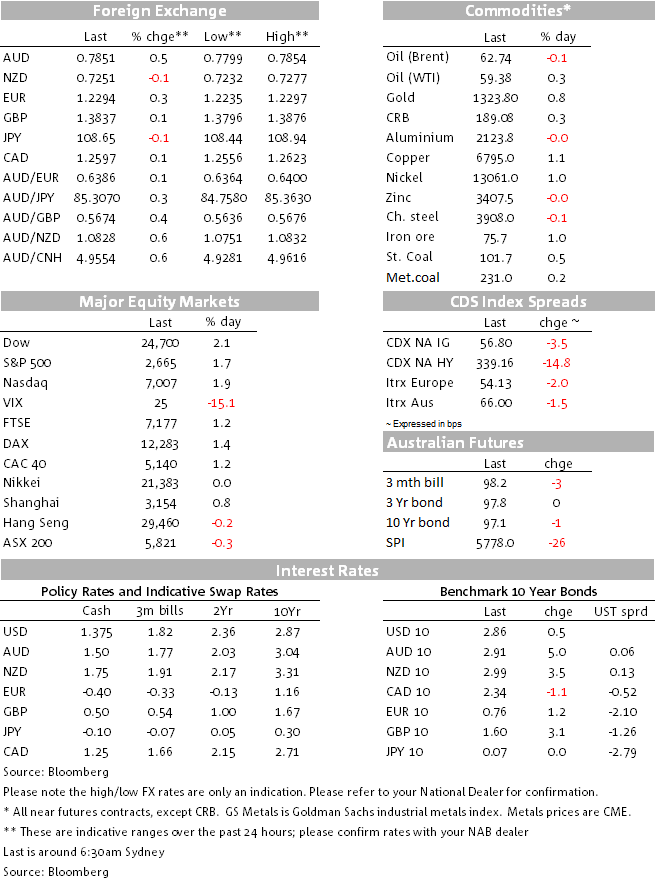 For further FX, Interest rate and Commodities information visit nab.com.au/nabfinancialmarkets