Markets Today: Wrecking Ball
Markets took a hit on Friday – what caused it and will it continue today? Phil Dobbie asks NAB's Ray Attrill if its trade wars, spending, staff changes or old fashioned over-valuation?
Today's Podcast
Will equities take another hammering today? Phil Dobbie puts the question to NAB's Ray Attrill, and discusses the reason for the big falls we saw on Friday.
Overview
US stocks fall sharply to puts indices back into 'correction' territory
AUD closes below 0.77 for third time in a week
Week ahead: Trade tensions, geopolitics, US PCE, RBNZ PTA, China PMIs
I'm a Pom so not qualified to talk objectively about the cricket.  I do like Miley Cyrus though.
AUD/USD closed (just) below 0.77 for the third time this week (and year) on Friday, despite the weak US dollar backdrop that saw USD indices off almost half a percent on the day and over 0.8% on the week.  Falling metals prices, with The LMEX index now 8% off its early February peak and iron ore over 10% off its beginning of March highs, alongside the Thursday/Friday stock market falls and related jump in the VIX volatility measure, account for the slippage and are suggestive of more weakness to come, at least on the crosses even if a weak USD holds up the AUD/USD rate.
The FT's Alan Beattie tweeted on Thursday night: "I quite like this model of punitive trade policy whereby you announce tariffs and then exempt everyone who actually exports to you. Keeps trade reporters in work while not actually doing any harm."
On Friday, the EU, South Korea, Brazil and Argentina joined Canada, Mexico and Australia in winning at least temporary exemptions from the steel and aluminium tariffs that have now gone into effect.  Together, this means that some two thirds of the $33bn worth of steel imported by the United States each year is now exempt. Russia, Turkey, Japan (so far) China and Taiwan are the main steel exporters not exempt, of which Russia is the largest, accounting for some 8% of US imports last year:  And yesterday, U.S. Treasury Secretary Steven Mnuchin said he's optimistic that the U.S. can reach an agreement with China that will forestall the need to impose the tariffs that President Donald Trump has ordered on a least $50 billion of goods from that country. "We're having very productive conversations with them," Mnuchin said on Fox News when discussing talks with China. "I'm cautiously hopeful we reach an agreement".
The wag who suggested that 'trade wars' better resembles a pillow fight has a point, though this didn't stop US stocks falling out of bed of Friday to suffer their worse weekly loss since 2016 and brought  indices back into the 'correction' territory that characterised the first half of February.  The VIX added another point and a half to Thursday's spike, closing at 24.87, almost 60% up on a week ago.  Clearly a fair amount of damage was done on Thursday night and Friday morning during the APAC session after the US went ahead and announced plans for tariffs on $60bn worth of Chinese imports – subject to consultation with US firms – and China announced retaliatory actions to the steel/aluminium tariffs against some $3bn of US exports to China.
Whether this is the sole cause of latest risk market ructions is debatable. Some commentators are suggesting that confidence in continuing strong synchronised global growth may be slipping and beyond fears about trade wars, citing for example the 3rd consecutive monthly fall in Eurozone PMI readings reported last Thursday and the fall into negative terrain in Citi's economic surprises index for major economies, having been at near-record positive readings at the turn of the year.
We should also note rising geopolitical tension following the appointment of John Bolton as Trump's new security adviser.  This has heightened concerns that Trump will formally repudiate the 2015 nuclear deal with Iran that Bolton is on record as saying was a mistake. It also raises fears that talks between Trump and Kim Jong Un will fail given Bolton's hard line on North Korea.  The resignation of John Dowd, the top lawyer representing Trump in connection with the Russia investigation, is also being cited behind the renewed risk aversion.
In FX, more evidence if it were needed that the US dollar no longer exhibits safe-haven characteristics, at least not when USD political machinations are at the epicentre of market angst. We might also note that Friday's $1.3tn omnibus spending bill signed into law on Friday through the US President's gritted teeth means that the twin deficits blow-out in the coming few years will now be even bigger than estimated in December and February following first the tax then February's two year spending bill.
On the day, it was JPY that once again displayed its pre-eminent safe-haven characteristics, though on the week it was CAD and GBP that topped the G10 leader board, following positive NAFTA-related news and EU agreement on a Brexit transition deal respectively. Hardening expectations of a next BoE rate rise in May have also helped Sterling this week and which received some encouragement from a speech Friday by MPC 'dove' Gertjan Vlieghe, who cited the latest unemployment data as evidence of t tight labour market that would push up wags and inflation, requiring higher rates.   The CAD also benefited Friday from stronger than expected CPI data (up to 2.1% on headline and core measures) and which pushed the market implied probability of a next BoC rate rise in May from 67% to 74%.
US Treasury yields were lower across the curve on Friday amid mid bull-steepening though on the week there is little to choose between the falls in yields from two to ten years (3-4bps)
In commodities, we are now seeing a real contrast between oil and gold – up on geopolitics (Iran) and safe-haven considerations (gold) while industrial metals are falling. Oil prices added another $1.5 on Friday to see Brent crude back above $70 (70.45) for the first time since last January (the year to date high is $70.53 on a closing basis
Two regional Federal Reserve bank presidents on Friday said they favour raising interest rates twice more this year following a hike this week, but were open to shifting their views if the outlook warranted a different policy approach. Atlanta Fed President Raphael Bostic, who votes this year on monetary policy, told reporters "To the extent growth accelerates more than our models predict, then four could be prudent. If it comes in less than our models predict, then two could be prudent."   His comments were echoed by Dallas Fed chief Robert Kaplan, who told reporters in Austin, Texas, that "my base case continues to be three for the year, and having said that I am also open minded and we'll see how the year unfolds. It's certainly possible that that view will get amended."
Coming Up
Quiet, Easter-holiday shortened week as far as data and stock events go.
US PCE deflators on Thursday, China PMIs on (Good) Friday the data highlights, only RBA credit data here, on Thursday
RBNZ new Policy Targets Agreement; Orr/Robertson joint press conference from 7:00 AET
Market Prices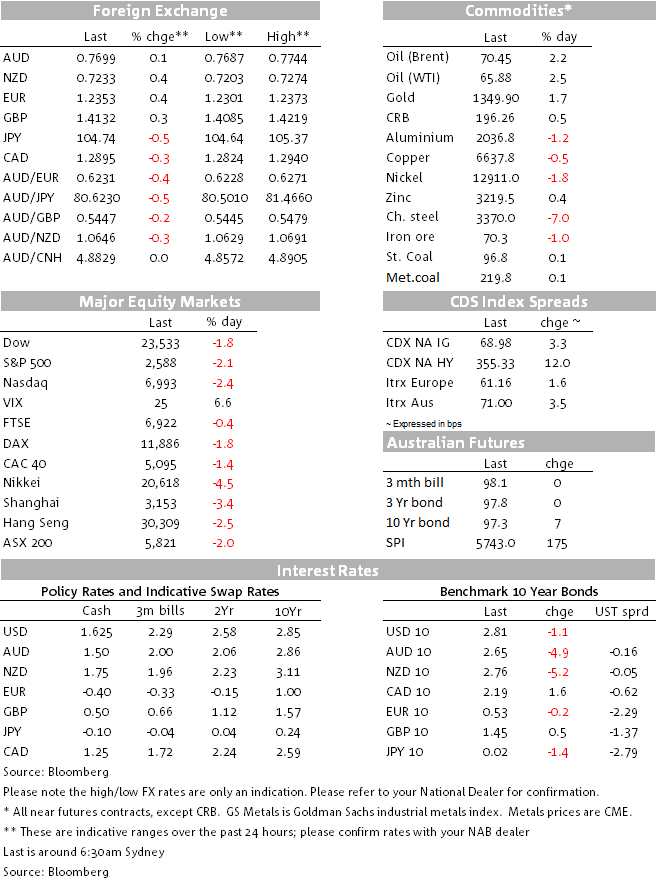 For further FX, Interest rate and Commodities information visit nab.com.au/nabfinancialmarkets