Markets Today: I won't back down
Equity markets are back in the black this morning with Treasury yields modestly higher amid further focus on Trump tariffs, with an attempted push back from two key GoP members, but an undaunted Trump.
Today's Podcast
There's been a mixed reaction to President Trump's continued insistence on steel tariffs today, as Phil Dobbie discusses with NAB's Tapas Strickland.
Overview
Ryan and Brady urge caution on tariffs; Trump undaunted, though he doesn't expect "war"
China sets 6½% growth target, but with continuing emphasis on quality
Equities and bond yields higher; US Non-manufacturing still super strong in Feb
AUD holds its ground against small net gain in USD (mostly from lower JPY and CHF lower; CAD too)
Sterling supported by positive Brexit mood music
Retail Sales should be AUD-supportive; more AU pre-GDP partials (net exports and government spending); RBA steady rate announcement  to have limited market impact
Equity markets are back in the black this morning with Treasury yields modestly higher amid further focus on Trump tariffs, with an attempted push back from two key GoP members, but an undaunted Trump.  The US Non-manufacturing for February remained very high confirming a very positive growth start for the year for the US economy.  China stayed with its around 6½% growth target, and with continued emphasis on quality growth.  The USD is marginally higher but the AUD has held its ground against the USD ahead of retail sales for January this morning and this afternoon's RBA announcement.
Whether short-lived or not, or perhaps taking a lead from Congressional push back from leading Republicans urging caution over Trump's metal tariffs, equities in the US have regained their mojo, the S&P up 1¼% as we go to print in the last hour of trade.  US Treasury yields are modestly higher, 10s by 2.2bps to 2.89%, still below recent highs.  US growth expectations were supported by a somewhat higher than expected US Non-manufacturing ISM for February at 59.5 against expectations of 59.0 and January's 59.9.  Last year it averaged 57.  Ahead of payrolls, the employment component was down from last month's very high 61.6 to a still solid 55, back to where it was in late 2017.  That component reading and other high frequency reads on the labour market point to a still strong 200K payrolls read on Friday, but the real intense market focus will be on average earnings.
Some return to risk has seen less support for the "safe haven" currencies, the Yen and the Swissy, both down by around ½%.  This has driven some net small gain in the USD indexes despite smaller gains from the Euro, Sterling, and the AUD that is trading this morning at 0.7760.  One currency that has come under some pressure has been the Canadian dollar, down by 0.8% overnight, Canada in the sights of the US President over trade.  Trump tweeted that "…tariffs on steel and aluminium will only come off if new & fair NAFTA agreement is signed. Also, Canada must treat our farmers much better. Highly restrictive."  This has seen further downward pressure on CAD, taking USD/CAD up 0.9% to be knocking on the door of 1.30, its highest level since mid-last year.  And this came despite renewed support for oil overnight, WTI up $1.34 and Brent by $1.18.
Trump seemingly isn't backing down on tariffs though he might be signalling less of a potential escalation.  House Speaker Paul Ryan said that he is exceptionally worried about a trade war, urging the White House not to proceed, but in response Trump referred to cars flooding in like water.  He did though say that "I don't think you're going to have a trade war".  House Ways and Means Chairman Kevin Brady was speaking in Mexico City saying that "I applaud the president for targeting unfairly traded steel and aluminium. But blanket tariffs that also sweep up fairly traded steel and aluminium, especially with trading partners like Canada and Mexico, they should be excluded".
Sterling outperformed, getting a lift after UK PM May spoke in Parliament, saying she was "confident we can reach agreement" on a transitional Brexit deal.  Pro-Brexit campaigners have been positive about her speech at the end of last week and the mood within the Conservative party is seen to be slightly better.  Earlier in the session the UK services PMI beat expectations.
The results of the Italian election saw a somewhat lower Euro, but it's since steadied to have clawed back some ground overnight.  The election results revealed likely political gridlock, the anti-establishment 5-Star Movement gaining the most seats and claiming the right to govern while the centre-right bloc also claimed the right to govern.  The Euro did of course get some background support first thing in the APAC session yesterday from Germany's SPD party voting to support a Merkel-led government.  Italian 10 year bond yields rose 3.3bps overnight while German bunds eased 0.8 bps.
The Aussie has been on the sidelines, little affected yesterday after the bounce back in January building approvals but somewhat softer details from yesterday's inventories, profits and aggregate wage data.  China reaffirmed a continued growth target of 6½ at yesterday's People's Congress, continuing to emphasise the importance of quality growth, reducing pollution and poverty.  Further cuts to steel and coal production capacity were announced.  Dalian iron ore futures were down 2.2% yesterday.
Coming Up
AU Retail Sales, Jan (NAB and the market +0.4%; L: -0.5%)
AU pre-GDP Q4 net exports (NAB -0.8% point growth drag; market -0.6%); also government spending for Q4 (NAB +0.9%; no market forecast)
RBA rate announcement; steady rates; gradual return to higher wages and inflation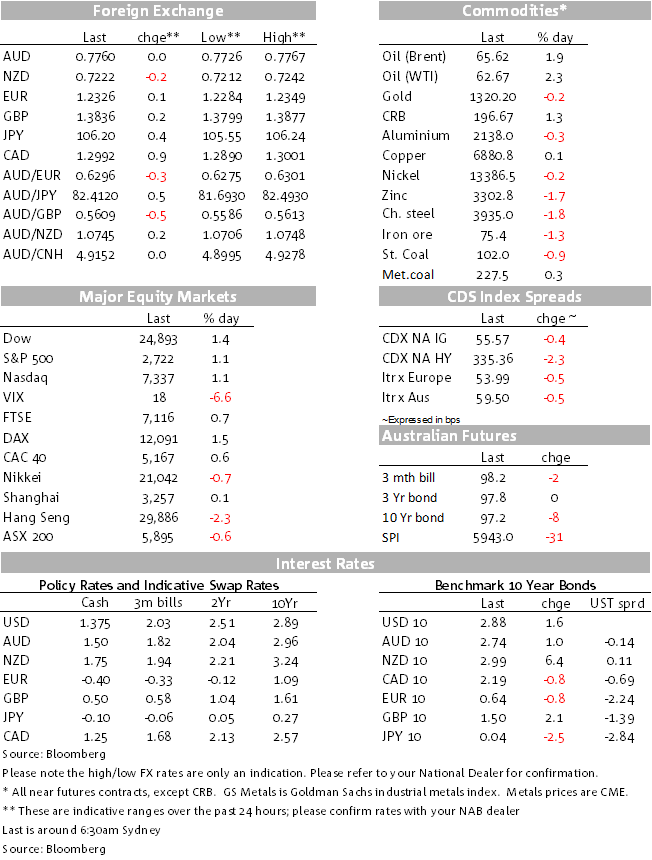 For further FX, Interest rate and Commodities information visit nab.com.au/nabfinancialmarkets