Markets Today: The Heat Is On
Equity markets fall then bounce on China tariffs, then talks of trade talks. Get up to speed on the #tradewar latest on #TheMorningCall from @NAB.
Overview
US-China trade tensions heat up
But as both parties express willingness to negotiate, risk assets outperform
Kiwi is the big winner in currencies
CAD and MXN rally on softer NAFTA US position
After yesterday's US tariff proposal announcement on $50bn of imports from China,  early last night China matched the US move by announcing tariffs of up to 25% on $50bn of US imports. The tit for tat response triggered a sell-off in risk assets, but this initial response quickly reversed as both parties express willingness to negotiate. US equities have closed over 1% higher, UST yields are also higher and commodity linked currencies are stronger with the flying kiwi at the top of the G10 leader board.
Yesterday our APAC session began with news of a proposal by the US administration to impose a 25% tariff on about $50 billion worth of high tech Chinese products in retaliation for what it says it has been decades of state-backed intellectual property theft by Beijing. Market calmness then ensued as the market awaited China's response.
Late in the day, China announced its plan to placed tariffs of up to 25% on major US imports including airplanes, autos and soybeans, covering 106 categories of products and affecting $50b of goods. This was a carefully thought-out response by China as the targeted sector were clearly aimed at Trump's key supporters. China did not specify a date for the tariffs to start and will wait for the US to implement its tariffs, which themselves are subject to consultation.
The US market was not yet opened when China made its trade tariff announcement, but there was a clear risk off response in Europe, as equities sold off, bond yields moved lower while in currencies JPY and CHF outperformed. Nevertheless this initial response quickly faded as rhetoric from both parties suggested there is still willingness to negotiate despite the increase in trade tension.
China's Vice Finance Minister said that the country will "keep its door open for dialogue" and that it "wants to solve trade issues in constructive ways". Meanwhile President Trump tweeted "We are not in a trade war with China, that war was lost many years ago by the foolish, or incompetent, people who represented the U.S. Now we have a Trade Deficit of $500 Billion a year, with Intellectual Property Theft of another $300 Billion. We cannot let this continue!". Later in the session, US Commerce Secretary Wilbur Ross said in an interview on CNBC that the US isn't entering "World War III" and left the door open for a negotiated solution.
So after an initial drop of over 1.5%, the S&P500 did a massive U turn and has ended the day 1.16% higher. Gains were broadly based with all sector, except for energy (-0.14%) recording positive returns on the day.  The NASDAQ (+1.45%) and the Dow ( +0.96%) also had a positive ending. Meanwhile US treasury yields have ended the day higher with the a small steepening bias as the back end marginally underperformed shorter dated yields. The 2y note is 1.7bps higher and currently trades at 2.296% and the 10y tenor is at 2.802% (+2.6bps).
Currency moves have been relatively contained. Over the past 24hrs the USD has essentially traded sideways and although JPY went bid on the risk-off move, the turn in sentiment has more than reverse this initial reaction. Indeed USD/JPY is a few pips higher and now trades at ¥106.78. In contrast NZD is the outstanding currency, up 0.7% over the past 24hrs. NZD is back above the 73c mark and it has outperformed on all the crosses. Although NZ had a solid house data print this morning (QV house price showing the strongest annual gain since June 2017 at 7.3% y/y ), this numbers were in line with expectations. Jason Wong, our BNZ Market strategist notes that the kiwi's outperformance has not been driven by fundamentals and instead it appears that flow has been the driver with some key levels been tested on some NZD crosses. AUDNZD, for instance, has now broken through the 106.52 low (daily) recorded on the 31st of July last year and the cross now appears to have a clearer path for a move sub 1.05. Similarly, NZD/JPY now trades above 78, just above its 50MDA and appears to have room to move higher.
Although not quite to the same degree, AUD has also outperformed the USD. The pair now trades at 0.7716 and now is marginally above the level recorded after yesterday's better than expected February retail sales report (Consensus 0.3%; NAB 0.7%). NAB's own Cashless Retail Index released two weeks ago picked the above consensus print and is proving to be a good indicator of the official retail sales print.
Early this morning and on the back of news that  the Trump administration has softened a key NAFTA demand for more North American content in car manufacturing, both the CAD and MXN are rallying reflecting optimism for a positive outcome on trade negotiations between the three countries.  CAD now trades at 1.2770 (-0.30%) and MXN is at 18.09 (-0.63%).
The NAFTA news serve as an example yet again that President Trump's negotiating approach is to go hard first, only to soften the stand afterwards before reaching an amicable compromise. The market appears to have taken a similar cautiously optimistic approach to the US-China trade tension and in a similar vein, overnight the Fed's Bullard said that an escalating US-China trade dispute increases uncertainty around the outlook, but he would wait and see how negotiations play out before adjusting his economic forecasts, and the end result may be a better trade relationship for US businesses.
Overnight data releases have been largely ignored, but for the record soft UK construction PMI data has been put down to bad weather.  Euro area CPI inflation showed the expected pick-up to 1.4% y/y but the core measure of CPI (not an ECB target) was slightly weaker at 1.0% y/y.  US ADP employment was very strong.  The US ISM non-manufacturing index came off its previous super-high level, while the employment component was stronger.
Coming Up
Job ads and QV House prices are out in New Zealand this morning and Australia gets the AiG Services PMI along with the trade balance for February.
NAB is expecting a modest increase in the AU trade surplus to A$1.4b (market is at A$725m). Imports are expected to soften a little further from the December spike; while exports should rise on the back of the ongoing pick up in LNG exports, and moderate increases in coal and iron ore. Growth in export values are expected to be partly offset by reduced non-monetary gold exports, which recorded a sharp rise in January.
Services and Composite PMIs are out in Europe and the UK and the US gets jobless claims as well the February trade balance.
Market Prices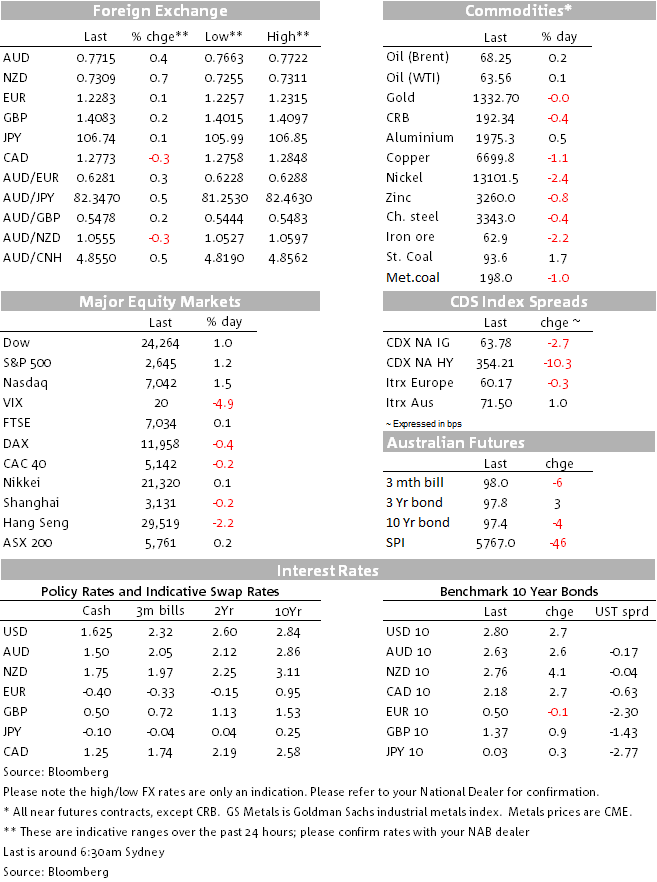 For further FX, Interest rate and Commodities information visit nab.com.au/nabfinancialmarkets