Micro-moments: the new marketing gold
Up close and personal. Is it time your business began connecting with customers in the micro-moment?
Reflexively reaching for the mobile, for a quick information, education or entertainment fix, has become normal behaviour for Australians in the digital era. Recent research by the UK's communications regulator, Ofcom, shows the average person checks their phone 80 times a day, or once every 12 minutes. If they're in their twenties or thirties you can double that figure – according to research by Accel and Qualtrics, the average millennial interacts with their phone 150 times a day.
Back in 2015, Google coined the term 'micro-moments' to describe these frequent, fragmented browsing sessions, which see individuals seeking instant information, inspiration or service. Marketers have been swift to home in on the opportunity to influence or sell to customers during these short snatches of time when they're scrolling the small screen.
Accenture's Technology Vision 2019 report flagged the fact that, as digitisation becomes ubiquitous, technologies such as cloud computing, data analytics and social media will cease to be a source of competitive advantage for companies. In the 'post-digital' era, the ability to deliver value to customers in the micro-moment – along with the successful deployment of distributed ledger technology, artificial intelligence, extended reality and quantum computing – will be the things that give businesses an edge.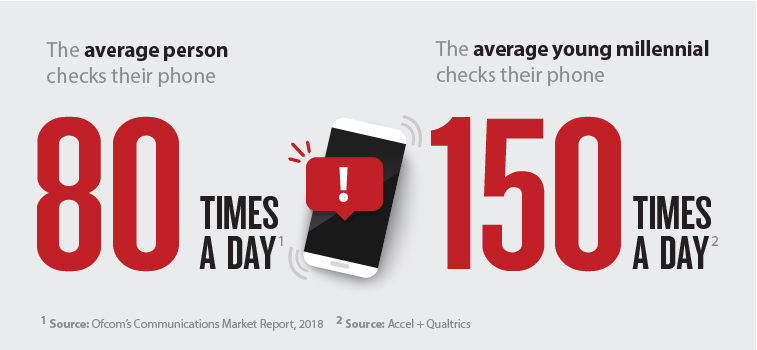 Cutting through the noise
What makes micro-moments so powerful? Bronwyn van der Merwe, General Manager of Fjord Pacific, a division of Accenture Interactive, says it's because there are times when individuals are looking for some form of immediate feedback. Companies and organisations that are able to provide it – in the moment – will be better placed to win these individuals' business when they're ready to buy.
"As we spend more and more time on smartphones and laptops, consumers are bombarded with different types of branded content – emails, social media posts, smartphone notifications and sponsored adverts," van der Merwe says.
"The sheer volume of it can dilute a brand's relevance. Micro-moments are important because they are opportunities for businesses to cut through that 'noise' and connect with customers in real time.
"For the individual, receiving information based on their needs at a key moment, rather than generic, mass-targeted marketing, results in a far better customer experience."

Travel industry sets the pace
Some sectors are already exploiting micro-moments to the full. The travel industry, for example, understand that mobiles now play an important role in the booking process.
"The booking journey can span weeks or months and, as travellers search for destinations, hotels and transport options, it's a prime time for brands to capture their attention," van der Merwe says.
"In the 'research' micro-moment, content marketing plays a strong role, as people seek inspiration on potential destinations and activities from blogs, videos and articles. Many of the major travel booking websites and hotel chains have travel guides, YouTube channels and user-generated content which is hosted across various platforms, including apps, websites and social channels."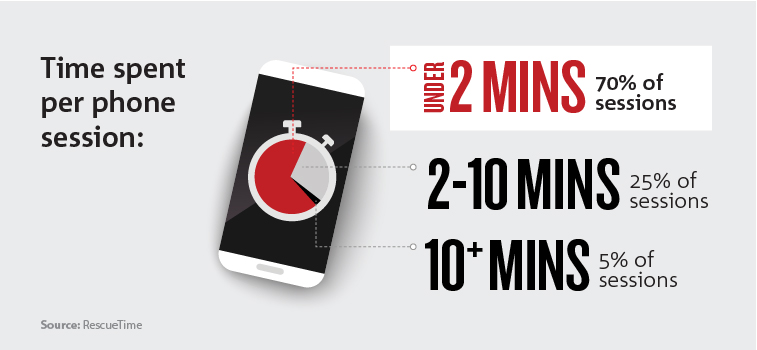 Concentrating on the customer
While micro-moments themselves may be a product of the digital era, they're really just another opportunity for businesses to do something that's always been important – offering customers a good personal experience, according to NAB's Head of Communications Transformation, Lisa Marchant.
Analysing customer data from a variety of sources, including customer relationship management systems and the complaints department, can help businesses identify the micro-moments when potential customers will be receptive to targeted information and advice.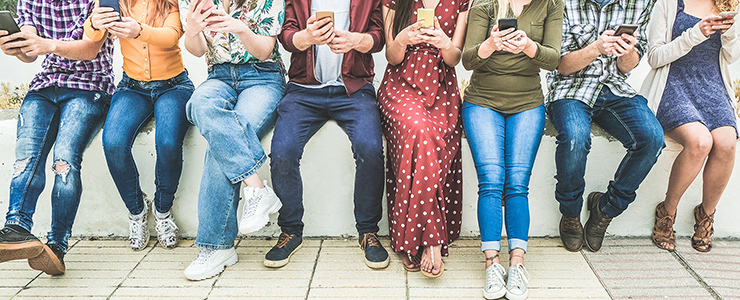 "Being able to respond to customers at those times when they're looking for information and guidance allows you to demonstrate that you know and understand them and are on their side," Marchant says.
Making micro-moments matter in your business
As Australians' work and home lives become ever more digitised, businesses that don't take a micro-moment approach will struggle to win the hearts and minds of tomorrow's customers, according to van der Merwe.

"The battle for consumer attention will only intensify and consumers will continue to demand more personalised service from all the businesses they deal with," she says.
Her advice to business owners looking to connect with their customers in the micro-moment? "Take a human-centred approach and really put yourself in the shoes of different consumers. Consider the different journeys they take to purchase or use your product or service, then think about every micro-moment across this journey, how they experience it, and where your business can help them."