Markets Today: You can't keep a good man down
Mixed performance from FX, with EUR/USD recovering from earlier falls but commodity currencies taking a minor hit from a mini-USD revival and easing in commodity prices.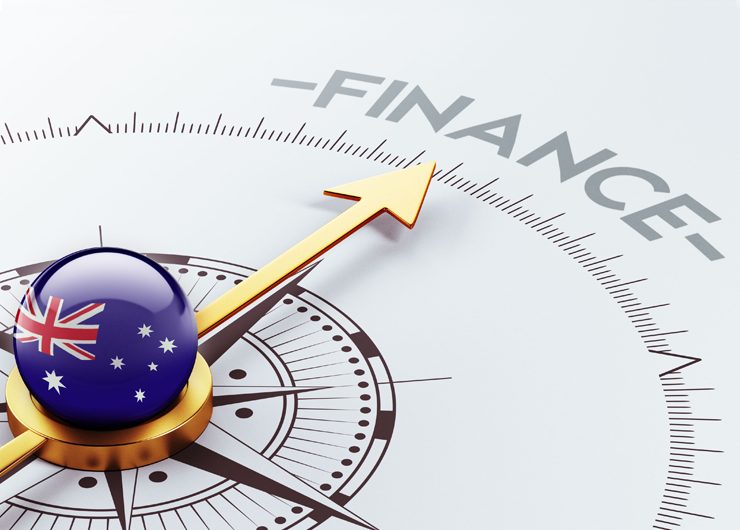 Overview:
US stocks pull back, led by energy and materials, Treasuries meander round last Friday's closing levels
Bank of Canada main focus tonight
Euro slippage was initially the main feature of the offshore session – since largely reversed – starting just as the Sydney market left for the day and following a Der Spiegel report that the Berlin division of the SPD would reject the vote to form a grand coalition with Merkel's party.  Once investors noted that this division only casts 23 votes out of 600 at this Sunday's conference, the news was soon brushed off.  Our NAB colleagues in London note that it is clear the conference will be a tough and long meeting and it is up to party leader Schultz to convince party members of the benefits of a partnership with Merkel's Conservatives.
Adding to the softer tone was a Reuters source report saying the ECB would maintain its bond-buying pledge when it meets next week (with March regarded as a more likely date for a change) and the ECB's Villeroy de Galhau – tipped by some as Mario Draghi's successor – saying that the recent euro appreciation is a source of uncertainty and requires monitoring as it could damp inflation. Regarding an ECB exit from its bond-buying program, Villeroy said, "…we are not pre-committed in terms of precise timing. We will make this contingent on the actual progress made in achieving our inflation objective".
EUR/USD dipped below the 1.22 mark from 1.2280 before almost fully recovering (1.2270 now) in NY afternoon trade, on no obvious news. It does though appear to have got an added boost from reported comments by Bundesbank president Jens Weidmann in the German FAZ newspaper, despite the lack of evident hawkishness versus prevailing ECB guidance/market sentiment. Weidmann said analysts expectations for an interest rate hike by the European Central Bank in the middle of next year are roughly in line with the ECB's own guidance.
You can't keep a good man down, it seems, as John Miles sang in 1979. Selling US dollar rallies, buying dips elsewhere, look like remaining the preferred modus operandi of the FX trading community for the time being.
In stocks, Despite taking a $22bn tax hit from lowering the value of assets on its book that the bank had planned to shield itself from taxes under the old, higher, corporate tax rates, Citigroup still beat its street EPS estimate of $1.19 ($1.28) after making allowance for this, and its share price jumped at the New York open, before giving back gains in the afternoon as part of broader market sell-off led by energy and materials in conjunction with a down day across commodity markets and which produced a little intra-day weakness in AUD, CAD and NZD.  That said, AUD is now virtually unchanged on 24 hours ago near 0.7960.  NZD is still net lower on the night, receiving only a very minor fillip from the overnight GDT dairy auction where average prices rose by 4.9% with whole milk powder up 5.1%.
Latest (Dec) UK inflation data showed annual CPI inflation easing for the first time in six months in December to 3.0%, as expected, although the core rate was a touch softer at 2.5%.  There was little market reaction, best judged by the limited volatility in EUR/GBP surrounding the release time.
US data was confined to the Empire (New York State) manufacturing survey, dipping trivially to 17.7 from an upwardly revised 19.6 (was 18) and a 19 consensus. Details were weaker though, employment down to 3.8 from 22.9, while new orders were down to 11.9 from 19. Inventories rose from 1.4 to 13.8, while prices paid rose to 36.2 from 29.7.  The Arctic weather in NY may have been a factor even though not references in the press notice.
Coming up
Australian consumer confidence at 10:30 AEDT (last 103.1) and November home loan details (11:30)
US industrial production, Fed Beige Book, Evans and Kaplan speak
Bank of Canada, where the market is 90% priced for 25bp hike but some protection looks to have been taking against risk of as 'hawkish hold' given ongoing NAFTA uncertainties.
Market Rates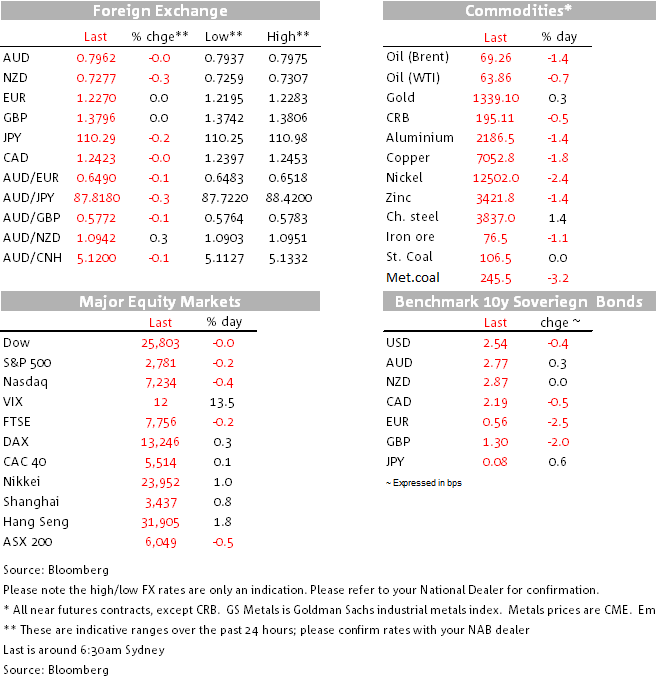 For further FX, Interest rate and Commodities information visit nab.com.au/nabfinancialmarkets