NAB's big week at Beef Australia 2021
Beef producers and industry stakeholders from across Australia flock to the triennial event.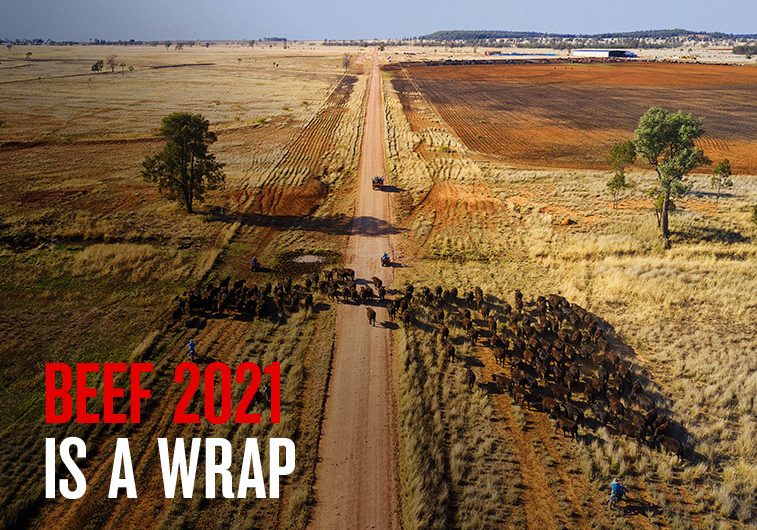 According to Beef Australia – May 2-8 was the biggest week for the Beef industry – drawing record attendance, including the Prime Minister, and 39 federal and state politicians.
The combination of favourable seasonal conditions and record-breaking cattle prices saw beef producers and industry stakeholders from throughout Australia flock to the triennial event, with 115,866 people streaming through the gates.
It was an opportunity for the NAB team to catch up with customers and industry leaders, and learn more about where the industry's heading. There was plenty of optimism, with investment in infrastructure, technology and genetics; strong property sales; increased conversations about use of Farm Management Deposits; and plenty of young people returning to or entering the industry.
NAB has had a long involvement with Beef Australia since its inception in 1988 and was proud to be a major supporting partner at this year's event.
NAB had a strong presence, hosting a range of events throughout the week – including daily information sessions at its prominent ringside trade stand, focused on the full range of business stages.
The sessions were well attended with topics including helping young farmers get the basics right and setting them up for success; feedlot financing and exploring overseas markets; and helping families with their transition plans, and investment opportunities.
NAB Agri economist Phin Ziebell also led information sessions at Beef. 'What is happening with cattle prices, interest rates and FX' being the key questions for Phin from attendees. 'As domestic cattle prices continue to break new records, and with the benchmark EYCI surpassing 900c/kg in April – we are now looking beyond fundamentals" says Ziebell. Restocker interest remains the key driver of young cattle prices, boosted by March rainfall across many parts of Queensland. If restocker activity slows due to drier weather or a reassessment of future prices, there could be some down sides risks". Phin commented on the importance of robust risk management strategies at all times – especially when the indicators are good.
For the younger generation looking at their options for getting started – the NAB team encouraged attendees to do their research and be well informed on the options for getting finance, from the commercial banking sector to the various Government support programs that are available. Importantly to speak to their banker about their options and what they need to do to become "bank ready", covering the type of information banks would be looking for, to get an application underway.
Attendees heard from Mark Scanlon from Next Rural, citing that with approximately 20 percent of farmers being over 65, as few as 10 percent of business owners have formal and documented transition or succession plans in place. Transition planning is not an event but very much a process, conducted over a long-term timeframe. Mark also advised that while a Will is part of a transition plan, they shouldn't be relied on as the sole document for the plan, with Wills increasingly being contested over the last five years due to rising land values. "Three plans are recommended to formalise the transition process – a succession plan, a retirement plan and an estate plan or will.'
Matt Briese and Kevin Boyle from JBWere spoke about the need for producers to diversify their asset base and for those transitioning away from the land to educate themselves on other investment asset classes. Cash and property investments may have been good investments historically, however with negative real returns on cash JBWere is continually educating its clients on superior alternatives.
NAB hosted more than 500 of its agribusiness customers at a networking function on the Wednesday night, while the NAB Ladies Lunch on the Friday was a sell-out event, attended by 600 producers and other key stakeholders from throughout agribusiness and politics including federal Minister for Agriculture, Drought and Emergency Management, the Hon David Littleproud MP.
NAB Executive for Regional and Agribusiness, Julie Rynski, said Beef Australia 2021 was an outstanding event that reinforced NAB's positive outlook for the beef industry.
"There's so much optimism across the industry and it's exciting to see because we know that helps drive regional Australia," Ms Rynski said.
"We are here to advocate for the sector to drive progress and positive outcomes, and work with industry to help make sure the sector is set up for success for generations to come."
NAB's support for the next generation of agricultural producers was showcased at the NAB Ladies Lunch, where young Western Downs beef producers and sisters, Bonnie, Matilda, Jemima and Molly Penfold, were keynote speakers at the flagship event, supported by their parents and long-term NAB Agribusiness customers, Dan and Karen Penfold.
Together, the sisters are the faces of Four Daughters, a premium 150-day grainfed Black Angus beef brand the Penfold family launched in 2019 to diversify and expand their business, with a firm eye on succession planning.
The sisters were embraced by the huge crowd as they spoke passionately about their love for the land and the beef industry. Indeed, a suggestion from an attendee that they be guest speakers at a men's lunch to show them how equally capable daughters are on the land, was loudly applauded.
"The Penfold family's story is a great example of how important it is that generations are working closely together to learn, grow, innovate, and challenge each other, and how as young women, they are making their mark," Ms Rynski said.
"As Australia's largest regional and agribusiness bank we've had more conversations with families around their kitchen table than any others, with one in every three farmer choosing to bank with us.
"We've seen the highs and lows of this vibrant and exciting sector, and we understand the challenges and unpredictability of life on the land. But it's been great to see so many positive stories coming from this sector – beef prices are at record highs, and there is increasing investment in everything from machinery and technology, through to sustainable processes and practices. We are all in this together and we are here to help for the long term."