The $6.5tn question: How to capitalise on Australia's natural assets?
It's time for farmers to turn good land management into financial success.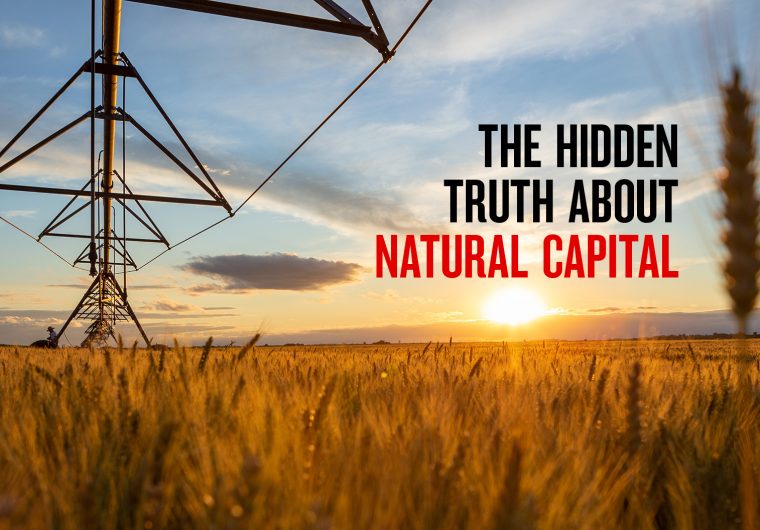 Good news: farmers are doing a great job taking care of the nation's agricultural land. Their big challenge is, how to profit from this environmental success.
More than $6.5 trillion or about 24 Jeff Bezos-sized fortunes – that's how much Australia's natural assets are worth, based on an Australian Bureau of Statistics' 2019 valuation.
Of those 'natural assets', 90 per cent is made up of land, with some 58 per cent of that devoted to agriculture.
And, with so much natural wealth tied up in land, a huge responsibility falls on those who look after it, says Dr Jacqueline Williams, Senior Lecturer and Researcher in the School of Environmental and Rural Science at the University of New England (UNE).
Sustainability now comes first
For over two centuries, as the National Farmers' Federation 2020 report Natural Capital states, Australian farmers' primary focus was production.
That is still the case. However, farmers are now also recognising that natural assets underpin that very production – and that there are emerging opportunities for them to complement farm income with environmental markets.
Put another way, where activities on a farm deliver broad benefits for society, there are emerging opportunities for farmers to be financially rewarded for protecting those values. For example, increasing soil carbon levels could improve a farm's production resilience while also creating the opportunity to generate income from carbon credits sold. If farmers plan well therefore, there could be synergies between environment protection, their farm production system and their profitability.
Today's landholders understand the importance of protecting the resources underpinning their production systems and is backed by NAB research, says James Bentley, Associate Director of Natural Value at NAB.
"NAB conducted a four-year survey across about 10,000 agribusiness customers to assess their natural capital risks," Bentley says.
"Overall, weather-related events such as drought and floods remain the biggest concern. More than nine in 10 respondents (91 per cent) also reported soil health as a key business risk, and 85 per cent cited water scarcity."
Tackling these risks head on, Australia's farmers are focused on sustainability – finding ways to preserve water, safeguard their soil and encourage biodiversity. Among their strategies are recycling and re-using water, avoiding overgrazing and carrying out landscape planning.
"We see countless examples of farmers doing an exceptional job – whether that's adopting resilient crops, investing in water efficiency or even enhancing on-farm biodiversity to improve crop pest management," Bentley says. "They are constantly adapting and improving their land management."
"Where we see a gap is that farmers don't have a way of communicating their success in a credible way," he adds. "They need easy-to-use and consistent metrics to track their performance and validate their claims, particularly as they're under increasing pressure from their markets, investors and stakeholders to provide evidence that the land is being well managed."
The issue: complex certification
On top of improving ways of measuring land management success, Williams, an organic farmer as well as a UNE academic, would welcome a more straightforward approach to certification.
"I recently found another new certification for protection of bees and other pollinators on the farm," she says.
"If I want to demonstrate that I'm committed to organic management, plus farm biodiversity, water stewardship and pollinator protection, I would need to make four applications all with different audits and create four different labels for my produce. On top of that, I still need to establish the baseline condition of my farm's natural resources so I can measure improvement.
"It's hard to imagine how any farmer can comply with all these demands without going broke in the process."
Adding to this legislative burden, farmers need to consider emerging international reforms such as the United Nations' Sustainable Development Goals and Environment, Social and Governance requirements.
"There's also the European Green Deal, which has implications for future trade," Williams adds. "There's a chance that our major trading partners will start imposing tariffs and other charges on Australian goods and services if they can't see that they meet their standards."
NAB steps up
NAB is involved in several projects that aim to ease this sustainability and land management burden, while also helping farmers leverage their measures in this space financially.
"Since late last year we've been working in partnership with ClimateWorks Australia to develop sustainability metrics," Bentley says. "We're expecting a draft set of metrics in September and we plan to engage with our networks over the next six to 12 months to assess their practicality, feasibility and utility."
NAB also partnered with the Food Agility Cooperative Research Centre, the Australian Wine and Research Institute and Queensland University of Technology to research ways of linking sustainability metrics to financial performance.
"The wine industry has had very good sustainability data for some time but, as yet, there hasn't been an economic component," Bentley says. "We're looking into ways of supporting behaviours and activities that achieve both environmental and economic outcomes."
Results look promising after the first year's research. However, as Bentley points out, they need five to 10 years of data before they can draw firm conclusions.
"Every farm looks profitable in a good season," he says. "You only get to see the value of your investment in resilience when the system is stressed, so we need to collect data across all conditions."
To further help farmers with sustainability and land management, Bentley would also like to see natural capital feed into key business decisions.
"We want farmers to invest in their own natural capital, and an important part of doing that is recognising the value of natural capital in their financing," he says. "Yet, at the moment, money spent on soil or biodiversity is treated as an expense rather than a capital investment."
Paving the way for a brighter future
The implications of all this work will likely be profound as, despite the many challenges of doing so, managing natural capital well continues to offer farmers opportunities to grow their business and expand their customer base.
Put one way, the opportunity is for agribusinesses to be more easily recognised for and profit from their efforts and successes at environmental management.
Or, as Bentley puts it: "Proven sustainability credentials could attract more interest to your product plus broaden the markets you're able to access."
And with greater financial success comes greater opportunity to continue sustainably growing the value of this sunburnt country's natural resources.