Next-gen entrepreneurs: 4 in 10 students want to be their own boss
Schoolkids are doing it for themselves… when it comes to starting a career, Australia's current crop of teenagers believe running their own show is the best way to go.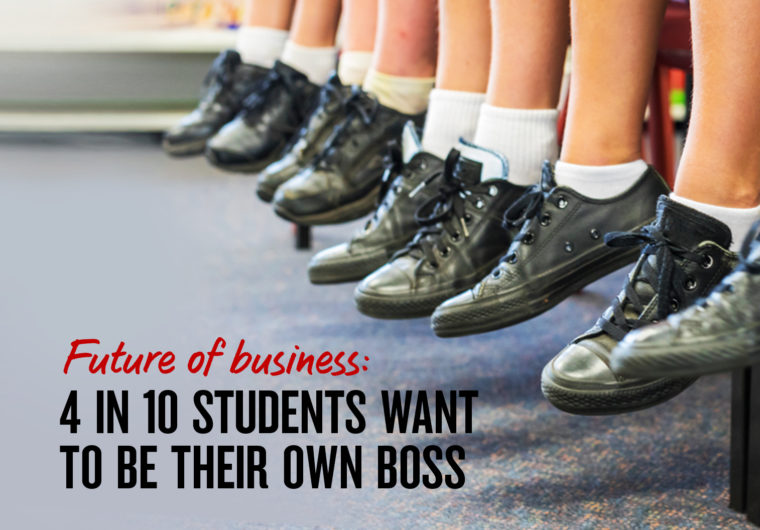 Tinker, tailor, soldier, sailor, fighter pilot, rock musician… business owner? It's unlikely most older Australians say that starting their own business was a key goal in their youth but it is for a huge chunk of Australia's current crop of teens.
They're shaping up to become a generation of entrepreneurs, with four in 10 citing this as an ambition after they graduate (or even while they're still on the books).
NAB Independent Schools Survey 2018 canvassed the views of 300 young Australians in Years 10 to 12. Forty per cent of respondents said they'd love to start a business if they had the skills and knowledge to do so. Many already have (or aspire to have) a part-time job and most plan to continue their education at university.
The confidence of youth saw respondents score their ability to establish their own venture successfully at an average 6.1 out of 10, with teenage boys a little more willing to back themselves than the girls.
As befits digital natives – individuals born in the 'iEra', for whom the rotary dial phone and cassette tape are puzzling museum pieces – their preferred enterprises had a strong digital flavour. Online stores, social media influencing, podcasting and blogging were popular business choices for girls. Boys, meanwhile, cited an interest in photography, web design, tech support and social media businesses.
Inspiring entrepreneurs
The concept of a job for life has been consigned to the 20th century and today's rapid pace of change necessitates young people taking greater control of their careers and lives. Consequently, Australia's current cohort of high school students appear to find the idea of running their own businesses more appealing than conventional nine-to-five employment.
Australia has historically been a nation where resourcefulness, tenacity and hard yakka are admired. It's an ethos that has endured and it's been conferred on today's Generation Z school students as they journey through high school towards the world of work.
Many are inspired by reality television programs such as Shark Tank, which offers budding entrepreneurs the opportunity to present their ideas and seek investment from a panel of self-made business owners.
In those environments, business people are showcased as the new celebrities, and seeing their success celebrated publicly can have a powerful effect on young people. It can help them realise what's possible when people are willing to get in and give something their best shot.
Backing themselves on a journey into the unknown
Age – or lack thereof – appears to be no impediment for young Australians with the energy and courage to back their own ability to turn bright ideas into profitable enterprises.
NAB has had the opportunity to work with a string of new-generation entrepreneurs who've founded successful businesses fresh out of school and university.
Young Australians like Alex Tomic and Nik Mirkovic, who started their oral cosmetics business HiSmile in their early 20s and turned it into a multimillion-dollar business, and Jess Hatzis and Bree Johnson, founders of the Frank Body beauty brand, show us the rewards passion and persistence can deliver.
While life experience can be valuable when starting out on your own, so too are energy and commitment., and millennials can have these in spades.
Helping to fuel the interest in entrepreneurship is the fact that many of the traditional barriers to starting a business have come down in the digital era.
Today, enterprises can get going on a proverbial shoestring, while user-friendly e-commerce solutions and foreign exchange banking facilities allow them to market their offerings to a global audience from the get-go.
For young people who want to take control of their own destiny and embrace the risks and rewards of business ownership, the future is looking bright.